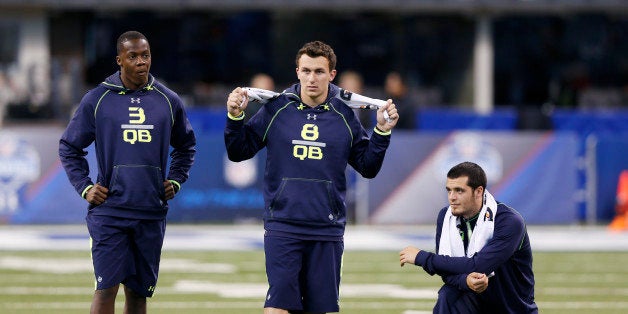 The theme of this year's batch of quarterbacks in the NFL draft should be "pick your poison." All of the quarterback prospects, especially the top ones, come with a varied set of strengths and weaknesses that make it hard to differentiate which prospects are most ready to start in the NFL right away.
In fact, outside of my top two prospects, nearly all the quarterbacks on this list have serious flaws that could lead to disaster if they start right away. However, the top six prospects on this list all have intriguing traits that could outweigh their weaknesses and lead them to some early success in the league. Without any further ado, I present to you my take on the strengths and weaknesses of a flawed yet extremely gifted quarterback class.
For more full-game film cut-ups of these quarterbacks and other draft prospects, visit DraftBreakdown.com, the source of the videos in this article.
1. Teddy Bridgewater, Louisville: While he's not quite perfect, Bridgewater's definitely the most pro-ready quarterback in this year's draft class. He's got quite the powerful arm, and he uses it to put the football where only his receiver can get to it. He's extremely accurate and fundamentally sound when rolling out to either the left or the right, which is an asset that will force defensive ends to play contain on him more often and allow him more time in the pocket.
Bridgewater drops his eyes toward the pass-rusher when he's under pressure, but he's extremely quick to get his eyes upfield and get rid of the ball after escaping a sack. Going through progressions from the pocket, Bridgewater's very patient and nearly always finds the correct receiver to get the ball to. When all other options are covered, he leads his running back quite nicely on passes to the flat, which will help give checkdown passes the potential to go for more yards after the catch.
Though he's the best quarterback in the draft, Bridgewater does still come with some flaws. He relies heavily on upper-body throws, rarely stepping into throws and putting the force of all his weight behind his passes. His arm's more than strong enough for him to get away with this at the NFL level for a while, but he'll be a whole lot more dangerous to defenses when he hits the squat rack and starts adding some leg strength to his throws.
On deep passes, Bridgewater tends to throw the ball as deep as possible and let his receiver chase it down instead of throwing it so it hits the receiver in stride. This isn't as bad of a flaw as underthrowing the ball and giving defensive backs a chance to make a play on it, but he'll really need to get a better sense of timing on deep passes to expand his passing repertoire.
All in all, Bridgewater's flaws are quite fixable and are heavily outweighed by his dissection of defenses and ability to make nearly any throw on the field with accuracy. I don't know if he's a good value to take with the top overall pick when there are so many talented players available at other positions. But if any quarterback in this draft is an immediate franchise savior, it's Bridgewater.
2. Aaron Murray, Georgia: I can almost guarantee that the second-best quarterback in the draft won't be the second quarterback drafted and will be lucky to even be drafted by the end of the second round. Murray tore his ACL in late November, but he was already healthy enough to throw at Georgia's pro day and put together what was by all accounts an impressive performance. If his knee is able to hold up, he can make an NFL team very happy.
Murray threw a pretty diverse array of routes in college, so the transition to the pro game shouldn't require him to acclimate to throwing a lot of new routes he hasn't thrown before. He has a very impressive velocity and spiral and delivers the ball quite accurately to most parts of the field. Murray leads his receivers nicely, and has a great feel for where the open receiver is when he's under duress and being chased inside or out of the pocket.
Size is a bit of a concern for Murray, but he's got a high enough release that it shouldn't be a big issue. The other flaw in his game is that he doesn't make many small moves within the pocket to buy time - he'll scramble some and do a great job of finding a receiver while scrambling if he's under pressure, but he doesn't often take a defensive end out of the play by taking a step forward. He negates this weakness, though, by smartly and accurately getting rid of the ball before a defender can get to him.
The biggest question mark about Murray is how his reconstructed knee will affect his mobility. If his knee is healed enough for him to move like he did in college, Murray can be a very special player. His most impressive trait was his ability to throw lasers down the field when rolling out of the pocket. Most quarterbacks usually just look to dump the ball off when they're being chased by defenders, but whether rolling to the left or the right, Murray did a great job of looking far up the field, squaring up his body, and firing an accurate pass fairly deep for an on-the-run throw. If Murray retains that unique ability after his knee surgery, it will add some nice wrinkles to a pro playbook built around him.
3. Johnny Manziel, Texas A&M: Manziel's college tape shows the epitome of both a really high ceiling and a really low floor. He can make some plays that arguably no other quarterback in college football - and maybe even the NFL - can make when he scrambles behind the line of scrimmage. However, he can also display a lot of tendencies that suggest his improvisational wizardry won't have the same payoffs in the NFL.
First off, Manziel's got a phenomenal arm. He can zip the ball through holes in coverage anywhere on the field, and he's pretty good at finding holes in defenses. With his legs, he's also really good at creating holes in the defense. His scrambling, sandlot style causes coverages to break down and creates opportunities that a more disciplined pocket quarterback simply wouldn't have.
However, Manziel's Houdini routine in the pocket is a double-edged sword. It creates a lot of opportunities for big plays, but it also keeps passing plays from developing when he starts scrambling too soon. Manziel retreats backward or tries to escape sacks with big spin moves instead of taking steps forward within the pocket. His style of play worked largely because he was often bailed out by receiver Mike Evans out-muscling defensive backs to make really risky throws pay off.
Most disconcertingly, Manziel often doesn't plant his feet when throwing, and even frequently allows one or both feet to leave the ground when throwing. This worked in college when his scrambling could dismantle coverages and Evans could win any battle for a jump-ball, but such poor footwork will lead to NFL defenses feasting on Manziel's passes.
If Manziel can stay in the pocket longer and keep his feet on the ground when he throws, he's got a shot at becoming an effective NFL quarterback who keeps plays alive when things break down and go wrong. If he can't suppress his urge to scramble and improvise on every play, he'll produce the occasional highlight-reel play but will have a hard time sustaining full drives on a consistent basis.
4. Blake Bortles, University of Central Florida: Bortles is a solid but less-than-flashy prospect who needs some work but could eventually turn out to be a good NFL quarterback. He can throw the ball all over the field with good velocity and accuracy when he steps into his throws. Unfortunately for his delivery, Bortles often doesn't put enough weight on his front foot when he's got a defender bearing down on him. The resulting throws wobble a bit and lose some accuracy.
Bortles' tendency not to step into his throws when under pressure is worrisome, but is ameliorated somewhat by his ability to avoid pressure. He uses a very nice spin move in the pocket to elude pass-rushers, and does a good job of keeping his eyes upfield and accurately getting the ball to an open receiver when chased out of the pocket.
In the pocket, Bortles is pretty efficient at letting plays develop and finding the open receiver. He goes through multiple progressions fairly quickly, and doesn't lock in on any one particular receiver for too long. If Bortles learns from the bench while improving his lower-body mechanics in practice, he can develop into a productive NFL quarterback.
5. Jimmy Garoppolo, Eastern Illinois: Garoppolo tore up the FCS with a lightning-like release and makes enough good throws that he could develop into an NFL starter at some point in his career. He delivers seam and deep sideline routes on the money with nice touch and accuracy.
Garoppolo bounces on his feet in the pocket, which lets him set his feet extremely quickly when he locates the open receiver. This adds to the quickness of his already-fast release. Additionally, he almost always makes the correct read and usually delivers and accurate ball with a tight spiral.
However, Garoppolo definitely comes with concerns. He operated out of a shotgun spread system at Eastern Illinois, so it may take some time for him to get comfortable dropping back and reading defenses from under center. Garoppolo also doesn't move much within the pocket, which could make him an easy target for fast pass-rushers. He also flinches on his follow-through when rushers are incoming, which will impact his accuracy if he's not playing behind a good offensive line.
6. Zach Mettenberger, Louisiana State University: Mettenberger is another SEC quarterback prospect coming off of a late-season ACL injury. He throws with a nice, tight spiral and has plenty of arm strength. Although he's got the strength to challenge defenses with the deep ball, he needs to add touch and accuracy to his deep passes before safeties start backing up from the line in fear of his arm.
Where Mettenberger thrives is in the short and medium passing game, where he leads receivers nicely to allow them to pick up yards after the catch. He is patient in the pocket, allowing plays to develop instead of immediately hitting a checkdown or scrambling. Combined with his ability to fit the ball into tight windows, Mettenberger's field vision should help him become the centerpiece of an effective short-passing attack.
One element Mettenberger doesn't bring to the table is mobility. His potential for effectiveness on bootlegs and rollouts is limited by below-average speed. While he won't buy any extra time with his legs, Mettenberger does buy extra time for his receivers by making small movements in the pocket to take defensive linemen out of the play.
7. Derek Carr, Fresno State: Carr is the ultimate mystery quarterback of this year's draft. He appears to have an NFL-caliber arm but the system he played in at Fresno State made it tough to assess his talent. In college, most of his passes were screens, slants, and swing passes. He makes good, quick decisions and gets rid of the ball quickly and accurately.
However, he also tends to stay locked in on his primary receiver on passes where he has to hold onto the ball for a while. In addition to that, Carr also throws from his back foot fairly frequently when passing upfield and in general struggles to set his feet well. Carr could thrive early in a simplified read-and-react offense such as Chip Kelly's, but it may take some time before he's ready to run a full NFL offense.
8. A.J. McCarron, Alabama: This three-time national championship winner has all the brainpower to be a successful NFL quarterback, but he may not have the arm for it. He has a good sense of timing in the dropback passing game and gets through his progressions to find the right receiver with relative ease. On a mental level, McCarron's play suggests he could be ready to start for an NFL team by Week One of the season.
Hindering his ability to start for an NFL team will be the fact that he doesn't have the arm strength to allow him to make all the throws he was able to make in college. When watching McCarron play, I often saw his receivers having to stop and wait for passes that were just 30 yards downfield. At the NFL level, defensive backs will be able to jump those routes without much difficulty at all. It's not that all quarterbacks need a howitzer cannon attached to their shoulder to succeed, but having that little arm strength will limit the plays that an offense can run and will keep the offense from being able to spread opposing defenses as far.
McCarron is an accurate thrower on the run, and while he isn't fast enough to routinely escape NFL defensive ends on bootlegs, he can still get rid of the ball quickly and accurately when he's being chased. If McCarron can work on adding power and distance to his throws, he'll take tremendous leaps as an NFL player because he's got the brainpower and accuracy to be successful at the professional level. If not, his ceiling may be as a career backup who makes good decisions and doesn't cause his team to lose games when he plays.
9. Tom Savage, Pittsburgh: If quarterbacks were drafted solely based on how pretty their passes looked when traveling through the air, Savage would be the top quarterback in this year's class. He throws the ball with a tremendously impressive velocity and spiral and can get the football to any area of the field without difficulty. Savage also displays a good follow-through when throwing on the run. Inside the pocket, he finishes his throw well when about to get hit. He also has good ball placement on underneath crossing routes.
Along with all his impressive traits, Savage comes with some serious flaws that will keep him from cracking a starting lineup for a while. He lacks touch on some deeper passes, often locks in on his primary receiver for far too long, and will throw recklessly into double coverage. He shows some timing issues on throws in the red zone as well. Savage also benefited from a very strong offensive line, and didn't show much of an ability to extend plays by making moves within the pocket or even by escaping the pocket when a pass-rusher got through the line.
By virtue of his natural arm talent alone, Savage will be an enticing prospect in the draft. If he is partnered with a good offensive coaching staff that can work on his progressions and pocket presence, he could develop into a quality starter down the line. However, for now he has too many flaws to be ready to start any time soon.
Calling all HuffPost superfans!
Sign up for membership to become a founding member and help shape HuffPost's next chapter