 If the NFL draft has taught us anything over the years, it's that it remains an imperfect science. High draft picks can disappoint (e.g. Oakland's JaMarcus Russell and Rolando McClain), low draft picks can overachieve (e.g. Seattle's Richard Sherman, Kam Chancellor and Bobby Wagner) and undrafted players can shock the world -- think Dallas' Tony Romo and Cole Beasley. The draft "sleeper" is as coveted by GMs and scouts alike as anything, and if we do say so ourselves, previous editions of this column -- with names like Russell Wilson, Doug Martin, Terrance Williams, Giovani Bernard, Tyrann Mathieu, Eric Reid and Robert Woods -- have delivered.
With the 2014 draft kicking off this Thursday in New York City, let's take a look at the key sleepers to watch for this year. And don't forget about the record 98 juniors who entered.
Bishop Sankey, RB, Washington
Last year marked the first time that no running back was selected in the first round since the common draft began in 1967. Sankey has emerged as one of college football's most productive, if not flashy, running backs (1,870 yards rushing ranked second in the Pac-12). A jack of all trades, what he lacks in elite straight-line speed (4.47 40), he makes up for in toughness, quick feet, vision and pass-catching ability.
Cody Latimer, WR, Indiana
Latimer is finally stating to get the proper recognition for a guy who runs in the mid-4.4s and possesses a 39-inch vertical leap. With prototypical NFL wideout size at 6-foot-3, the former Hoosier will need to refine his route-running and escape of press coverage, but he could be special down the road.
Jimmie Ward, S, Northern Illinois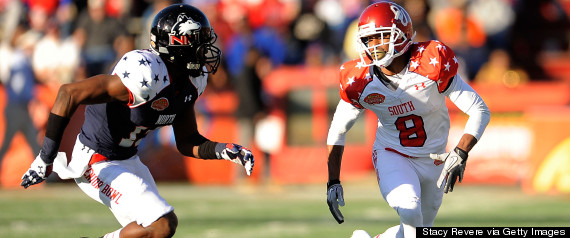 Forget the small-school pedigree: Ward (above, at left) is a ball-hawking safety who plays downhill with superb football instincts. He will make an impact right away, albeit defensively or in the return game, where he was one of college football's best, regardless of the level.
Jeremiah Attaochu, DE, Georgia Tech
Attaochu is a big-time athlete who uses dynamic quickness on the edge to rush the quarterback. He's not a perfect prospect because his technique leaves more to be desired, but value-wise, he can become a terrific asset out of the second or third round.
Allen Robinson, WR, Penn State
Latimer may be the most hyped receiver from the Big Ten Conference, but Robinson proved himself the most prolific. According to cfbstats.com, he had 10 receptions of at least 40 yards in 2013, tied for most in the country and ranked second in yards per catch. In a recent interview with The Huffington Post, Robinson said, "Just knowing how to run a route and what you want to be accomplished from each position [is what I have worked on]." With good size (6-foot-3 and 220 lbs.) and feel, Robinson should become a solid NFL player with day-two value.

Ka'Deem Carey, RB, Arizona
Carey is another early entrant who might fall to the fourth or even fifth round, but that just makes him more of a steal. A natural runner who moves the pile and has experience lining up in the slot under Arizona coach Rich Rodriguez, Carey will make an offensive coordinator very happy. At 5-foot-9 and 207 lbs., he isn't a burner (4.7 40), but he plays faster than that and his production (1,885 yards to lead the Pac-12, 19 TDs, 22 100-yard games for his career) is undeniable.
Van Noy, a two-time Third-Team All-American, is an absolute monster. He tackles everything, flies around the field and displays an excellent ability to read and diagnose plays. The former BYU star, who stayed in school through his senior year rather than going pro, will get on the field immediately as a rookie, and as a plus athlete will contribute.
Kelvin Benjamin, WR, Florida State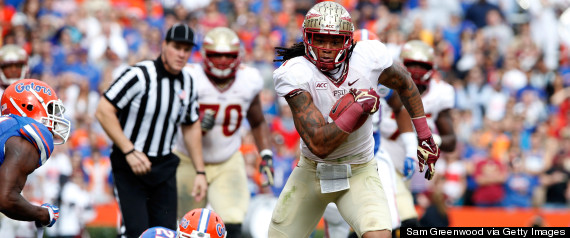 There isn't another receiver in this draft like Benjamin, who at 6-foot-5 and 240 lbs. runs pretty well and represents an excellent red-zone target (he caught the game-winning TD in the BCS title game). Questions persist about his erratic route-running, but from a talent perspective, Benjamin is really special. He can even morph into a hybrid tight end, lining up all over the field. Speaking with HuffPost before the draft, Benjamin gushed about superstar receivers Calvin Johnson and Alshon Jeffrey and spoke about his own versatility: "I can run every route a small guy can. I can get open ... [I want to] impose my will on the game ... A guy's not going to be able to jam me at the line."
Jordan Tripp, OLB, Montana
Tripp is a wonderful athlete who will find a way to contribute with his intelligence and natural tackling ability.
Jimmy Garoppolo, QB, Eastern Illinois
The 6-foot-2 Garoppolo is hardly a household name, but don't be fooled: He has legitimate NFL qualities (very quick release, accurate, throws the slant, good athlete), and while he's certainly a project, we could very well be looking at a starter three or four years down the road. Fairly or not, it's hard to avoid comparing Garoppolo to Tony Romo, the former Eastern Illinois standout with whom Garoppolo shares a certain swashbuckling style.
Robert Herron, WR, Wyoming Another sleeper at receiver in a draft loaded at the position, Herron, an L.A. kid who should have been a Pac-12 recruit, is a smooth runner with frontline speed (he ran a 4.35 40) and nice hands. Herron is rising, and could go as high as the third round. His big play ability at 5-foot-9 will allow him to contribute immediately, as will his toughness and his willingness to go over the middle.
Mason has everything you want in a starting NFL running back: tough, fluid and smooth runner, productive (1,816 rushing yards, 23 TDs), can pass-protect and is extremely athletic (position-best 38.5-inch vertical). Mason, who torched Florida State for 195 yards, reminds us a bit of Tampa Bay star Doug Martin and will play immediately as a rookie.
Gabe Jackson, G, Mississippi State
Guards don't necessarily get the blood flowing, but Jackson is one of the most versatile linemen in the draft. He started 52 games in the SEC and should enjoy a long, successful career regardless of where he ends up.
Bruce Ellington, WR, South Carolina Ellington's 5-foot-9 stature, tremendous skill set and overall toughness remind us strongly of Darren Sproles, though Ellington is not a guy who will carry the ball a ton. During his final two seasons of SEC play, Ellington -- who also played college basketball -- caught 89 passes for 1,375 yards and 15 touchdowns, and there is no reason why he can't be just as dynamic at the next level.
Jerick McKinnon, RB, Georgia Southern
McKinnon, at 5-foot-9 and 200-plus, is one of the draft's premier athletes. He ran a lighting 4.37 40 at the combine, already blocks extremely well and can play multiple positions. He is one of the rising names right now, regardless of position.
Kevin Norwood, WR, Alabama
Though Norwood lacks the gaudy statistics, he will find a home and stick because of his high character and football acumen. Having thrived at the highest level of college football, Norwood is a proven winner who can become a solid No. 2 or No. 3 NFL option in the right fit.
Storm Johnson, RB, Central Florida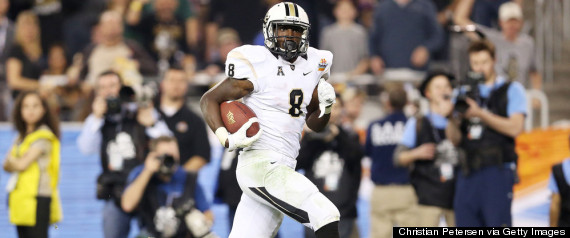 Blake Bortles was hardly alone in the Golden Knights' backfield -- he was flanked by a really, really good runner in Storm Johnson. Look out for Johnson somewhere in the fourth or fifth round, and then watch him star on the field next season. At 6 feet and 209 lbs., the only reason Johnson might slip is his lack of speed (4.6 40 at the combine), but he is a physical, interior runner who understands how to attack gaps.
Email me at jordan.schultz@huffingtonpost.com or ask me questions about anything sports-related at @Schultz_Report and follow me on Instagram @Schultz_Report. Also, be sure to catch my NBC Sports Radio show "Kup and Schultz," which airs Sunday mornings from 9 to 12 EST, right here.
REAL LIFE. REAL NEWS. REAL VOICES.
Help us tell more of the stories that matter from voices that too often remain unheard.