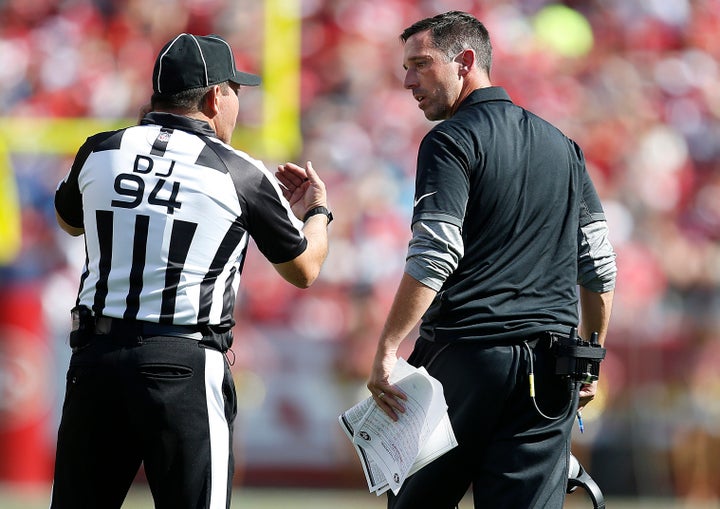 An NFL referee whose blown call in a recent game led to a touchdown just lost his stripes.
Hugo Cruz, in a move ESPN called "highly unusual," reportedly was fired Thursday for poor performance.
The dismissal marked the first time the league has sacked a referee for shoddy work during a season in the "Super Bowl era," according to the sports network.
The league hasn't publicly announced its decision, but several outlets have reported it. A "person familiar with the firing" confirmed the dismissal to The Associated Press.
HuffPost did not immediately hear back from the NFL.
Cruz was cut for his job performance in general, according to ESPN, but one blown call may have sealed his fate. He was canned less than two weeks after missing a "blatant" penalty in the Los Angeles Chargers-Cleveland Browns game on Oct. 14, For The Win wrote.
The fourth-year official failed to flag a false-start by Chargers offensive tackle Russell Okung. Chargers quarterback Philip Rivers then threw a touchdown pass to Tyrell Williams.
Cruz did not work the following week.
The NFL Referees Association promised to challenge what it called a "reckless decision."
"The NFL has a troubling history of knee-jerk reactions with an eye on public relations, and clearly it has not learned from past mistakes," said the union's executive director, Scott Green, a former referee, according to the NFL Network's Tom Pelissero. "The NFLRA will protect the collectively bargained rights of all officials and will challenge this reckless decision through the grievance process."
Popular in the Community