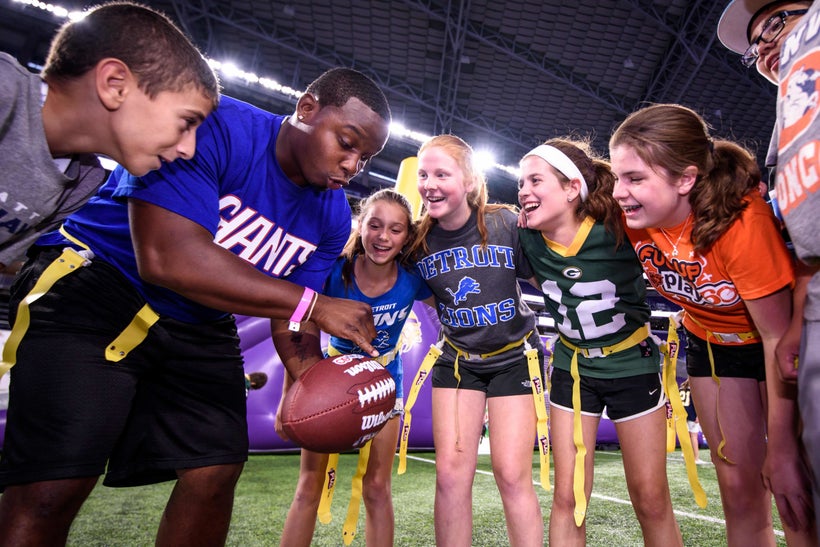 Limited physical education budgets and competing influences are challenging our schools' and our kids' ability to get the physical activity resources they need!
by Alexis Glick and Roman Oben
To succeed, our students must be physically active. It is an essential part of developing lifelong, healthy habits, and establishing a culture of wellness in our schools and our communities.
Yet shortfalls in funding for PE programs - including the equipment and coaching needed for intramural sports programs to thrive and grow - affect many underserved schools and educators nationwide. And as schools struggle with how to allocate their limited resources to many educational priorities, we're left with American students who have few options when it comes to the before, during, and after-school activity crucial to their wellness and education.
This is not new news; our country is aware of the concern with physical inactivity, both for kids and adults. The U.S. Department of Health and Human Services long ago set Physical Activity Guidelines for Americans that recommend at least an hour of daily vigorous to moderate intensity physical activity. Consequently, in recent years, schools have been called upon to adopt strategies to meet those recommendations.
Nevertheless, the reality is that most kids today still spend most of their day sitting in classrooms, and a big part of their free-time engaged in sedentary activities. Research by the Centers for Disease Control indicates that nearly half of students don't attend P.E. class in an average week when they're in school. And the widespread elimination of recess has exacerbated that problem.
Meanwhile, P.E. teachers, like all educators, are doing everything they can to make a difference. And based on our work with them, we know that P.E. teachers' needs are enormous. Equipment is often lacking and dated. Schools rarely have the means to purchase new sports equipment. Many instructors are seeking a simple curriculum that meets P.E. standards, and in the meantime, spend valuable time improvising their own lesson plans.
One notable solution in the last three years has been the National Football League and USA Football's commitment - in partnership with GENYOUth and its flagship program Fuel Up to Play 60 - to flag football.
The partners developed a turnkey solution to this issue in 2014. NFL FLAG-In-Schools Kits, which include footballs, flag belts, kicking tees, posters, and a P.E. curriculum designed by SHAPE America for elementary and middle schoolers, are provided to schools free of cost to enhance their physical education programs and allow students to get active and learn the basics of flag football in a fun environment.
With this new commitment, our group will have supplied more than 13,000 schools nationwide, in all 32 NFL club markets, with much-needed resources for their physical education programs - resulting in a remarkable total of 4.3 million students getting active. The most recent expansion was made possible by a renewed commitment from the NFL Foundation, amounting to nearly $1.5 million.
The reason for the redoubled efforts? The program is working.
Studies such as those by the Dallas-based Cooper Institute affirm the positive impact of physical activity programs on health outcomes for kids. Results from NFL FLAG-In-Schools are showing that the program has increased student participation in physical activity across the board, and has significantly increased P.E. teachers' confidence and ability to teach and coach flag football.
Even better, now - in addition to supplying NFL FLAG-In-Schools Kits - new digital NFL FLAG training modules will be available online free of charge to P.E. teachers, using a curriculum developed by USA Football and SHAPE America.
Among the best news is that teachers are using the program and loving it.
A remarkable 98% of teachers tell us they're using the kits in P.E. class, many for more than one semester. Nearly half — 47% — are also using them after school. This is a much-desired result for a program that represents an effective, replicable model, and that addresses in a simple but effective way one of the biggest challenges of cash-strapped school districts. And notably, 71% of schools receiving NFL FLAG-In-School Kits are high-need, defined as 40% or more of students qualifying for free or reduced-priced school meals.
In the past, we've referred to physical activity and overall good health, as a birthright for America's kids. That's true for a host of reasons, but perhaps most urgently because research shows that active kids do better, both physically and academically.
As the new school year begins, please join us in ensuring a healthy, active future for America's youth, especially those in underserved schools. We're proud to be making this renewed commitment, and invite you to learn more about our work – and support that work -- at www.genyouthnow.org. And learn more about NFL FLAG at www.nflflag.com!
Alexis Glick is the CEO of GENYOUth, the national youth-empowerment and school-wellness nonprofit. Roman Oben is the NFL's Vice President of Youth and High School Football.
Calling all HuffPost superfans!
Sign up for membership to become a founding member and help shape HuffPost's next chapter
This post was published on the now-closed HuffPost Contributor platform. Contributors control their own work and posted freely to our site. If you need to flag this entry as abusive,
send us an email
.