WASHINGTON -- The National Football League met with LGBT rights groups last week about the push to end homophobia in sports, at a time when speculation increases over whether the first gay player will soon come out in professional athletics.
Representatives from three LGBT groups -- Athlete Ally, GLAAD and You Can Play -- attended the Wednesday meeting at NFL headquarters in New York City. Former Tennessee Titan Wade Davis, who came out as gay in 2012 after he was done playing professional football, participated as well. They met with Troy Vincent, NFL senior vice president of player engagement, and several other NFL officials.
"We had a productive meeting in our office," Vincent told Outsports. "We embraced the opportunity to review with the groups our policies that prohibit discrimination in the workplace. ... In addition, we also discussed the ability of all personnel, including players, to express their opinions and feelings. We look forward to continuing the dialogue with these organizations and further educating everyone associated with the NFL about the importance of respect and inclusion in the office, the locker room and on the field."
The NFL is not going as far as the National Hockey League, which announced on Wednesday that it is partnering with You Can Play to combat homophobia in sports. The initiative will include training and counseling on gay issues, along with participation in public service announcements, putting the NHL on the forefront of LGBT rights in men's professional sports.
Still, the participants in last week's NFL meeting were optimistic that the league is committed to creating a more accepting culture.
"Football is the most popular sport in America, but it's also a sport where many LGBT young people have felt unwelcome or unable to participate -- in stands, on sidelines, or on fields across the country," the groups said in a joint statement provided to The Huffington Post. "Fortunately, that attitude is changing, and the NFL can help make the sport even more inclusive. We look forward to being a resource for the NFL on LGBT issues and hope to be valuable to the league as we all continue to progress."
Vincent is one of the officials charged by the NFL to be a liaison with the LGBT community and bring in ideas that can help the league foster a more welcoming environment. In the meeting, according to The New York Times, Davis suggested closed-door meetings in which players -- some of whom are deeply religious -- could freely ask questions about having a gay teammate.
There still has never been an openly gay athlete in major U.S. professional sports.
But Brendon Ayanbadejo, who was recently cut from the Baltimore Ravens and is the chairman of Athlete Ally's advisory board, said they are in discussions with four NFL players who could all come out at the same time so that no one person has to take the burden of the ensuing attention and pressure.
The NFL still has quite a ways to go, however. NFL prospect Nick Kasa, a senior at the University of Colorado, recently revealed that scouts asked about his sexual orientation at the NFL Combine, an annual showcase for new talent in advance of the draft.
"[Teams] ask you like, 'Do you have a girlfriend? Are you married?' Do you like girls?'" Kasa told ESPN Radio Denver. "Those kinds of things, and you know it was just kind of weird. But they would ask you with a straight face, and it's a pretty weird experience altogether."
The NFL is also preparing its security teams in case a gay player should come out.
"Our league and team security people would be ready to monitor any kind of public reaction that might not be appropriate, including scrubbing social media [for potential threats]," NFL spokesman Greg Aiello told USA Today. "We would assist the player in dealing with any adverse public reaction of any type, if there is any. Hopefully there wouldn't be and it would be a non-issue, which it should be."
Scott Fujita, a free-agent linebacker also involved in Athlete Ally, told The Huffington Post in a statement that he reached out to the NFL shortly after news of the alleged Combine questions broke.
"Regardless of what may or may not have taken place, I thought it was an important time to engage the league in a conservation about workplace behavior, to clearly define what's acceptable and what isn't, and to collectively give our best efforts to foster an inclusive atmosphere at the workplace," Fujita said. "I was pleased that the NFL was so receptive and shares the same goals, and I'm glad that Athlete Ally has been able to work with them on this important issue."
Before You Go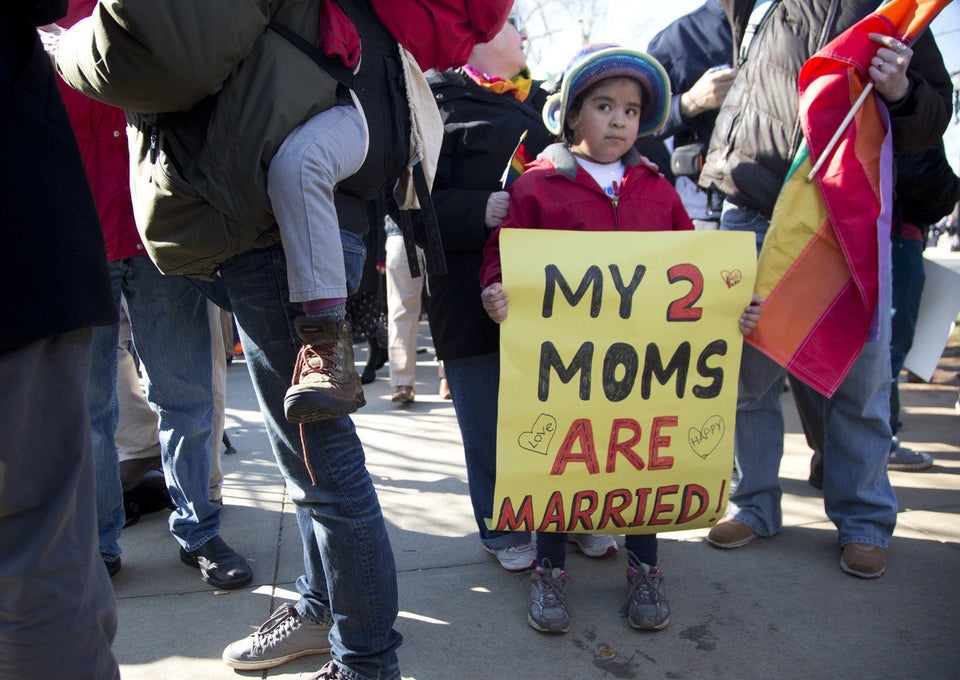 Best Protester Signs At SCOTUS Rallies
Popular in the Community