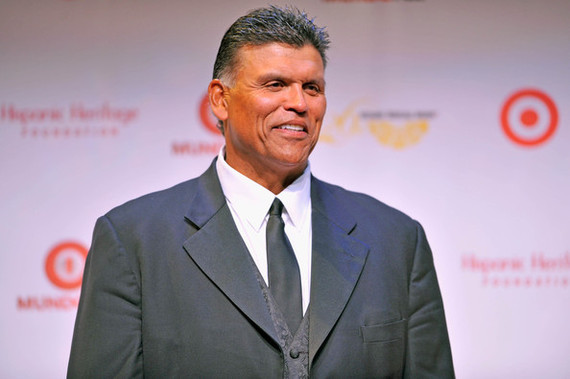 Few players in the NFL have earned the respect and admiration of present and former NFL players as has tackle Anthony Muñoz.
When you ask Muñoz how he wishes to be remembered, his reply is simple.
"I want to be remembered as a good person," said Muñoz.
Football fans remember the 6'-6", 284-pound offensive tackle and his 13 seasons with the Cincinnati Bengals.
They remember him as a brilliant straight-on blocker, that he was nimble, sturdy and powerful. That he had unusually quick feet and could neutralize even the fastest defensive ends.
He is the offensive tackle by which all others should be measured.
But that's just part of the story -- or a fraction of his life narrative, really.
I think it's good to be known for who you are and not what you do. The good thing about being on the field all of those years is that it gave me a platform. My goal when I made it to the NFL was to come here (Cincinnati) and be the best lineman possible. And now my goal is to be the best husband, father and community member I can be.

Football was the icing on the cake. I believe that the more you work on your individual self, the more productive you can become. Right now, I'm trying to live a legacy, and be known someday not just as a guy who played for the Bengals. But as someone who loves his community.
Muñoz is committed to being a stabilizing influence on the lives of youth in the Cincinnati-area. Formed in April of 2002, the Anthony Muñoz Foundation (AMF) is a nonprofit organization tasked with the mission of nurturing positive mental, physical and spiritual engagement in youth.
This foundation is really something that I enjoy doing. It is something that is hopefully having an impact on young people in the community. First of all, I have the appreciation of just being able to have a foundation, and not forgetting all the struggles. I think of my mom raising five kids, and of never meeting my dad. I think of my mom working two or three jobs. It's important for me to be a mentor to young men, who, like myself, need assistance with the dream. It's important to me because I come out of that environment.
Born August 19, 1958, in Ontario, California, Muñoz went to high school in downtown Los Angeles. His mother, Ester, was the family's sole provider, working from early morning until the last ray of daylight sunk. Anthony and his siblings learned early on in life that nothing would be handed to them. Ester picked, bent and stooped her way to a tiny paycheck. For a period, her sore hands picked countless grapes in the fields.
"She is 80-years-old now," said Muñoz. "She knew tough times, and how to work through them. She is a strong lady, and she is still fighting."
Ester's self-determination and her capacity to care for her children never faltered. Her drive in life was as large as the physical qualities of her son Anthony. Muñoz was actually too large to play Pop Warner football as a youth, and that's why he shifted to baseball. (As a sophomore in college, he pitched for USC's national championship team.)
Muñoz eventually steered back to football and was selected in the first round of the 1980 draft with a B.S. in Public Administration from USC.
Muñoz's NFL career was decorated with virtually every known distinction, including 11 consecutive Pro Bowl honors.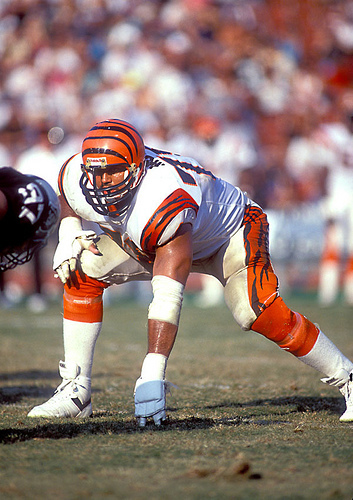 He was something of a trailblazer, too.
Even though I was born in America, I've tried to stay in touch with my background. My grandparents came from Mexico. When I made it to the pros, in places like South Central Los Angeles, the Hispanic community was roaring. At the time it was a big deal, because I was drafted, and I was not a kicker. As I got older, there were more initiatives and programs in the NFL for the Hispanic community.

For the Hispanic community that was born and raised here in the United States, there is a real pride and appreciation for what I did, and a real sense of history. With young people, it comes up, and now they know and the name is passed on. I guess I'm a bit of a pioneer, the fact that I'm the only Hispanic alive in the pro football Hall of Fame. I'll enjoy it now, because Tony Gonzalez will be joining me in five years.
During his football days, Muñoz enjoyed working with youngsters (he has two of his own) and stayed active in the Cincinnati area in drug and alcohol education programs, in addition to being active in numerous charities. He waited until eight years after his 1992 retirement to fully dedicate his energy to such work.
I wanted to make sure that the mission was set and that I had my partners set, and that I had the amount of time.

I wanted to know that I could be totally engaged. And it's been 13 years of being engaged -- and preparing and doing. We have three full-time staff members who believe in the mission. I love doing it. Like I said, when your time is over with it, your legacy should be about who you are -- not what you did.
Despite other offers and relocation temptations, Muñoz still resides in Cincinnati. He had the chance to return to his Alma Mater at USC and work as an assistant coach under John Robinson. His children at the time were ages nine and 11. Working as a sports broadcaster on either of the coasts was an option, too.
It was the lifestyle here and our roots that played into us staying here. My wife and I were in love with this part of the country. It's funny, but probably 40 or 50 guys I played with, guys who are originally from the Carolinas, or Texas, or California, they've chosen to stay in Cincinnati. My wife is from southern California. And we hear it a lot about the bad winters and the warm weather. Honestly, I don't mind the winters.
Muñoz's eternal attachment to Cincinnati is an interesting subplot -- and, really, it can be described as more of a longstanding mutual affection.
"When I was drafted here 34 years ago, you could hardly find anyone Hispanic here," said Muñoz. "And today, we have a great Hispanic chamber, and the number of Hispanic-owned companies in Ohio is growing rapidly."
Similar to foundation work, he takes his family equally seriously. He will be married for 37 years in April.
Marriage and parenting, the bottom line is that these things are hard work. And it all comes down to, 'Are you willing to put in the work?' It's about working through the tough times and obstacles, and having the humility to say, 'hey, I missed the mark.'
Muñoz operates under the mantra that character is power. He tells kids that character is the result of two things: mental point of view and the way we spend our time.
He strongly feels that youth need to be encouraged, as well as recognized, for their accomplishments. He wants them to understand that they are valuable -- and are valued.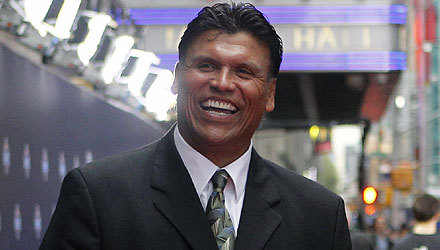 Two years ago, Anthony was visiting U.S. military bases in Afghanistan. He was shuttling from location to location, shaking hands, greeting new faces, thanking the men and women who've chosen to put their bodies on the front lines in service for their country. At a dinner event, he noticed a woman and two men -- all three of whom, it turned out, were Cincinnati-area natives. The woman recognized Muñoz, and she told him that she was one of his earliest scholarship recipients, many years ago.
"She thanked me for the scholarship," said Muñoz. "That was amazing."
There are other examples -- morsels of reward that notify Muñoz that he has walked a path that has positively influenced the lives of others. There was the time when another former scholarship recipient, then a junior at West Point, surprised Muñoz as he was giving a talk about leadership at Xavier College. The young man explained to the crowd of 1,500 how Muñoz and his foundation made a lasting impression on him.
Doubt is never a pleasant condition. It is, however, natural to occasionally allow it to gain traction in your thinking.
But Muñoz's uncertainty can usually be erased with a few words of appreciation.
Some days, you really don't know about the impact that you are having, if any. There are days when you ask, 'Is it all making a difference?' But then you take a deep breath, think about the change you know you've made, and say, 'hey, let's keep doing it.'
Photos courtesy of Anthony Muñoz Foundation.
Brian D'Ambrosio lives in Montana. His next book, 'Warriors in the Trenches,' detailing the lives and careers of 30 legendary boxers, entertainment wrestlers, football players, musicians and actors, will be available in the fall.
Popular in the Community