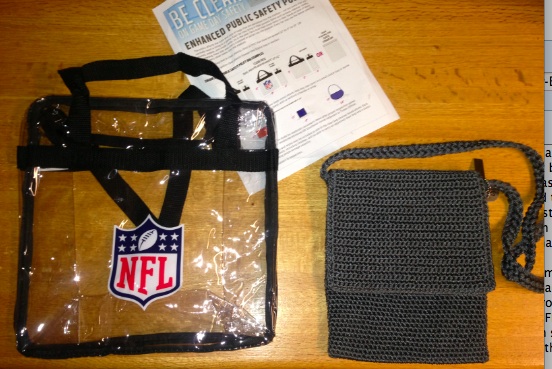 The newly imposed handbag restrictions are very nearly unworkable. Above, is a photo of the bag I have used ever since 2004, when we first bought our season tickets. It is one of the smallest bags out there, yet exceeds the maximum measurements as stated on the new requirements, which were included with the plastic bag mailed to ticket holders. As this is not a fashion commentary, I will not go into the new bag's utter lack of aesthetic appeal or its awful, rigid feel or the impractically of its short handle. I will also not mention the gestapo-like blanket application of this new security measure and the invasiveness of a bag made of materials that rob us of a very ordinary privacy.
And whoever created the dimensional requirements of accepted personal handbags should have considered realistic dimensions of handbags out there, available for retail purchase. A quick search on the Nordstrom website, using "mini cross body" bags as the search term, netted over a hundred bags, yet all but three were too big per NFL requirements. A quick search on the Target site netted 27 bags, all but four exceeded regulation size in at least one direction. A couple of the accepted sizes were referred to as phone cases (with straps) and useless in terms of holding anything else.
So I wonder what this all invites: Will the security guards be standing there with tape measures? Do we have that kind of time at the gate? Remember, the time will still be taken to search ticket holders and no doubt the bag will still be looked into. Fine, we are used to that. The problem with the iffiness on size, is that as soon as I think I should go ahead and take my puny blue bag, there will be some security person in just the right mood, and they will as a technical matter be right, and I will be wrong and have a snafu on my hands due to a two-and-a-half inch difference on a bag that they are welcome to fish around in to their heart's content.
People of the NFL, do I need to go into any detail about what some women might need to have with them in their bags that they would under no circumstance wish to carry in a clear plastic bag? Do I need to go into any detail about the size requirements for a handbag to be useful to most women and tell you what exactly and why we might need something just a tad bigger? Honestly, as soon as I need to tuck my glasses - let alone sunglasses - into a bag, along with my cell phone, my storage needs are in excess of the new NFL handbag size max.
I encourage the NFL to consider the reality of both retail availability for women when calculating these dimensions and practical application of the few items we have a right to carry with discretion... or there is one heck of an untapped market out there for teeny-weeny iddy biddy little bags that needed to have hit the stores yesterday.
Per NFL: 4.5 x 6.5" or 3.5 x 4" or 4.5 x 6.5" max
For reference, my blue bag: 7 x 9" (with about a 1" depth)
Related
Popular in the Community