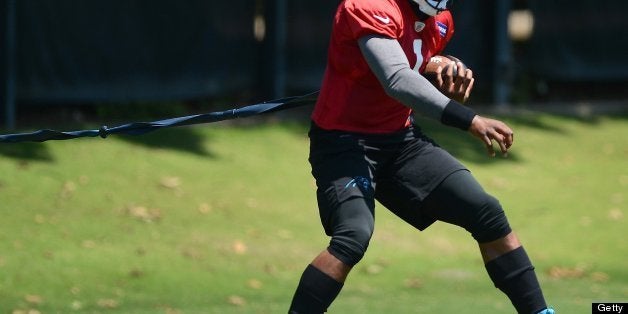 NFL Training isn't just hard work and sweat; it's a mixture of innovation, minute detail and total immersion. Despite the famously dynamic style of NFL strength and conditioning coach John Lott, many of today's training techniques don't involve spotting massive amounts of iron hovering above an athlete's chest. Not only do numerous pieces of pro-level equipment require electricity, quite a few also require software. The specificity and sophistication found only in NFL weight rooms is an extreme embodiment of "form following function." Sure, your home treadmill can program a virtual hike uphill -- but can it measure the force per square inch of every footfall? I didn't think so.
Supermodel Linda Evangelista once declared, "[I] don't wake up for less than $10,000 a day." I remember reflecting upon the probability that with this amount of money she had trainers, nutritionists and assistants completely dedicated to making her look spectacular. Not to mention the positively magical abilities of the average Hollywood hair and make-up team. If being beautiful were my full-time job, surely I could manage a Vogue-worthy façade at least once. On a really good day. As soon as I figured out how to grow nine inches.
Professional football players have one job: to play at the top of their potential for as long as possible. Just like Ms. Evangelista, they have a lot of help. Platoons of strength and conditioning specialists are dedicated to mining every nugget of their natural ability. And those extensively certified and passionately devoted professionals work their brand of magic before Aaron Rodgers, Patrick Willis and Larry Fitzgerald even say "Good morning" to their position coaches. Michael Wehrell, CEO and President of Vertimax, encapsulated the athletic performance industry's mission: "There's always a gap between your genetic ability and what you can achieve. Our job is to minimize that gap."
Those of us who don't earn our living seducing cameras or sacking quarterbacks are proud if we can avoid Mickey D's and fight off flab. Balancing workouts and earning a living is challenging in the real world. Surely, if we could only devote 60 hours per week to perfecting our pass-catching technique we could give Fitzgerald some competition. Okay, maybe not Larry--but at least that no-name undrafted rookie free agent. Right?
Consider that the professional rookie has an individualized workout, often with a unique piece of equipment for every facet of his game: from cutting agility to vertical leap. Mr. Wehrell's machine is designed specifically to increase explosiveness. He defines this all-important athletic attribute as "the ability to generate force quickly." His invention utilizes a system of pulleys and resistance bands to apply load on the muscles consistently throughout sports-specific movements. It's approximately 100 generations in the future from those elastic bands we use in our living rooms.
And those sports-specific movements? Both renowned private coach Tom Shaw (owner of two Super Bowl rings from his days with the New England Patriots) and Ted Rath (Assistant Strength and Conditioning Coach for the Detroit Lions) break down a player's tiniest motions through hours of observation and design training drills for each position's repeated movement patterns. Corners and safeties backpedal, offensive linemen slide and reach, etc. This painstaking approach produces training regimens that, as Wehrell would put it, "develop muscles relevantly." Coach Shaw defines "speed" as a "combination of stride length and stride frequency." He uses Vertimax as one tool in his coaching kit to increase the explosive power that directly impacts stride length and jumping ability.
This specialized training translates tremendous natural athletic gifts into thrilling feats of such crowd-pleasing magnitude that the NFL just charged Verizon a cool billion to stream games live for four years. National Football League owners spend a fortune on their modern-day gladiators. The bottom line is winning on every given Sunday and a team that has the same star quarterback or middle linebacker for 15 seasons is positioned for consistent success. The players themselves are in a constant struggle against Father Time, lurking injuries and the new, younger guy in this year's draft. I'm sure supermodels can relate.
Brent Calloway (Director, International Performance at Athletes' Performance) articulates the role of detailed, individualized training in career extension: "You have to combine raw strength with mobility to get functional strength. Functional strength prevents injury." His approach is that professional athletes are "plenty strong and plenty fast." The key to unlocking their optimum performance is in using every sports performance tool available to improve technique. That technique can lead to longevity.
Super Bowl-winning place kicker Matt Stover knows a bit about longevity after an illustrious NFL career that spanned 20 seasons. Yes, as in two decades. The man who scored 135 points single-footedly for the Baltimore Ravens during their first championship season candidly states, "I was a technician. That's why I lasted so long." Stover utilized film study of his kicking technique throughout his pro career and is a believer in video analysis as a vital training instrument.
"Putting in the time in the film room" has long been an NFL cliché and the hallmark attribute of illustrious players and coaches: Peyton Manning and Jon Gruden apparently live there. In the natural course of professional evolution, Spark Motion has created an iPad app that takes the film room onto the playing field. President/Founder David Gottfeld's invention allows coaches and rehab specialists to provide detailed visual analysis of their clients' performance in the authentic environment: from poolside to practice field to game time. Video from any source can be input and broken down in a wide variety of ways: using arrows, angles and grids, stop motion and slow motion, even audio feedback layered over the image.
Stover spends much of his time these days working with the Players' Philanthropy Fund, helping professional athletes streamline their charitable giving, but he also coaches kickers from high school through the pros. According to Matt, the kicking and punting motion is kinetically similar to a golf swing. I'll take his word for it. He uses Spark Motion to provide immediate feedback of the "show me" variety and to consult with his place-kicking charges around the country using the app's remote Cloud-based features. In Detroit, Rath finds the portable video app's immediacy to be invaluable during the rehab process, where maintaining essentially perfect form is key to healing.
Multiply these examples by 32 teams, hundreds of athletes and many burgeoning equipment companies with the latest products and you have a veritable Petri dish of practical athletic performance research. The Performance Industry is a huge contemporary business as corporations from the Dallas Cowboys to Intel are seeking any edge to increase productivity. Millions of dollars are flowing into this relatively new field peopled with coaches, trainers, physical therapists, engineers, inventors and scientists.

Most women want to look like Linda Evangelista and every American guy wants to throw like Tom Brady. And we'll spend a tremendous amount of disposable income to achieve those fantasies. Want to be a millionaire? Invent the diet that results in Gisele Bundchen's body.
As Baby Boomers refuse to sit rocking on the porch and as ambitious sports parents roam high school sidelines, there is a huge demand for whatever cutting-edge training technology can be accessed. Some of these high-tech devices have filtered down to those of us who can't devote our entire waking lives to athletic prowess or supermodel perfection. Both Vertimax and Spark Motion have versions of their product available to amateurs and weekend warriors. Vertimax will even help you get one of their machines donated to your high school.
Mr. Gottfeld's goal for Spark Motion is to put "the power in the hands of the person who holds it... to let the expert's creativity guide the application." Modern strength and conditioning experts have extensive educational credentials. They are also vanguard innovators whose every workout is uniquely designed for a specific person. A person with genetic gifts that are by definition beyond those of non-professional athletes. Rath is training Calvin Johnson. Those of us who work out for fun and health have never even approached Megatron status and, no offense, but little Teddy probably isn't growing up to be a 2,000-yard WR either.
Mr. Rath maintains that coaches are "only limited by their imaginations." That they can logically engineer a myriad of workout approaches guided by available logistics and emphasizing athlete safety. High school and amateur athletes can take advantage of the performance industry's innovations and vast body of knowledge. Professional coaches and conditioning experts are dedicated to both performance and safety and share their knowledge amazingly freely. Rath and the Lions hold strength and conditioning clinics attended by high school coaches and other "normal" people. The information to safely utilize these filtered-down technological advances is available to the parents, players and coaches who seek it.
NASA gave us Tang, the Navy gave us Velcro and professional sports is creating a steady stream of sophisticated training equipment and an enormous body of fitness knowledge that average Joe's and Jane's can tap into as we work on "minimizing the gap" between our potential and our actual. Will it turn you into J.J. Watt? Not unless you wake up one morning with a 54" vertical. Sure, it could happen. The same morning I wake up with that extra nine inches.
Calling all HuffPost superfans!
Sign up for membership to become a founding member and help shape HuffPost's next chapter