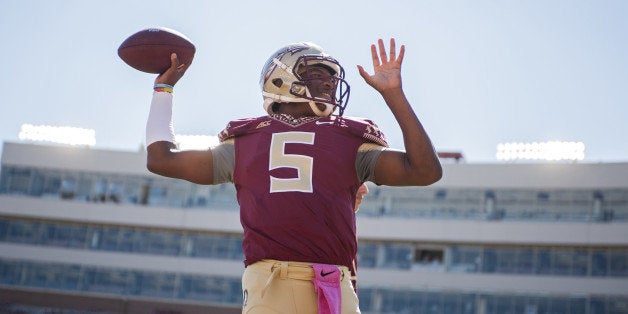 With the NFL Draft approaching on April 30th, it's time to hone in on and examine which NFL prospects fit where. As displayed in my five-part series before last season's draft, I compared my draft predicting skills to Mel Kiper Jr. and Todd McShay of ESPN, as well as Mike Mayock of the NFL Network. These three are widely recognized as some of the top NFL Draft analysts in the world, and I ended up doing pretty well going up against them.
In fact, I predicted eight of the first 10 picks in the first round, more than any of them. And yes, I'm bragging about that right now (because they did slightly better than I did predicting the rest of the round).
My first (and final) mock draft for 2015's class does not take into account any trades that may happen before or during the draft and takes into account team needs and overall talent projections that I've accumulated from a variety of sources.
Without further ado, here is my 1st Round 2015 NFL Mock Draft.
1.Tampa Bay Buccaneers: Jameis Winston (QB, Florida State)
As previously written, I believe Winston will be a bust at the next level, but it seems like the Buccaneers are set on selecting him with this first pick. It's obvious that Tampa Bay needs a quarterback and Winston is beloved in Florida. Despite the off-field (and on-field) issues, Winston will go first.
2. Tennessee Titans: Marcus Mariota (QB, Oregon)
The Titans would be foolish not to trade this pick if they can land a proven player like Philip Rivers, as that trade rumor has been floating around lately. However, if they stick with the pick, Mariota will likely go right after Winston, as the last two Heisman winners will be selected with the first two picks in the draft.
3. Jacksonville Jaguars: Dante Fowler Jr. (DE, Florida)
The Jaguars need a hybrid defensive end/outside linebacker and Fowler fits that mold exactly (since he played a similar role at Florida). This is purely a scheme fit, as Leonard Williams is the best defensive player in this draft. I can see Williams going here too, but Fowler Jr. makes sense because of his familiarity with the position.
4. Oakland Raiders: Amari Cooper (WR, Alabama)
What do you know? The Raiders will select a wide receiver! Except this time, the wide receiver will end up being a very productive one. Cooper was dominant at Alabama, and would be a perfect addition to a team that looks to build around sophomore quarterback Derek Carr. Can also see Williams going here, but think Cooper fits more of a need.
5. Washington Redskins: Leonard Williams (DE, USC)
Williams will not slip out of the top five (as much as the Jets would love that to happen). The Redskins can definitely use a player like him on their defensive line, as he will likely be a disruptive force at the next level.
6. New York Jets: Bud Dupree (OLB, Kentucky)
Rumors are swirling that the Jets will be eyeing Todd Gurley with this pick. I just can't see that happening. The running back position is becoming more and more meaningless, and Gurley is coming off of knee surgery. That being said, first-year coach Todd Bowles is a former defensive coordinator, and a player like Dupree coming off the edges would certainly be a welcomed addition to an already-talented Jets defensive who will need to improve even more to deal with AFC East offenses who have already gotten better from last season.
7. Chicago Bears: Kevin White (WR, West Virginia)
White is the second-best wide receiver in the draft, and with the departure of Brandon Marshall, the Bears will take a wide receiver with this pick. If Cooper is somehow still on the board, he will likely go here, but since I have Cooper going to the Raiders, White slides into this position.
8. Atlanta Falcons: Vic Beasley (OLB, Clemson)
Regarded as perhaps the best edge pass rusher in the entire draft, the Falcons defense (which was abysmal last season) would get an instant upgrade and would bring in someone who could make an immediate impact on that end of the ball.
9. New York Giants: Brandon Scherff (OG, Iowa)
The Giants are an offensive lineman away from making another Super Bowl run, in my opinion. With a healthy Victor Cruz, emerging superstar Odell Beckham Jr., a more-accurate Eli Manning, and the addition of Shane Vereen in the offseason, the Giants should select the best guard in the draft, and that's Scherff.
10. St. Louis Rams: Ereck Flowers (OT, Miami)
The Rams would benefit from this safe pick, as Flowers could come in right away and start. This isn't a flashy pick, but it meets a need at the right tackle position.
11. Minnesota Vikings: Trae Waynes (CB, Michigan State)
Waynes is, in my opinion, the best cornerback in this year's draft, and the Vikings would be able to fill a need with this pick. Especially since they're in the NFC North (playing against high-flying passing offenses like the Packers and Lions), Minnesota needs to improve their secondary.
12. Cleveland Browns: DeVante Parker (WR, Louisville)
Parker should be the next receiver to go off the board, and I think he will go here to the Browns. The Browns' rushing attack was among the best in the league last season, but in order for the team to have any sort of passing game, there needs to be an improvement at the wide receiver position. Can also see Breshad Perriman or Phillip Dorsett going at this spot.
13. New Orleans Saints: Randy Gregory (OLB, Nebraska)
Gregory has a few off-field concerns, but as we have seen in the NFL (and if Winston goes No. 1), talent often supersedes these issues. The Saints are a good organization for Gregory and his talent is unquestionable and would meet a team need.
14. Miami Dolphins: Andrus Peat (OT, Stanford)
The Dolphins need some offensive line help, and Peat is the guy I see going at this spot. I can also see La'el Collins or D.J. Humphries going here as well.
15. San Francisco 49ers: Arik Armstead (DT, Oregon)
The 49ers need a run-stopper to plug the middle of their defensive line and Armstead is the perfect scheme fit. He has shown to be dominant against the run in college and many believe he can develop into a solid pass rusher as well over time.
16. Houston Texans: Breshad Perriman (WR, Central Florida)
Andre Johnson is now a Colt, which leaves a void at the wide receiver spot. Perriman is a physical specimen and could step in right away and be an impact player for Bill O'Brien.
17. San Diego Chargers: La'el Collins (OT, LSU)
The Chargers stumbled with offensive line depth last season, and this pick would make sense to ensure that San Diego's O-line is ready to go this year. Collins is one of the top O-line prospects in this year's draft.
18. Kansas City Chiefs: Cameron Erving (C, Florida State)
Last year's 6th round pick Eric Kush is the only center on the Chiefs roster, and Erving would likely be a major talent upgrade at the position. Since the team relies heavily on Jamaal Charles, it's imperative that Andy Reid finds a replacement for last year's starter Rodney Hudson, who left in free agency.
19. Cleveland Browns: Todd Gurley (RB, Georgia)
Despite the emergence of rookies Isaiah Crowell and Terrance West last season, the Browns would love to add Gurley to their roster with this selection. Since Gurley would likely thrive in a situation where he won't be prone to wear and tear immediately, he would be part of a three-headed rushing attack in Cleveland, which would only improve his chances at having a long NFL career.
20. Philadelphia Eagles: Landon Collins (SS, Alabama)
Collins has shown that he has versatility to play safety and nickel linebacker during his time at Alabama and if anyone loves versatility, it's Chip Kelly.
21. Cincinnati Bengals: Eddie Goldman (DT, Florida State)
The Bengals would love to add a dominant run stopper and Goldman would be a welcomed addition at this spot.
22. Pittsburgh Steelers: Byron Jones (CB, Connecticut)
Jones wowed everyone at the NFL Combine, breaking records left and right. While he will have to prove that his athleticism translates to on-field production at the next level, I don't see him slipping by this spot, as the Steelers are in need of a cornerback.
23. Detroit Lions: Danny Shelton (NT, Washington)
What's the best way get over the loss of Ndamukong Suh? Draft another nose tackle, Danny Shelton from Washington. While many don't see him slipping this far in the draft, teaming Shelton with newly-signed Haloti Ngata up the middle would be a reputable combination.
24. Arizona Cardinals: Melvin Gordon (RB, Wisconsin)
The Cardinals experienced a painful amount of injuries last season, specifically at the quarterback and running back positions. I like them taking a quarterback (perhaps Brett Hundley or Bryce Petty) in the next round, but I don't think they would pass by Melvin Gordon here, who showed durability and excellence at the collegiate level as an absolute workhorse. Combining Gordon's skills with speedster Andre Ellington would be fun to watch.
25. Carolina Panthers: D.J. Humphries (OT, Florida)
The Panthers need a lot of help on the offensive line and the very athletic Humphries would be a solid fit here.
26. Baltimore Ravens: Phillip Dorsett (WR, Miami)
The Ravens would love to add Dorsett, one of the fastest players in this year's draft, to their receiving core, as Joe Flacco loves to throw the ball downfield (more than any other quarterback in the league). Dorsett would fit wonderfully in Baltimore's offense, especially as a home-run threat.
27. Dallas Cowboys: Kevin Johnson (CB, Wake Forest)
Depth at cornerback is a concern for the Cowboys and Johnson would be a solid addition to help out in that regard, as both running backs will likely be taken at this point in the draft.
28. Denver Broncos: Jake Fisher (OT, Oregon)
Fisher could step in and start right away (or at least provide depth) on Denver's offensive line that desperately needs to protect the aging and battle-tested Peyton Manning.
29. Indianapolis Colts: T.J. Clemmings (OT, Pittsburgh)
The Colts need a right tackle and Clemmings can step in right away as the Day 1 starter at that spot.
30. Green Bay Packers: Marcus Peters (CB, Washington)
Peters is, by some accounts, the best cornerback in the draft, and the Packers could use some depth at that position.
31. New Orleans Saints: Nelson Agholor (WR, USC)
Agholor is a great route runner and Drew Brees needs great route runners to throw the ball to, especially since Jimmy Grahm is a Seahawk.
32. New England Patriots: Laken Tomlinson (G, Duke)
The Super Bowl champs could fill a need with this pick and Tomlinson would be able to fill the void that Dan Connolly would leave (as his free agent status is uncertain). Regardless, there would likely be a competition for the starting role even if Connolly is re-signed, as Tomlinson is regarded as the best or second-best guard in the field. He stuffed Danny Shelton multiple times at the Senior Bowl and got on many NFL teams' radar as a result.
What do you think of this mock draft? Who do you think will go to your favorite team?
Popular in the Community