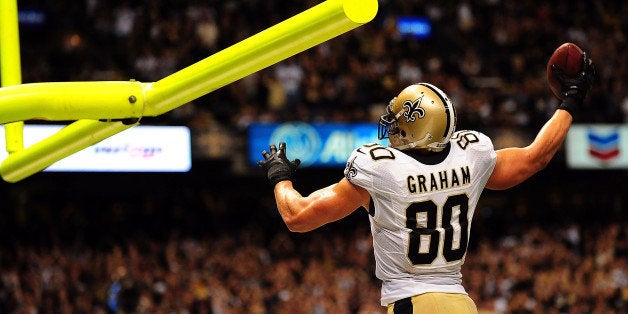 By Joel Corry, National Football Post

The NFL salary structure is imperfect because a player's salary doesn't always match his production. This is especially true with draft choices since their compensation is dictated by draft position. Teams are also reluctant to sign highly productive older veterans, except quarterbacks, to lucrative long-term deals because they are afraid of a drop-off in play as said players continue to age.
Here's a look at some of the NFL's most underpaid players. A player had to be eligible to renegotiate his contract under the NFL's collective bargaining agreement in order to be considered. Players drafted during the last three seasons, like Richard Sherman, J.J. Watt and Russell Wilson, have been excluded because they won't be able to sign new deals until the end of the third year of their rookie contracts. Overall contract packages of players were evaluated in addition to 2013 compensation.
Jimmy Graham (TE)-New Orleans Saints: The former Miami Hurricane power forward could have the most prolific tight end season in NFL history, provided he can quickly rebound from a minor foot injury. His numbers project to 99 catches for 1,581 receiving yards and 16 touchdowns over a 16-game season. Graham was named NFC Offensive Player of the Month for September, which is the first time a tight end has ever received the monthly award. The 2010 third round pick's four-year deal averaging $824,535 per year (including a $665,140 signing bonus) expires after the season.
The Saints' use of Graham like a wide receiver has complicated negotiations for a new deal because top wide receivers make significantly more than top tight ends. The New England Patriots' Rob Gronkowski is the NFL's highest paid tight end with the six-year, $54 million contract extension (includes $18.17 million in guarantees) he signed last year. Absent a new deal, the Saints will place a franchise tag on Graham in 2014. Expect Graham to file a grievance to be classified as wide receiver since franchise tags are determined by the position where the player participated in the most plays during the prior season. Graham would gain tremendous leverage in negotiations if he won an arbitration hearing on his franchise tag position because the wide receiver franchise number is $10.537 million this year, while the tight end number is $6.066 million.
Tom Brady (QB)-New England Patriots: Brady did something extremely unusual for NFL superstars, which probably won't become a trend. He took a steep hometown discount in an offseason contract renegotiation that freed up $8 million in 2013 salary cap room for New England when he signed a five-year, $57 million deal. Brady receives $33 million, which is fully guaranteed, in the first two years of the new deal ($30 million of the guarantee is in the form of a signing bonus) instead of the $30 million he was scheduled to make in the remaining two years of his contract. Since Brady wasn't in danger of being released before his contract expired, he didn't receive much in return for the three new contract years.
The value of Brady's three new contract years is $27 million. Regardless of how Brady's new contract is characterized (five years, $57 million or three years, $27 million extension), its average is less than the four-year, $48.5 million extension he signed in 2005. The average of Brady's new contract years should have placed him among the NFL's highest paid players by topping the $20 million per year mark.
Dez Bryant (WR)-Dallas Cowboys: It's unlikely that Bryant will reach his goal of becoming the NFL's first 2,000 yard receiver with 20 touchdowns, but head coach Jason Garrett believes he has only scratched the surface of his talent. Bryant is on track to become the first wide receiver in Cowboys history with consecutive seasons of at least 90 catches and 1,200 receiving yards. The 24th overall pick in the 2010 NFL draft had a breakout 2012 campaign with 92 receptions for 1,382 yards and 12 touchdowns. Bryant is on pace for 96 catches, 1,301 receiving yards and 14 touchdowns this season. As the 24th overall pick in the 2010 NFL draft, Bryant signed a five-year, $11,810,500 deal (with $8.625 million guaranteed). His salary is $1,807,500 this year and $2.03 million next year. Given that the Cowboys aren't afraid to pay wide receivers near the top of the market (Roy Williams: six-year, $54 million contract extension in 2008), Bryant could average more than $13 million per year with over $30 million in guarantees when he signs a new contract.
Demaryius Thomas (WR)-Denver Broncos: Conventional wisdom suggested that Thomas would have difficultly duplicating his 2012 season with the addition of Wes Welker and the emergence of Julius Thomas at tight end. He caught 94 passes (eighth in the NFL) for 1,434 receiving yards (fifth in the NFL) and 10 touchdowns in 2012. Thomas is on pace this year for comparable numbers of 94 catches, 1,394 receiving yards and 11 touchdowns. The 22nd overall pick in the 2010 NFL draft is in the fourth year of a five-year, $12,155,500 rookie contract (with $9,351,750 guaranteed and worth a maximum of $15,505,500). Thomas should become one of the NFL's highest paid wide receivers with his next deal, which should exceed the five-year, $60 million contract (with $30 million in guarantees) Mike Wallace received from the Miami Dolphins as a free agent.
Alterraun Verner (CB)-Tennessee Titans: Verner has been Pro Football Focus' top ranked cornerback this season. According to Pro Football Focus, quarterbacks had a 15.4 passing rating and were only completing 34.4 percent of passes (11 completions in 32 attempts) through the first six weeks of the season when targeting Verner. The 2010 fourth round pick was named AFC Defensive Player of the Week for Week 4 and is tied for the NFL lead with four interceptions. Verner is in the final year of his four-year, $3,160,140 rookie contract. It might require more than the five-year contract extension Jason McCourty signed with the Titans in 2012 averaging $8.608 million per year (with $17 million in guarantees and $3 million in salary escalators) for Verner to remain in Tennessee.
Greg Hardy (DE)-Carolina Panthers: Hardy is proving his 2012 breakout season with 11 sacks isn't a fluke. The 2010 sixth round pick was named NFC Defensive Player of the Week for Week 3 after notching three sacks against the New York Giants. According to Greg Bedard of the MMQB, Hardy ranked eighth among edge rushers through the first six weeks of the season in pressuring opposing quarterbacks. He had a 10.2% pressure rate on passing plays. Charles Johnson, his Carolina defensive end counterpart, ranked tenth with a 9.7% pressure rate. Hardy, who is in the final year of a four-year, $2,775,786 rookie contract, recently rejected a four-year, $32 million extension. Hardy could price himself out of Carolina by looking for a contract similar to the six-year, $76 million deal (including $32 million in guarantees) Johnson received in 2011 to re-sign with the Panthers if he continues to perform at the same level or better than Johnson this season.
Alex Boone (OG)-San Francisco 49ers: Boone was a big surprise in 2012 after switching from offensive tackle to offensive guard. The 2009 undrafted free agent was a Pro Bowl alternate in his first season starting at right guard. He signed a four-year contract extension late in the 2011 season as a backup averaging $1.635 million per year (with $2.64 million in guarantees and up to $2.1 million in escalators) that keeps him under contract through the 2015 season.
Daryl Smith (ILB)-Baltimore Ravens: Smith signed a one-year, $1.125 million deal (with an additional $1 million in playtime incentives) after Rolando McClain abruptly retired in May. It has been a smooth transition for the Ravens from future first ballot Hall of Famer Ray Lewis to Smith at inside linebacker. Smith had 100 percent defensive playtime in Baltimore's first six games. He is tied for sixth in the NFL with 62 tackles. The Ravens may have a difficult time re-signing Smith after the season because of salary cap problems.
Julian Edelman (WR)-New England Patriots: Edelman has been the most reliable weapon in New England's passing game because of injuries to Danny Amendola and Rob Gronkowski, Aaron Hernandez's incarceration and growing pains with the team's rookie wide receivers. In seven games, Edelman has notched 46 catches (tied for third in the NFL) for 455 receiving yards, which are career bests. Edelman signed a one-year contract for $765,000 to remain with the Patriots when he couldn't generate much interest in the free agent market. The deal also contains $250,000 in incentives for receptions. Edelman has already earned $70,000 of his incentive package for reaching 40 receptions. He will earn the remaining $180,000 if he continues at his current pace.
Brandon Browner (CB)-Seattle Seahawks: Browner signed a three-year deal averaging $415,000 per year when he returned to the NFL in 2011 after spending five seasons in the Canadian Football League with the Calgary Stampeders. The three-time CFL all-star was a Pro Bowl alternate in his first season with the Seahawks. At 6-4 and 221 pounds, Browner can physically matchup with the NFL's bigger wide receivers, such as Calvin Johnson and Brandon Marshall. Browner, who spent his 2005 rookie season on the Denver Broncos' injured reserve list, was scheduled to make $555,000 this year before the Seahawks gave him a slight pay raise with a $125,000 signing bonus and $125,008 in per game active roster bonuses ($7,813 per game). It would be a surprise if Seattle signed Browner, who turns 30-years-old before the start of the 2014 season, to a lucrative contract because Earl Thomas and Richard Sherman's rookie contracts expire after the 2014 season.
Others: Eric Decker (WR)-Denver Broncos, Earl Thomas (S)-Seattle Seahawks, Mike Iupati (OG)-San Francisco 49ers, Hakeem Nicks (WR)-New York Giants, Lamarr Houston (DE)-Oakland Raiders
Joel Corry is a former sports agent who helped found Premier Sports & Entertainment, a sports management firm that represents professional athletes and coaches. Prior to his tenure at Premier, Joel worked for Management Plus Enterprises, which represented Shaquille O'Neal, Hakeem Olajuwon and Ronnie Lott. You can email Joel at jccorry@gmail.com.
Related
Before You Go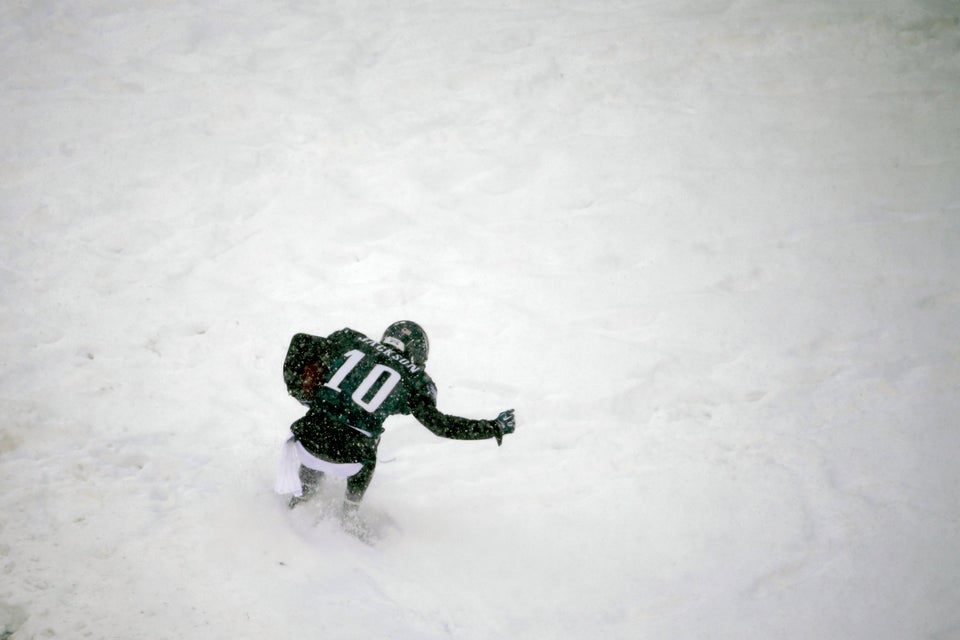 Best 2013 Sports Photos
Popular in the Community