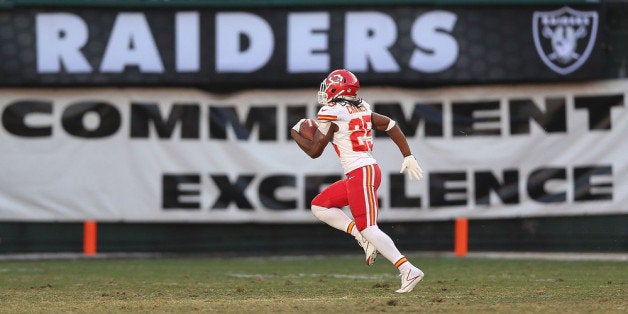 It's a foregone conclusion that Broncos quarterback Peyton Manning will be named the NFL's Most Valuable Player for 2013. The future Hall of Famer is set to put the finishing touches on one of the best quarterback seasons in NFL history while positioning the Denver Broncos for home field advantage throughout the AFC playoffs. Manning is on pace to break the single season yardage record Saints signal-caller Drew Brees set in 2011 (5,476 passing yards) as well as Tom Brady's mark of 50 touchdown passes.
With Manning as a virtual lock to win the award, here are five players who also deserve consideration.
The Chiefs' offense revolves around Charles. He accounts for 38.4 percent of the offense's yards and is the only NFL running back currently leading his team in receptions (65), receiving yards (665) and receiving touchdowns (seven). Charles has a league-leading 18 touchdowns. With three more receiving touchdowns, he will become the first player in NFL history to hit double figures in rushing touchdowns and receiving touchdowns in the same season. Charles is also second in the NFL in yards from scrimmage (1,836) and fourth in rushing (1,181 yards).
Russell WilsonWilson has guided the Seahawks to the NFL's best record through 15 weeks.
The NFC's road to the Super Bowl will go through Seattle thanks, in large part, to Wilson guiding the Seahawks to an NFL-best 12-2 record. Wilson has more wins (23) than any quarterback in NFL history through his first two seasons. His raw numbers may not wow anybody because the Seahawks have the second-fewest passing attempts in the NFL. Nonetheless, Wilson makes the most of his opportunities. He is sixth in the NFL with a 105 passing rating, eighth in completion percentage (64.7%) and tied for second with four game-winning drives. Wilson's running ability adds another dimension to Seattle's offense. He ranks second among quarterbacks with 508 rushing yards.
Brady has kept the Patriots afloat despite wholesale changes to the receiving corps, Rob Gronkowski's limited availability and injuries to key defensive players. The Patriots are on track for the second seed in the AFC playoffs. Although Brady has engineered five fourth quarter quarterbacks and five game-winning drives, which both top the NFL, his mediocre first half of the season can't be ignored. He completed 55.7 percent of his passes, tossed nine touchdowns and six interceptions with a 74.9 passing rating over the first eight games of the season. Brady has rebounded during the season's second half with a 66.8 completion percentage, 103 passing rating and 14 touchdown passes.
Rivers is arguably having the best season of any quarterback besides Peyton Manning. He is leading the NFL with a career best 69.9 percent completion percentage after flirting with Drew Brees' single-season record of 71.2 percent for a majority of the season. Rivers is also posting a career best 106.9 passing rating, which is fifth in the NFL. He is in the top-five in passing yards (4,048) and touchdown passes (28) as well. San Diego's 7-7 record while taking a backseat to the Denver Broncos and Kansas City Chiefs in the AFC West will likely keep Rivers' season from being fully appreciated.
The Eagles have the NFL's top-ranked rushing attack because of McCoy. He leads the NFL in both total yards from scrimmage (1,850) and in rushing (1,343). McCoy's five yards per carry average is also fifth in the NFL and third among running backs. Although Chip Kelly's up-tempo offense didn't hit its stride until Nick Foles took over at quarterback, McCoy has been the constant throughout the season. He opens up the passing game for Foles.
Joel Corry is a former sports agent who helped found Premier Sports & Entertainment, a sports management firm that represents professional athletes and coaches. Prior to his tenure at Premier, Joel worked for Management Plus Enterprises, which represented Shaquille O'Neal, Hakeem Olajuwon and Ronnie Lott. You can email Joel at jccorry@gmail.com.
Related
Popular in the Community