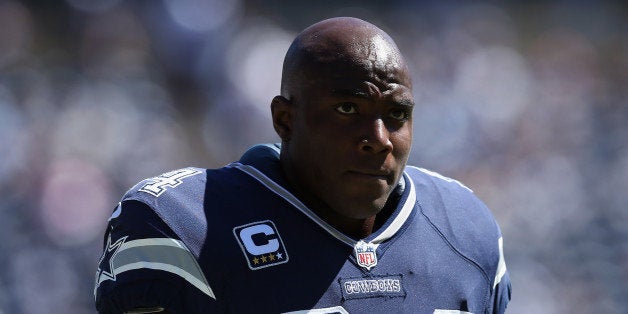 A player must not react emotionally if his team asks him to take a pay cut. Before deciding whether to entertain a pay cut, a player must evaluate whether he believes he can sign a new deal that is comparable to his current contract on the open market. If this type of analysis isn't done, a poor decision can be made.
Champ Bailey (CB)-Denver Broncos
Bailey isn't ready to call it quits. He wants to play a 16th NFL season. The 35-year-old is entering the last year of a four-year, $43 million contract (worth a maximum of $46.75 million through base salary escalators) after a season in which he was limited to five regular season games because of a left foot sprain that occurred in a pre-season game against the Seattle Seahawks. In addition, 2013 marked the first time in Bailey's storied career that the cornerback failed to record an interception. Bailey is slated to make $10 million next season and have a $10 million salary cap number. $1 million of Bailey's salary is a roster bonus payable on the fifth day of the 2014 league year (March 15). His cap number (and total salary) will increase to $10.5 million with satisfactory participation in Denver's off-season workout program.
Bailey's 2014 salary doesn't reflect the market for older defensive backs. Ronde Barber's last two contracts with the Tampa Bay Buccaneers, both one-year deals in 2011 and 2012 when he was 36 and 37-years-old, were worth $3 million (with an additional $1 million for making the Pro Bowl). Charles Woodson signed a one-year, $1.8 million deal (plus an additional $2.5 million in incentives) with the Oakland Raiders in 2013 as a 36-year-old. Woodson earned $1.5 million of his incentive package to bring his total compensation to $3.3 million. The Broncos will gain $10 million of cap space if they part ways with Bailey.
DeMarcus Ware (DE)-Dallas Cowboys
Ware's $16,003,750 cap number is a result of restructuring his six-year, $78 million deal in three consecutive off-seasons. His figure needs to be addressed because Dallas currently has an NFL-high $152.2 million in 2014 cap obligations. Ware has indicated that he's willing to restructure his contract once again, but a pay cut is a different story. The seven-time Pro Bowler was limited to a career-low six sacks in 2013 while dealing with quadriceps, elbow and back injuries. Reducing the 31-year-old's $12.75 million salary by $4 million seems reasonable considering 32-year-old Robert Mathis, who led the NFL with 19.5 sacks in 2013, is playing under a $9 million per year contract. Ware could be given the opportunity to earn the money back with not likely to be earned (NLTBE) sack incentives beginning with seven sacks. $7,432,250 of cap room would be gained by parting ways with Ware if the pass rusher is unwilling to accept a pay cut.
Frank Gore (RB)-San Francisco 49ers
Gore turns 31-years-old in May and is scheduled to make $6.45 million next season, which is the final year of his current contract. Running backs in their thirties usually don't command such a high salary, especially on teams with good depth at the position. Darren Sproles and Steven Jackson, both of whom are 30-years-old, are the next highest paid older running backs behind Gore with $3.5 million and $3 million 2014 salaries, respectively. Marcus Lattimore, who "redshirted " during his 2013 rookie campaign because of a serious knee injury suffered in college, could be the future of San Francisco's rushing attack.
Gore finished ninth in the NFL in rushing with 1,128 yards in 2013, but only averaged 3.4 yards per carry in San Francisco's three playoff games. It is unusual for running backs to sustain or improve their production in their thirties especially if they have had a heavy workload previously. Gore is second among active players with 2,187 career rushing attempts and tied for 29th all-time. Although Gore is still performing at a high level, just eleven running backs have ever hit the 1,000-yard rushing mark at 31-years-old. Only five running backs, including potential cap casualty Chris Johnson, are scheduled to make more than Gore next season.
Troy Polamalu (S)-Pittsburgh Steelers
Polamalu is no longer in the discussion regarding the NFL's best safety. The 2010 Defensive Player of the Year was named to his eighth Pro Bowl in 2013, but the honor may have been based more on his reputation than his play. Polamalu, who turns 33 in April, has the NFL's highest 2014 cap number for safeties at $10,887,500 in the final year of a three-year, $29.6 million contract extension. The Steelers would pick up $8.25 million of cap room by releasing their popular safety. Pittsburgh team president Art Rooney II would like for Polamalu to retire with the club. A pay cut could be folded into an extension that lowers Polamalu's cap number and ensures that he never plays with another NFL team. The three-year deal Ed Reed signed with the Houston Texans averaging $5 million per year could be an important data point for the extension years.
Vince Wilfork (DT)-New England Patriots
The 32-year-old is in a precarious position because he is entering the final year of his five-year, $40 million contract that features an $8 million 2014 salary and $11.6 million cap number. The five-time All-Pro has the fourth-highest cap number among NFL defensive tackles and the second-highest cap number on the New England roster behind quarterback Tom Brady ($14.8 million). The Patriots have slightly under $3.9 million of cap room based on a projected $126.3 million 2014 salary cap.
Others: James Casey (TE)-Philadelphia Eagles: $3.985 million cap number/$3.985 million salary; Antonio Cromartie (CB)-New York Jets: $14.98 million cap number/$9.5 million salary; D'Qwell Jackson (ILB)-Cleveland Browns: $9,483,333 cap number/$8,083,333 salary, Davin Joseph (OG)-Tampa Bay Buccaneers: $6 million cap number/$6 million salary; Zach Miller (TE)-Seattle Seahawks: $7 million cap number/$6 million salary
Joel Corry is a former sports agent who helped found Premier Sports & Entertainment, a sports management firm that represents professional athletes and coaches. Prior to his tenure at Premier, Joel worked for Management Plus Enterprises, which represented Shaquille O'Neal, Hakeem Olajuwon and Ronnie Lott. You can email Joel at jccorry@gmail.com.
Popular in the Community