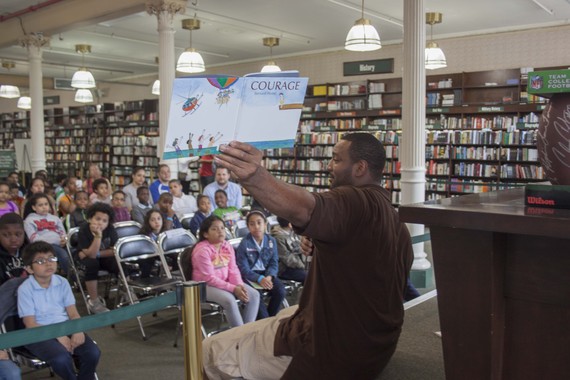 When you think of football, you think of crisp autumn afternoons watching your favorite team, bonding with friends over fantasy football, or watching your young ones in their pee wee league. One way you may not see the popular sport is as a catalyst to reach at risk youth, a channel to children to teach them valuable lessons not about offense and defense, but about discipline, education, and helping others. That's just what the Canty family accomplishes with the Chris Canty Foundation.
When I first met Joe Canty, the President and Chairman of the Chris Canty Foundation, I was impressed by his dedication to inspire others to give back. His transparent care for others rather than pushing his own agenda really stuck with me. I was excited to meet his brother, Super Bowl Champion Chris Canty, at their annual football camp in the Bronx and delighted to find that both men are true philanthropists.
The two have their parents to thank for their strong values. Their mother was a Methodist minister and their father was involved in social work. Joe states, "Growing up, on Saturdays and after school, if you didn't have a job and you weren't playing sports, you had to go serve." The brothers would challenge each other to find ways to give back to the community as youth, and still do to this day.
VIDEO: MEET CHRIS & JOSEPH CANTY
There are a lot of nonprofits in the sports industry especially in football, but the Chris Canty Foundation is exemplary. Joe and Chris both see football as a way to help youth, specifically in literacy and mentorship.
"Mentoring is absolutely critical. One of the things that I always say is that kids won't listen to what you have to say until they know that you care about them, and the way you care about them is being present and giving them your time," says Chris Canty.
The Foundation hosts literacy fairs, a reading buddy program, and community clean ups in addition to the football camp, all are free to enter. At the holidays, they partnered with Viacom to raise funds and collect books for NYC youth. They understand that so many kids want to become star NFL players, and this gives them the platform for a bigger message. While football has been great to Chris, the Cantys understand that being a good person is more important than wearing a jersey.
Spotlight On Giving is all about celebrities using their influence for good, and the Chris Canty Foundation does just that. Chris uses his spotlight to help others in so many more ways than on a football field.
I'm here to give you the raw honesty when it comes to nonprofits, and the Chris Canty Foundation is the real deal. It helps youth on a fundamental level, gives back to the community, and knows the importance of utilizing the spotlight for good; and if you're looking for a fantastic mentor, look no further than #99. He is making a difference by shining his spotlight on giving, and that's always a winning play.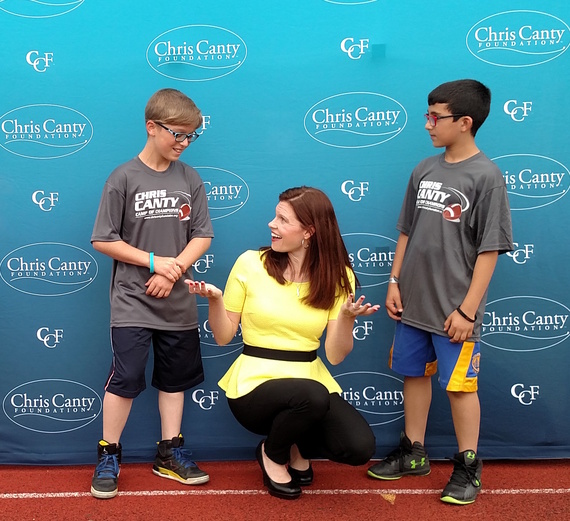 The Chris Canty Foundation's Cleanup for Change Initiative is partnered with Viacom and Partnerships for Parks in New York City on May 20th, 2016 to care for the St. Nicholas Park in Manhattan.
Email Events@ChrisCantyFoundation.org with additional questions and to register for great events to help the community, including the football camps in June.
For more celebrities, causes, & incredible nonprofit organizations, please visit Spotlight On Giving
For booking, spotlight suggestions, & inquiries email Info@SpotlightOnGiving.com
What cause do you shine your spotlight on?
Related
Popular in the Community