NFL players aren't seeing eye-to-eye with their commissioner when it comes to Tom Brady and his role in Deflategate.
Furthermore, 88 percent believe that Goodell shouldn't be the only person to decide on league disciplinary matters.
Goodell, playing judge and jury for the NFL in their handling of Deflategate, upheld Brady's four-game suspension in July. He had previously handed down the suspension in May in the wake of the 243-page NFL-commissioned Wells Report, which found it was "more likely than not" that New England Patriots personnel, with Brady's knowledge, deliberately deflated game balls to give the quarterback an advantage.
Regardless of whether Brady was implicit in deflating, 52 percent of players in the ESPN poll feel that deflated footballs don't impact the outcome of the game.
The ESPN poll also asked players whether or not they were upset with the Patriots for allegedly deflating footballs. While 72 percent believe that the Patriots did some deflating, only 16 percent are actually upset about it and 58 percent don't believe the Patriots are cheaters.
Although it's hard to get upset when everyone's doing it: 68 percent of players think that other teams illegally tamper with footballs.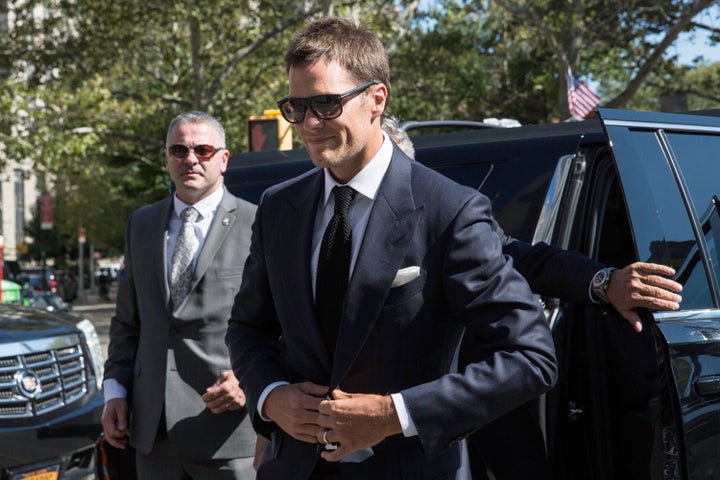 Tom Brady arrives at federal court on Wednesday.
A New York court may end up agreeing with the players' opinions of Deflategate, too. Brady and Goodell met before a federal judge on Wednesday to decide Brady's lawsuit against the NFL over his Deflategate suspension. No settlement is in sight, according to Bloomberg, but early proceedings seemed to favor Brady.
Not that any of this matters though. Seriously: ESPN's poll found that 85 percent of NFL players believe the Patriots will be back in the playoffs this season even with Brady sitting out for four games.
Even if the suspension's impact is severely undercut by the Patriots being really, really good, at least the Deflategate fan fashion is on-point:
NFL Moments That Couldn't Have Happened Without Fingers