Several NFL players knelt during the national anthem on Sunday, continuing a protest against police brutality and racism that has encountered increasing resistance from team owners.
Six active members of the San Francisco 49ers and one inactive player took a knee during the anthem in the team's away game against the Washington Redskins. All of the Redskins players stood during the anthem.
The gesture originated with the 49ers in August 2016 when then-backup quarterback Colin Kaepernick sat during the anthem and subsequently switched to kneeling in order to avoid feeding the perception that he was disrespecting military veterans. The protests then spread when players on other teams began to kneel.
The 49ers have consistently had one of the largest contingents of players who kneel during the anthem. Last Sunday, Vice President Mike Pence attended a game in Indianapolis between the team and his home-state Indianapolis Colts but then left the game wit his wife after several San Francisco players knelt during anthem. President Donald Trump tweeted that he had told Pence to exit if a protest occurred, costing the public some $90,000 to prove a political point.
The Green Bay Packers decided to stand with locked arms during the anthem ahead of their game with the Minnesota Vikings in Minneapolis.
NFL owners, who just a few weeks ago seemingly expressed their support for players' right to protest, have begun to turn on the practice of kneeling during the anthem.
Dallas Cowboys owner Jerry Jones vowed to bench players who kneeled. Jones' edict wasn't put to a test on Sunday, however, since the Cowboys have a bye week.
Miami Dolphins owner Stephen Ross also said earlier this month that "it's incumbent on the players" to stand during the anthem.
NFL Commissioner Roger Goodell sent a letter to NFL teams last Tuesday in which he said, "Like many of our fans, we believe that everyone should stand for the National Anthem."
Goodell did not threaten players with punishment if they chose not to do so, however.
"We need to move past this controversy, and we want to do that together with our players," he wrote. Team owners are meeting with Goodell later this week in New York to discuss how to accomplish that.
The owners are under growing pressure from Trump to quash the protests. Starting in late September, Trump escalated controversy over the demonstrations by repeatedly calling for fans to boycott the NFL until team owners fire players who participate in the protest, which he characterized as disrespectful to the flag and the patriotism it represents. He drew criticism for referring to a hypothetical player who kneels as a "son of a bitch."
The Sunday after Trump's harshest remarks, many NFL owners vocally condemned him and in some cases stood with their players during the largest-ever series of protests. Players' decision to kneel or lock arms on fields across the country on Sunday, Sep. 24, and at games later in the week, were as much about defying Trump as protesting racism.
The NFL's brand has taken a major hit among Trump voters in recent weeks. In a dramatic shift from just a month ago, a majority of Trump voters now view the league "somewhat or very unfavorably," according to a Morning Consult poll released last week.
At the same time, the higher profile of the recent wave of protests has raised public awareness that players are demonstrating against police violence. As of earlier this month, 57 percent of Americans believed that was what motivated the players, compared with 47 percent on Sept. 17, according to a HuffPost/YouGov poll.
Before You Go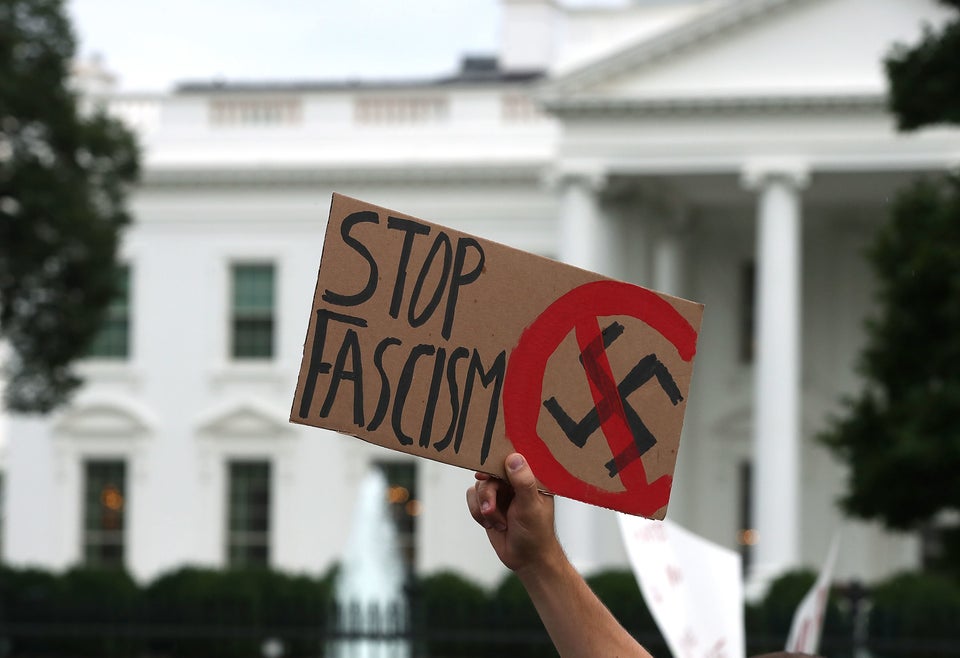 Anti-Hate Protests Against Trump
Popular in the Community