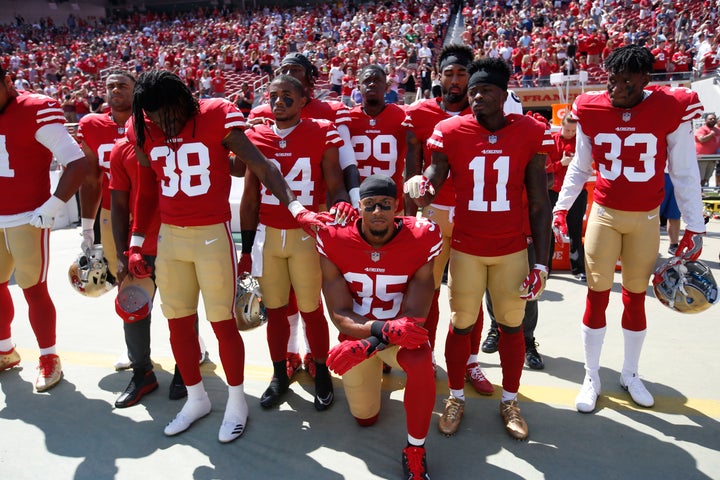 The NFL Players Association filed an official grievance against the NFL on Tuesday, challenging the league's new policy that requires players on the field to stand during the playing of the national anthem.
The players union announced the challenge on Twitter, with a statement that said the new policy is "inconsistent" with the NFL's collective bargaining agreement and "infringes on player rights."
NFL owners approved the new policy, which requires players to stand for the anthem if they are on the field or to remain in the locker room while it is played, in May. The move came after months of criticism from President Donald Trump and fans who were angry that players had kneeled and demonstrated in other ways during the song to protest racial inequality in the United States.
The protests began when former San Francisco 49ers quarterback Colin Kaepernick started kneeling for the anthem during the 2016 season. Other players ― almost all of them black ― soon joined him, and the protests continued through the 2017 season.
A group of players, led by Philadelphia Eagles defensive back Malcolm Jenkins, eventually reached a compromise agreement with the NFL, in which the league promised to put money toward criminal justice causes the players supported. Though not all of the protesting players supported the agreement, it largely brought the demonstrations to an end ― no player kneeled or otherwise protested during the NFL playoffs last season.
The NFLPA criticized the new policy immediately, saying that NFL owners and Commissioner Roger Goodell "chose not to consult the union in the development of this new 'policy.'"
Kaepernick, who has not played in the NFL since the end of the 2016 season, filed a grievance against NFL owners in October, alleging that they colluded to keep him from signing with a new team after the 49ers released him. The NFLPA filed a similar grievance in May on behalf of former 49ers safety Eric Reid, who joined Kaepernick's protests during the 2016 season and continued them last year but has yet to sign with a team for the 2018 season.
According to the union's statement, it will not pursue immediate litigation against the league. Instead, representatives from the NFL and NFLPA will now hold "confidential discussions" in hopes of finding a solution to the anthem grievance.
Popular in the Community