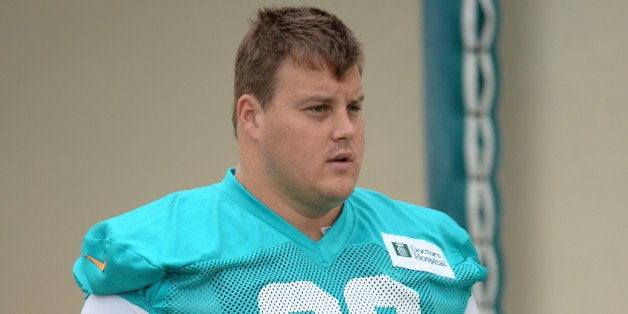 The NFL Players Association isn't laughing about Spirit Airlines' new advertisement making light of the Richie Incognito bullying scandal.
The ad, which hypes a $24 discount, tells travelers not to "be bullied by high fares." It features a sullen-looking businessman slouched on an airport terminal floor, wearing a helmet in the Miami Dolphins' teal and orange colors. The ad copy encourages travelers to "fly incognito out of Florida or any place for that matter."
In a colorful letter to Spirit CEO Ben Baldanza that was shared with HuffPost, viewable here, the players union calls the ad "pathetic" and demands that Spirit immediately pull it and issue an apology. Lambasting the company for insensitivity, the union also calls on Spirit to donate some of its profits to an anti-bullying advocacy group.
"To call the ad distasteful, offensive and pathetic -- to be sure, it is all three, and then some -- would not quite do justice to the horrific judgment exhibited by the responsible Spirit employees," the letter states. "We ask that you immediately remove the ad, issue an apology and provide appropriate training to your staff to ensure nothing like this happens again."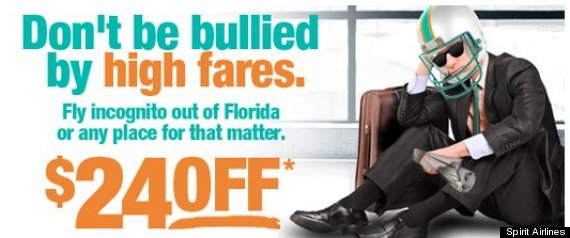 The union accuses Spirit not only of insulting players but "clumsily co-opting" their names and team colors without permission. "Doing so puts Spirit at legal risk, in addition to the general poor taste it exhibits."
"Put simply, Spirit is free to operate a budget airline, but there is no need to skimp on human decency or a gracious spirit (pun intended)," the letter adds.
A Spirit spokesperson didn't immediately respond to a request for comment sent late Thursday.
Dolphin guard Richie Incognito was suspended from the team this month after reports that he hazed and sent offensive texts to former teammate and offensive tackle Jonathan Martin, who left the team two weeks ago and checked into a hospital for emotional distress. The scandal has rocked the NFL and prompted a national discussion about the league's locker-room culture.
In a statement to HuffPost earlier this week, Spirit said that it didn't approve of bullying and was merely looking for laughs with the ad. "As with many of our sales, we take a thought-provoking tongue-in-cheek look at a recent news events and the related media reaction," a spokesperson for the airline said in an emailed statement. "We do not condone bullying."
This isn't the first time Spirit has pushed the boundaries of good taste with its advertising campaigns. In 2010, the company used the disastrous Gulf Coast oil spill as marketing fodder, showing off a sunbathing woman and urging travelers to "check out the oil on our beaches." (The sunscreen bottle -- "Best Protection" -- was an obvious riff on the BP logo.) In that case, Spirit yanked the ad and said it was sorry.
The letter from the players union referenced two of Spirit's edgier ads -- "MILF Sale" and "Hunt for Hoffa" -- but said that no previous campaign "had stooped to the level of mocking bullying."
Calling all HuffPost superfans!
Sign up for membership to become a founding member and help shape HuffPost's next chapter