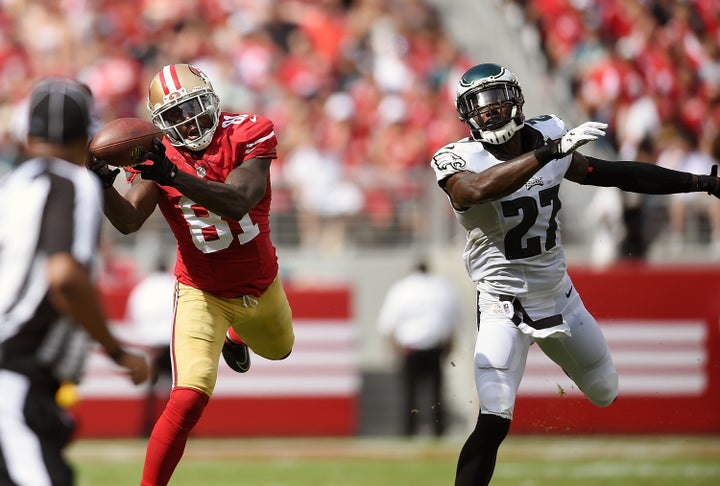 "The community I come from wants and needs to know that they are being heard," Detroit Lions wide receiver Anquan Boldin said during a forum held Thursday on Capitol Hill. "We want to make sure that you, that those in position to bring positive change, understand the things that we as an African-American community are going through. We certainly do not feel that we're being heard right now right now, especially when it comes to law enforcement and the way we are being policed. Our neighborhoods are feeling hurt, and they want to see change."
In October 2015, a police officer shot and killed Boldin's cousin Corey Jones. Jones, Boldin recounted, was driving home after playing a show with his church band in Palm Beach Gardens, Florida, when his car broke down. An unidentified officer pulled up in an unmarked white van.
"Moments later," Boldin said, "Corey was dead."
"I wish I could tell you Corey's story was unique," the wide receiver continued. "I wish Corey hadn't died in the first place. As a matter of fact, I wish I wasn't here at all talking to you about him at all. But I am."
Boldin came to Congress as part of a group of players that included Philadelphia Eagles safety Malcolm Jenkins, Detroit Lions defensive back Johnson Bademosi, and former NFL wide receiver and former Huffington Post intern Donte Stallworth. Over three days, the players met with more than a dozen members of Congress from both parties to discuss ways to improve relations between communities and the officers that police them, and potential legislative reforms that could help reduce the number of people ― in particular, African-American men and women ― killed in encounters with police.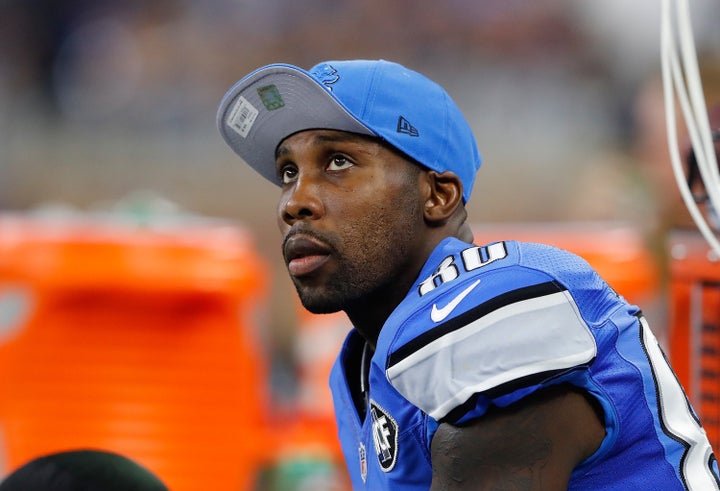 Thursday's forum was the latest effort NFL players have made to address such issues since Kaepernick's protest began in August. Jenkins and Boldin, along with other NFL players, had previously met with members of Congress in November. Other players who joined Kaepernick's on-field protests have met with local police officials and community leaders.
During his testimony Thursday, Jenkins said that he and his teammates met with Philadelphia's police commissioner and even did a ride-along with police to "gain a better understanding" of how they interact with the community around them.
"Police brutality is really a symptom of a bigger system," Jenkins said Thursday. "Our police force is the front lines of that justice system."
That, Jenkins said, highlights the need for reforms that go beyond policing. NFL players can draw all the attention they want to these issues, Jenkins said, but without action from Congress little will change.
"If our justice system is not giving justice," Jenkins asked members of Congress, "then what's holding that back?"
The players called on Congress to push forward with legislation they believe will help address broader issues of discrimination in the criminal justice system ― specifically two pieces of legislation that Reps. John Conyers (D-Mich.) and Elijah Cummings (D-Md.), who organized and chaired the forum, have sponsored.
The first, the Fair Chance Act, is commonly known as the "Ban The Box" bill and would ban the federal government from requesting the criminal history of job applicants. The bill has bipartisan support ― along with Cummings, Sen. Corey Booker (D-N.J.), Rep. Darrell Issa (R-Calif.) and Sen. Ron Johnson (R-Wis.) also sponsored it. Cummings is planning to re-introduce the legislation as soon as next week.
The second, the Law Enforcement Trust and Integrity Act, was introduced last year by Conyers and Sen. Ben Cardin (D-Md.). That bill would encourage local law enforcement agencies to adopt performance-based standards to reduce incidents of misconduct through improved training and protocols. It also aims to enhance investigations into misconduct.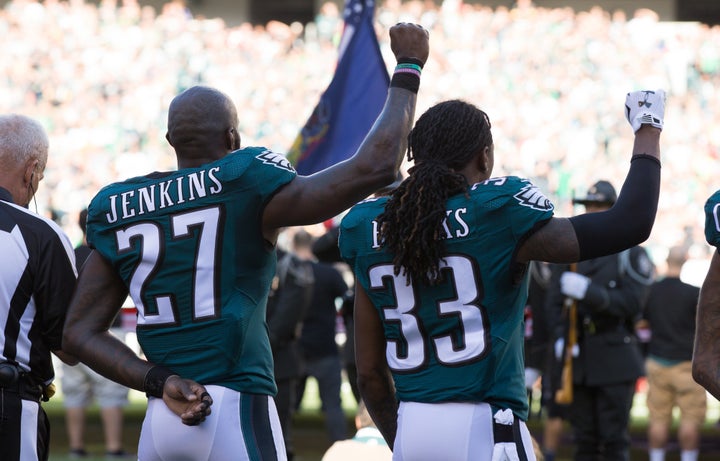 Boldin also said they hoped to see the revival of criminal justice reform efforts, which Congress failed to address last year despite bipartisan support for many initiatives. Jenkins, meanwhile, pointed to the nation's problem with mass incarceration and policies that contribute to it, including mandatory minimum sentences, the practice of trying children as adults, and other issues inside a system that disproportionately targets and affects African Americans. Congress should also focus on job training and mental health services for people once they leave prison, Jenkins said, in order to help people rejoin their communities and reduce high recidivism rates.
"They serve time long after they're released back into our neighborhoods," Jenkins said. "These are things that need to change."
Jenkins and Boldin are also working with other players in an effort to push for reforms at the state and local level.
Reps. Sheila Jackson Lee (D-Tex.), William Lacy Clay (D-Mo.), Cedric Richmond (D-La.) and Brenda Lawrence (D-Mich.) attended the forum alongside Conyers and Cummings. Though the players met with GOP members earlier in the week, no Republicans, nor any white members of Congress, were in attendance.
Boldin said he hoped the lawmakers he and Jenkins talked to this week would continue the discussions with other members to push these reform efforts onto the congressional agenda.
"We want to see changes in policy," Boldin said. "We want to know that justice will be served for all."
"These issues are consistently pushed to the political back burner," he said. "I believe that by working together, we can not only move it to the political forefront, but we can make measurable, meaningful and sustainable change in our communities."
Related
Popular in the Community