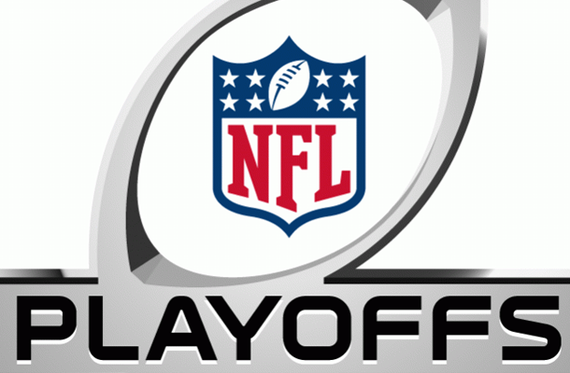 The NFL season has just started, officially. What's that you are thinking... but we've just played 16 games! The truth is that the only games of the season that count in the end are the postseason games. And really, it's only wins that count after that. So in essence, for the 12 teams that made the cut that is, the NFL Playoff picture is where the real season begins.
No other previous games count. Winning and losing records be damned. On any given Sunday, any given team of any caliber has the chance to best their rival and move on to the big dance; the big kahuna; the Super Bowl. So who's going to be telling reporters that "They're going to Disneyland" this year? We'll give you a nice preview in this NFL Playoff picture.
AFC No. 1 Seed: Denver Broncos
After besting the Chargers last week - in a game that saw an injured-now-recovered Peyton Manning take some of his likeliest last snaps in an NFL season - while leading his team to an impressive comeback victory to secure the top AFC seed, Denver is sitting pretty. They have a bye week to allow Manning further rest. And if they choose, they can either opt for Brock Osweiler or go to a more experienced Manning as he attempts to get one more Lombardi trophy under his belt.
AFC No. 2 Seed: New England Patriots
An ugly week 16 loss to the Dolphins does not bode well for this team, which effectively gave up the No. 1 seed with the loss. But after watching Tom Brady get knocked down time and time again, can you really fault Belichick for pulling him. That Patriots do seem off kilter, given their first half of the season dominance. But the playoffs are a different can of worms, and there's no better field general during this stint than Tom Brady, who has started 29 playoff games, has just 8 losses and owns four Super Bowl rings.
AFC No. 3 Seed: Cincinnati Bengals
25 years ... that's how long it's been since the Bengals won a first-round playoff game. Seriously. You'd think the drought would be over. But with Dalton out due to injury, and an untested backup quarterback under center, not to mention that they have to face the Steelers, it's looking like history can indeed repeat itself unless there's some sort of miracle in Cincinnati.
AFC No. 4 Seed: Houston Texans
The Texans are not what you would peg as a high caliber team this year. They have fought hard, but they'll be the underdog going into any matchup. Given that the Chiefs and Alex Smith are going to pair up against them, it won't be an easy victory. Then again, that's what football greatness is made of: overcoming overwhelming odds. That rests in the hands of Brian Hoyer, if he can make it happen and can return in time.
AFC No. 5 Seed: Kansas City Chiefs
Do not count the Chiefs out as a top prospect, in spite of their 5th seeding. The season starts now. Alex Smith is out to make a name for himself in Kansas City. And Andy Reid wants to show the Eagles that they made a mistake canning him a few years ago. With the Texans standing in their way, expect big defensive plays and some candid passing to help them advance to the next round.
AFC No. 6 Seed: Pittsburgh Steelers
Never, ever underestimate the Steelers. They have more championship titles than anyone, and for a number of good reasons. Their quarterback is at full form, healthy and as experienced as they come. They have a strong defense and have many veteran players who have lots of playoff experience. If any team is a surefire threat, it's these hardened players. Given that the Bengals are hurting at QB, it's entirely feasible that the Steelers throw a Terrible Towel at them and advance to the Divisional Round.
NFC No. 1 Seed: Carolina Panthers
At 15-1, you have to tip your hat to Cam Newton and Company. They really turned heads with their do-all season. They also get to rest their players and enjoy home field advantage throughout the duration of the playoffs. But who will they play next? And can they withstand and do better than they did last year. All odds say yes. But it's anyone's game on any given Sunday, and last year's late playoff loss was testament to that.
NFC No. 2 Seed: Arizona Cardinals
After the heart-wrenching slaughter at home to Seattle, where Palmer sat out the second half to avoid injury (a wise choice), they have earned a first round bye and at least home field advantage until and if they end up playing the Panthers. If they do rematch against the Seahawks, they'll have to show them that they can beat them in Glendale, Arizona, something they still have not managed to do since 2012.
NFC No. 3 Seed: Minnesota Vikings
The Vikings are a threat to Green Bay. But the Seahawks eat them for breakfast, a lot. It's feasible that they could move on to the Divisional Round, if they can muster up the courage to send Seattle packing. Bridgewater looks amazing this year, and is. But if he's getting hit all the time, it's a different story. Can they pull it all together to make a Super Bowl run? The road ahead has the hungry Seahawks standing in the way.
NFC No. 4 Seed: Washington Redskins
The most unlikely of teams to make the cut is this one. Kirk Cousins has really shown that he's the man to be watching, besting almost all quarterback franchise records to date and looking damn fine doing it. RGIII is history, and Cousins has his shot to really show the franchise that he's its legitimate face moving forwards. Of course, he'll have to demonstrate such bravado against a cadre of excellent NFC teams to pull it off, starting with Green Bay.
NFC No. 5 Seed: Green Bay Packers
It's been an up, down, up and down again year for the Packers, one that's left many cheese heads pulling their hair out. They are going to be playing on the road as a result, and they'll be matching up against teams that have bested them this year already. But, the real season starts now. And there are few other QBs you'd want under center than Rodgers come this time. Perhaps he can discount double-check his way back into serious contention and another Super Bowl run. First up is Washington, which means there is a chance.
NFC No. 6 Seed: Seattle Seahawks
The most dangerous and underestimated team in the league this year is easily Seattle. They've proven that nothing matters until you reach the post season. They also made a showing of what they can offer with a very loud routing of the Cards in week 16. Given that they are as well balanced as the come, you can rest assured that teams will be wary of them, even if they have home field advantage (just ask the Cardinals, it really doesn't matter where Seattle plays, they'll bring in all the guns and take numbers). The Vikings had better be prepared.
Visit

NowItCounts.com

,
The Destination for Americans 50+

for stories that matter to you covering financial, health, beauty, style, travel, news, lifestyle, food, entertainment and sports.
REAL LIFE. REAL NEWS. REAL VOICES.
Help us tell more of the stories that matter from voices that too often remain unheard.