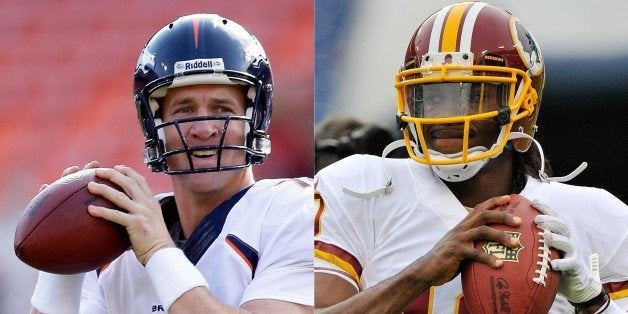 The wait for the 2013 NFL season is no more! Thursday night's AFC Playoff rematch between Denver and Baltimore gets things started, so what better time to predict this year's individual awards? After all, talking about RG3 some more comes along with the territory.
Offensive Rookie of the Year
Eddie Lacy, RB, Green Bay Packers
The Packers may have Aaron Rodgers, but throwing the ball 40 times a game is not ideal either. Lacy, the powerful rookie from Alabama, brings a certain swag and overall toughness to this offense. He can really catch the ball and is a legitimate three-down back. Don't forget that Green Bay running backs averaged a putrid 3.5 yards per carry in 2012. Houston's DeAndre Hopkins, Cincy's Giovani Bernard and Rams' speedster receiver Tavon Austin will all make a push for this award as well.
Defensive Rookie of the Year
Alec Ogletree, LB, St. Louis Rams
Tackles are a very easy way to validate this award, and Ogletree -- who was a tackling machine at Georgia (notice an SEC trend here?) -- will make a ton of plays for a revamped Rams defense. He has the speed and athletic ability to run away with this award, though watch out for fellow SEC rookie Tyrann Mathieu, who enjoyed a strong preseason camp in Arizona.
Comeback Player of the Year
Robert Griffin III, QB, Washington Redskins
Are we OK with this? After all, RG3 missed just one game last season, and Tampa Bay's new addition Darrelle Revis could be dominant. However, despite the ongoing battle with head coach Mike Shanahan, Griffin appears poised for a huge second season. A healthy Pierre Garcon will help a lot, as will the continued growth of star running back Alfred Morris. All in all, this offense has never been more fun.
Pete Carroll, Seattle Seahawks
I'm very temped to go with Andy Reid or even CFL transplant Marc Trestman here (I know, a stretch), but Carroll gets the nod because Seattle is going to be that good. Don't expect a sophomore slump for Russell Wilson, but do expect another dominant defense and a legitimate Super Bowl contender.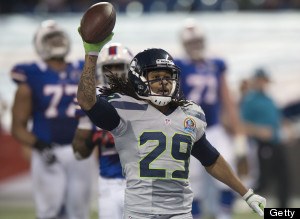 Two-time All-Pro Earl Thomas is a beast at safety for the Seahawks. (Getty Images)
Executive of the Year

John Schneider, Seattle Seahawks
The league's best-kept front office secret might still be Schneider, who is largely responsible for the Seahawks' incredible rebirth out west. He has drafted Wilson and Earl Thomas, not to mention Pro Bowl left tackle Russell Okung. This past offseason, he acquired talented pass rusher Cliff Avril and drafted Christine Michael -- who hasn't generated the same buzz as Eddie Lacy or Gio Bernard, but is sure to turn some heads as a rookie running back in 2013. And, if Percy Harvin can give Seattle anything, watch out.
Defensive Player of the Year
Earl Thomas, Seattle Seahawks
For those who don't yet know, Thomas is the second coming of Ed Reed. Still just 24 years old, he has an insatiable appetite for the ball and a real toughness against the run. He combines his speed (4.37 40) into lock-down coverage and tackling ability. The Seahawks might have the league's premier defense, and Thomas -- not Richard Sherman -- is the most talented guy on the field.
Offensive Player of the Year
Drew Brees, QB, New Orleans Saints
Sean Payton is back, and Brees -- who might just toss 45 touchdowns this year -- couldn't be happier. The Saints will endure another year of brutal defense and will throw the ball a ton. Brees has the game's premier tight end in Jimmy Graham, and the alway-dangerous Darren Sproles at his disposal.
Peyton Manning, Denver Broncos
I could go Brees here -- it seems counterintuitive not to for sure -- but the NFL does things differently. Giving Peyton Manning a toy like Wes Welker is just unfair. Adding a gifted rookie runner in Montee Ball -- Division 1's all-time touchdown leader -- is just cruel. Manning is 37 years old, but you wouldn't know it after last season's gaudy numbers. Denver has a real chance to do something special in 2013, and Manning is the culprit.
Correction: A previous edition of this article stated that Alec Ogletree attended Alabama. Ogletree attended Georgia.
Email me at jordan.schultz@huffingtonpost.com or ask me questions about anything sports-related at @Schultz_Report. Also, be sure and catch my NBC Sports Radio show, Kup and Schultz, which airs Sunday mornings from 9-12 ET, right here.
REAL LIFE. REAL NEWS. REAL VOICES.
Help us tell more of the stories that matter from voices that too often remain unheard.