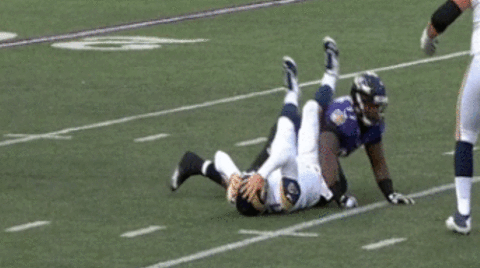 But this season, multiple players are known to have played with concussions, a sign that the NFL's efforts aren't taking root within football player culture as firmly as they should. Notably, a number of those players are quarterbacks.
Once again on Sunday, an NFL quarterback -- the most important player on his team -- continued to play after getting hit and exhibiting signs of a concussion. Late in the fourth quarter of Sunday's St. Louis Rams-Baltimore Ravens game in Baltimore, Rams quarterback Case Keenum was slammed to the ground during a pass attempt. While being dragged down, his neck leaned forward slightly and then snapped back under the force of the hit, causing his head to violently hit the turf once, and then again on the recoil.
A Rams lineman tried to immediately scoop up his quarterback, to little effect. Keenum's scrambled head physically turned him into a rag doll. Despite clearly demonstrating three observable "potential concussion signs" as indicated in the NFL's concussion policy -- he was slow to get up, experienced motor coordination problems and clutched his head after contact -- the NFL's designated concussion spotter didn't stop the game, no concussion test was administered and Rams head coach Jeff Fisher didn't remove Keenum from play.
Still under center for the next snap, Keenum threw an incomplete pass, and then got sacked and fumbled on the following play, which allowed the Ravens to kick a game-winning field goal. Post-game, Keenum was unavailable for interviews, because of course he was diagnosed with a concussion. A day after the fact, the NFL will reportedly investigate why Keenum wasn't immediately tested for a concussion.
By leaving Keenum in the game, Fisher and the Rams accomplished the opposite of what they hoped to. Given the context of Keenum's concussion -- with the score tied at 13-13, the Rams were driving in an attempt to win the game late against an expiring clock -- simply swapping in recently demoted quarterback Nick Foles would've, in a football sense, hurt the team's chance of winning. Realistically, it would've prevented a concussed player from coughing up a win.
Six days before Keenum was left out to dry by a coach who prioritized winning over player health, Houston Texans quarterback Brian Hoyer, who didn't play this week due to his concussion, was put in a similar situation. On Monday Night Football against the Cincinnati Bengals, Hoyer got hit in the head twice on this sack:
Both Hoyer and Keenum's sequences serve as a reminder: The needle of an NFL team's business moves with wins and losses. Players are fluid "assets." There will always be an incentive to keep the team's most important player out there even with a potential concussion, because it's conducive to good business. In an environment of non-guaranteed contracts and little to no job security, players want to play every week. No amount of education will change that. Players' livelihood and survival depends on it. And, as Texans running back Arian Foster expressed when he was forced into following the NFL's concussion protocol in October, they get frustrated when they can't play:
Sometimes, that understandable well of anger and desire is enough to cause the medical staff to back down. Foster would later, as CBS sideline reporter Tracy Wolfson described, "put himself back into the game."
As much as we may feel and think that football is safer, and that we're helping players by expressing serious concern about head injuries, there are clear limitations here. Team medical staffs are shown on national television every week examining downed players, creating the illusion that the doctors are on top of every head injury after a big hit, but that just provides a false "feel-good" sense of security for fans.
That feeling of false confidence in player safety, when juxtaposed with quotes like Richard Sherman's from October, begins to let the guilt seep in:
That's why guys are retiring left and right because they know if you stop playing this game at 100 percent, full-speed, all out -- that's it. That's it. You've lost that step and you're putting yourself in danger. And you're putting your body in danger -- even more so than it already is."
Unfortunately, that's not an NFL problem. That's a football problem.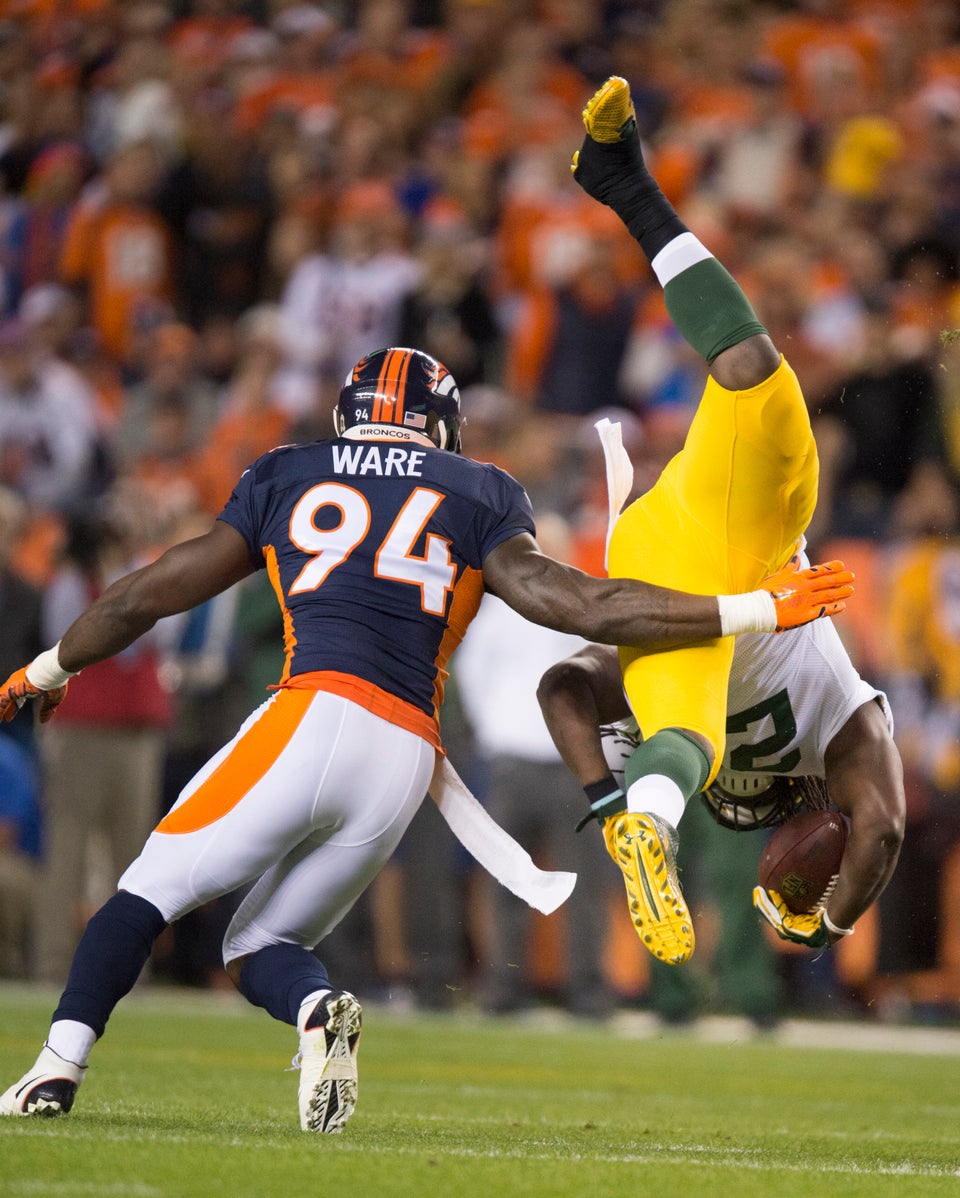 Amazing Photos From The 2015 NFL Season
Popular in the Community