The largest salary cap numbers can be instructive about which playing positions NFL teams value the most.
The 2013 list of the largest cap numbers is top heavy with quarterbacks. Tom Brady had the NFL's largest cap number at $21.8 million until he took a steep hometown discount during an offseason contract renegotiation that freed up $8 million in 2013 cap room for the New England Patriots.
Here's a look at the players with 2013's largest cap numbers. The Collective Bargaining Agreement's daily amounts for participating in a team's voluntary offseason workout program are included in the cap numbers.
1. Eli Manning (QB)-New York Giants: $20.85 Million
Manning is the only player with a 2013 cap number over $20 million. He increased an already large 2013 cap number ($18.6 million) in a 2012 contract restructure which created $6.75 million of cap room for the Giants when he lowered his 2012 cap number from $16.35 million to $9.6 million by converting $9 million of his $10.75 million 2012 base salary into a signing bonus. Manning will have two years left on his six-year, $97.5 million contract extension (with $35 million guaranteed) in 2014. With $20.4 million and $19.75 million cap numbers in 2014 and 2015, respectively, an offseason contract extension would have been a near certainty, but Manning is having a subpar season.
2. Matthew Stafford (QB)-Detroit Lions: $17,825,600
Stafford lowered his scheduled $20.82 million cap number by signing a three-year, $53 million contract extension (including $41.5 million in guarantees) with two years remaining on his six-year, $72 million rookie contract (worth a maximum of $78 million) during the offseason. The Lions are fortunate they signed Stafford to a new deal because waiting would have been more costly with their starting signal-caller having a bounce-back season. It's conceivable that Stafford could have become the NFL's highest-paid player in 2014 by topping Aaron Rodgers' $22 million average yearly salary if he had played this season under his rookie deal.
3. Peyton Manning (QB)-Denver Broncos: $17,505,600
The Broncos are getting their money's worth from Manning's five-year, $96 million contract. Manning led Denver to the AFC's top playoff seed with a 13-3 record in 2012. He finished second in the NFL in passer rating (105.8), second in completion percentage (68.8 percent), third in touchdown passes (37) and sixth in passing yards (4,659). His completion percentage, touchdown passes and passing yards were the second best marks in his career. The four-time MVP is on pace for 5,776 passing yards and 59 touchdown passes, which would shatter the single season yardage and touchdown records of Drew Brees (5,476 yards) and Tom Brady (50 touchdowns).
4. Drew Brees (QB)-New Orleans Saints: $17.4 Million
Brees became the NFL's first $20 million-per-year player with the five-year, $100 million contract he signed with the Saints in 2012. Aaron Rodgers ($22 million per year), Matt Ryan ($20.75 million) and Joe Flacco ($20.1 million) joined Brees in the $20 million-per-year club this season. Brees still sets the NFL standard in guaranteed money with $60.5 million, which includes a $37 million signing bonus.
5. Jared Allen (DE)-Minnesota Vikings: $17,065,186
Allen is in the final year of a six-year, $73,260,072 contract (with $31,000,069 million guaranteed) he signed in 2008 that made him the NFL's highest paid defensive player. It seems unlikely that the Vikings will make an attempt at re-signing Allen considering he was the subject of trade rumors right before the October 29 trading deadline. The free agent market may not meet Allen's expectations because he will be 32-years-old in 2014. Pass rushers over 30 years of age typically don't command lucrative, long-term deals. Julius Peppers is the only pass rusher making over $10 million per year on a contract he signed after turning 30. Robert Mathis is next with the four-year, $36 million deal he received from the Indianapolis Colts in 2012 as a 31-year-old.
6. Darrelle Revis (CB)-Tampa Bay Buccaneers: $16 Million
Revis signed a six-year, $96 million contract that didn't contain any guaranteed money as a part of a pre-draft trade with the New York Jets. His average yearly salary is 48.8 percent greater than the $10.75 million average yearly salary of Champ Bailey, who is the NFL's second highest paid cornerback. The lack of security in Revis' contract could be a problem for Tampa Bay after the season since his comeback from reconstructive knee surgery has been successful. The Buccaneers didn't get holdout protection in his contract, like the Jets, but have the right to convert a portion of Revis' base salaries into a roster bonus and also guarantee a portion of his base salaries and roster bonuses. It could be a smart move for the Buccaneers to either fully or conditionally guarantee Revis' 2014 and 2015 base salaries, both $13 million, during the offseason. Otherwise, it won't be a surprise if the contract drama that plagued the Jets with Revis' tenure in New York continues in Tampa.
7. Tamba Hali (OLB)-Kansas City Chiefs: $15,464,706
Hali became one of the NFL's highest paid linebackers when he signed a five-year, $57.5 million contract (worth a maximum of $60 million through salary escalators) in 2011 as Kansas City's franchise player. The deal included $35 million in guarantees. Hali's $11.25 million and $7.75 million base salary guarantees in 2012 and 2013, respectively, voided because of his one-game suspension in 2012 for violating the NFL's substance abuse policy.
8. Cortland Finnegan (CB)-St. Louis Rams: $15,002,275
Finnegan hasn't been the player the Rams thought they were getting when they signed him to a five-year, $50 million contract (with $27 million guaranteed) in free agency last year. According to Pro Football Focus, quarterbacks had a perfect 158.3 passing rating and were completing 84.2 percent of their passes (16 completions in 19 attempts) against Finnegan when he injured his hamstring in the Rams' fourth game of the season. He hasn't been much better since returning to action. Finnegan's $3 million guaranteed third day of the 2014 league year (March 13) roster bonus could give him another year to prove his worth.
9. Julius Peppers (DE)-Chicago Bears: $14,387,533
Peppers is the NFL's third highest paid defensive player (by average yearly salary) thanks to a six-year, $84 million contract (worth a maximum of $91.5 million through incentives) he signed in 2010 to join the Bears. His days as one of the NFL's highest paid non-quarterbacks will come to end in 2014 since he appears have hit the wall in his 12th NFL season. The eight-time Pro Bowler is on pace for 3.5 sacks after averaging slightly more than ten sacks during his three previous seasons in Chicago. It is expected that the Bears will part ways with Peppers in 2014 because of his $14 million salary and $18,183,333 cap number.
10. Adrian Peterson (RB)-Minnesota Vikings: $13.9 Million
Peterson is one of five non-quarterbacks with a deal averaging more than $14 million per year. Peterson became the NFL's highest paid running back in 2011 when he signed a six-year, $85.28 million contract extension (with $36 million in guarantees and a 2017 base salary escalator worth up to $4 million). He narrowly missed breaking Eric Dickerson's single season rushing record of 2,105 yards by running for 2,097 yards in 2012 during his comeback season from torn anterior cruciate and medial collateral ligaments in his left knee. None of the six other players (Dickerson, Jamal Lewis, Barry Sanders, Terrell Davis, Chris Johnson, and O.J. Simpson) with 2,000-yard rushing seasons have reached the 1,500-yard mark in the following season. Sanders came closest with 1,491 rushing yards. Peterson is on pace for 1,397 rushing yards.
Joel Corry is a former sports agent who helped found Premier Sports & Entertainment, a sports management firm that represents professional athletes and coaches. Prior to his tenure at Premier, Joel worked for Management Plus Enterprises, which represented Shaquille O'Neal, Hakeem Olajuwon and Ronnie Lott. You can email Joel at jccorry@gmail.com.
Before You Go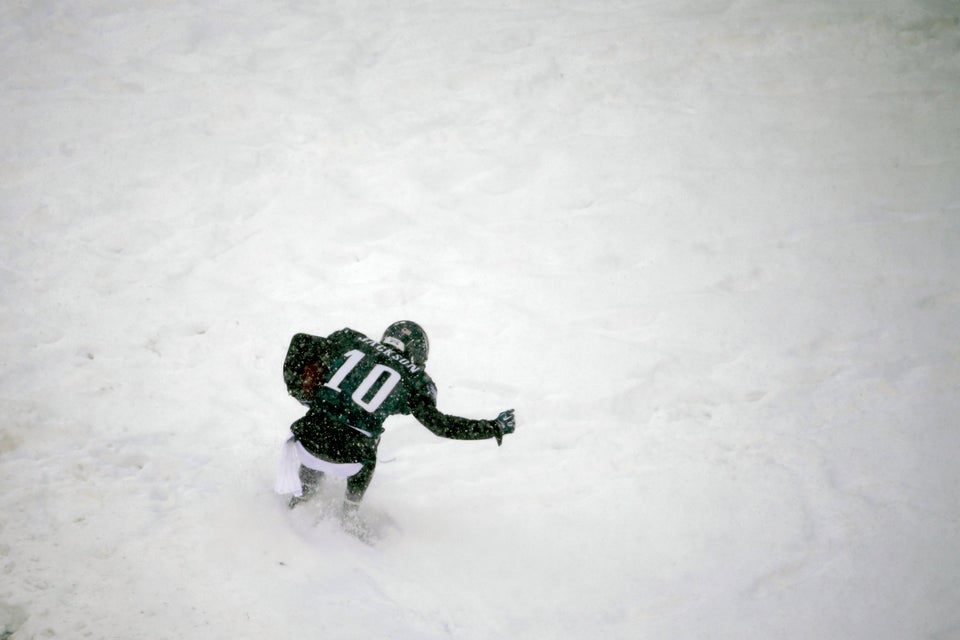 Best 2013 Sports Photos
Popular in the Community