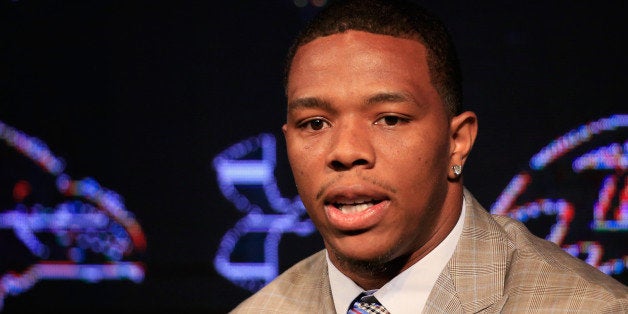 The NFL has been slammed for its decision to suspend Baltimore Ravens running back Ray Rice for only two games after he allegedly punched his then-fiancèe, Janay Palmer, during a fight in February. A new HuffPost/YouGov poll finds that a large majority of Americans believe Rice and other football players caught assaulting a wife or girlfriend should be subject to much harsher punishments than the one he received.
Asked to choose among several possible punishments for NFL players caught assaulting their partner, 23 percent of respondents said these players should receive a lifetime ban from the NFL and 31 percent said they should be suspended for a full season. Another 17 percent chose suspension lasting half a season. Only 12 percent supported suspension for a few games, and 5 percent said no punishment or a fine.
Self-professed NFL fans were only marginally more supportive of Rice's punishment. Just 17 percent of them said players caught abusing their partners should be suspended for merely a few games.
A majority of NFL fans supported harsher punishments for abusive players. Twenty percent backed a lifetime ban, 30 percent a full-season suspension, and 19 percent a half-season suspension.
The NFL and its commissioner, Roger Goodell, have come under attack in part because players caught using marijuana have received much harsher penalties than Rice did. Most recently, Cleveland Browns wide receiver Josh Gordon, who had one prior drug offense, was suspended for a full season after testing positive for pot during the offseason.
Poll respondents were much less likely to support harsh punishments for marijuana use than for domestic abuse. Just 5 percent backed a lifetime ban for a football player caught using pot, while 16 percent backed a full-season suspension. A majority supported lesser penalties: 29 percent said suspension for a few games, and 28 percent said no punishment or a fine.
Americans expressed slightly more support for handing down lifetime bans to NFL players who test positive for steroids or other performance-enhancing drugs. Eleven percent said these athletes should receive lifetime bans, 12 percentage points lower than the share who supported lifetime bans for players caught assaulting a wife or girlfriend. Thirty-two percent said players who use performance-enhancing drugs should be suspended for a full season, while 17 percent supported suspending for half a season. Another 25 percent said these players should be suspended for only a few games.
The HuffPost/YouGov poll was conducted July 26-July 27 among 1,000 U.S. adults using a sample selected from YouGov's opt-in online panel to match the demographics and other characteristics of the adult U.S. population. Factors considered include age, race, gender, education, employment, income, marital status, number of children, voter registration, time and location of Internet access, interest in politics, religion and church attendance.
The Huffington Post has teamed up with YouGov to conduct daily opinion polls. You can learn more about this project and take part in YouGov's nationally representative opinion polling. Data from all HuffPost/YouGov polls can be found here.
Calling all HuffPost superfans!
Sign up for membership to become a founding member and help shape HuffPost's next chapter