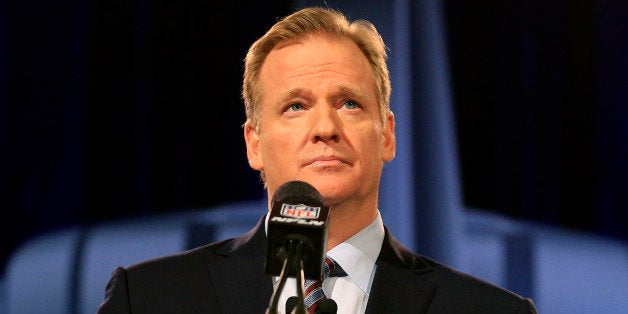 We asked experts of various sorts what they thought, and they offered a number of working theories. Here's what they said, organized by major themes.
The move is nothing more than a "PR stunt" meant to improve the league's reputation without tackling more difficult issues.
U.S. Sen. Richard Blumenthal (D-Conn.) wrote in a press release:
The NFL's sacrifice of its tax exempt status seems more like a PR stunt than a real gain. The tax-exempt status produces a pittance compared to its Congressionally-granted antitrust exemption –- enabling billions in broadcast revenue. The NFL is exempted from laws that govern every other industry and business entity, not to mention huge benefits in state and local subsidies and sweetheart stadium deals. Sacrificing this tax exemption to avoid a distraction -– according to Commissioner Goodell –- should not distract from the real issue: the NFL's public trust concerning domestic violence, drug use, concussions and other health issues.
The NFL still holds a firm grasp on what could be argued are more powerful government benefits: Stadium subsidies and a powerful antitrust exemption born out of the Sports Broadcasting Act of 1961. (The exemption provides the league with the broad power to negotiate enormous TV deals on behalf of teams as a single entity.) The NFL, if you didn't know, is also dealing with a number of other PR crises.
The NFL can now be more secretive about its executive pay.
Michael Leeds, a professor of economics at Temple University in Philadelphia, wrote to The Huffington Post in an email:
I have never known the NFL to give away money without some larger objective in mind. PR seems to be a weak reed, and a notoriously short-lived one. Given the heat they've take over executive compensation, pay opacity might be a more reasonable motivation.
As a result of its tax-exempt status, the NFL has had to publicly disclose how much it pays top employees. That has led to increasingly loud criticism in recent years, as league commissioner Roger Goodell's pay reached $44 million in 2012. The league will now be allowed to avoid many of those disclosures, as Michael Hiltzik of the Los Angeles Times detailed on Tuesday.
And that allows them to get rid of a "political headache."
Philip Hackney, a law professor at Louisiana State University who previously worked as an attorney for the IRS on issues related to tax-exempt organizations, said:
The NFL benefits from giving up its tax exempt status by getting rid of a political headache. As a tax exempt organization, annually the NFL had to disclose Roger Goodell's salary on the IRS Form 990. When people see his salary and they hear that the organization is a nonprofit tax exempt organization they are surprised and maybe even outraged regarding that fact. Although Goodell must pay tax on that income, it is very hard to explain the NFL's tax exempt status to the ordinary citizen. They associate the NFL with a lot of money, and assume that such an entity should be paying tax. Obviously some congressmen have been able to get some political mileage out of this issue over a number of years. Giving up the status allows the NFL to move beyond this public relations problem.
A headache that's not saving the league that much money anyway.
Realistically, there was not a lot of tax savings to the NFL by maintaining its tax exempt status ... The NFL may some years have losses and others have gains. A couple of years ago I believe its Form 990 indicated it might have a profit of maybe $9 million. That means it might have a tax payment of around $3.6 million in that year. For an organization that took in maybe $10 billion in that year, this is not a large amount. From looking at recent returns it does not look like the NFL itself would have a particularly large tax obligation. I suspect it chose to maintain its tax exempt status for some time for matters ancillary to tax.
As a bonus, getting rid of the tax-exempt status makes it slightly harder for Congress to bug the league.
Rodney Fort, a sports economist and professor of sports management at the University of Michigan, told HuffPost:
They are out from under scrutiny and "nudging" by Congress -- especially about domestic violence (which they can't do anything about unilaterally anyway without NFLPA [National Football League Players Association]) and that languishing offensive team name issue. (Editor's note: He's talking about the Washington Redskins.)
House Oversight and Government Reform Committee Chairman Jason Chaffetz (R-Utah), who has been leading the charge on the tax-exemption issue, had suggested potentially bringing Goodell before the committee -- an uncomfortable proposition for anyone, but especially the commissioner of the country's most popular sports league.
But in Goodell's view, this is all much ado about nothing: The league already pays a lot in taxes through its individual teams, and the issue had simply become a "distraction."
As you know, for several years the NFL has discussed the tax exempt status of the league office and the Management Council, and more than a year ago the Finance Committee began a study of whether to relinquish the exemptions. That study has now concluded, and has confirmed that a change in the tax status will not alter the function or operation of the league office or Management Council in any way.

…

As you [the owners] know, the effects of the tax exempt status of the league office have been mischaracterized repeatedly in recent years. The fact is that the business of the NFL has never been tax exempt. Every dollar of income generated through television rights fees, licensing agreements, sponsorships, ticket sales, and other means is earned by the 32 clubs and is taxable there. This will remain the case even when the league office and Management Council file returns as taxable entities, and the change in filing status will make no material difference to our business. As a result, the Committees decided to eliminate this distraction.
Popular in the Community