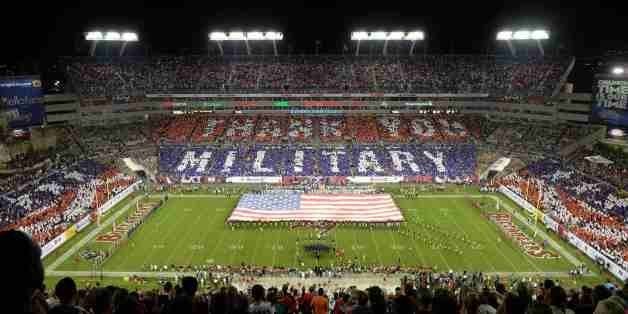 Three U.S. senators took what must be the most common-sense stand in American history on Thursday when they proposed making it illegal for the Department of Defense to use taxpayer money to pay the NFL and other professional sports leagues to honor American soldiers.
The senators, John McCain (R-AZ), Jeff Flake (R-AZ) and Richard Blumenthal (D-CT), filed an amendment to the National Defense Authorization Act for fiscal year 2016, which has yet to be voted on by the Senate. They're also politely asking that the teams that received money give it to charitable organizations because, you know, come on.
"Football fans across America learned last month that several NFL teams were honoring U.S. service members not out of a sense of patriotism, but for profit in the form of millions of dollars from the U.S. Department of Defense," the senators said in a joint statement.
"In a time of growing threats to our nation's security, we can't afford to give scarce defense dollars to wealthy sports teams, and fans should have confidence that their hometown heroes are being honored on Sundays because of their honorable military service, not as an NFL marketing ploy," they added.
Ridiculous as it may seem, the National Guard has spent millions of dollars in taxpayer money over the past three years just to get NFL teams to honor veterans at games, which we can all agree is objectively ridiculous. The New England Patriots received $675,000 alone, the Atlanta Falcons $579,500 and the Denver Broncos $460,000 -- again, just to acknowledge the men who put their lives on the line for us.
The New Jersey Army National guard supposedly paid the New York Jets $115,000 in part so the team would honor some soldiers as "Hometown Heroes." Like, come on.
UPDATE -- Friday, 8:45 a.m.: The NFL has issued a statement in response to news of the amendment:
This amendment paints a completely distorted picture of the relationship between NFL teams and our military. We agree that no one should be paid to honor our troops. Military spending on recruiting efforts should not be confused with programs that support our nation's active military and veterans. The NFL's long history of honoring and supporting our troops will continue because it is the right thing to do.
REAL LIFE. REAL NEWS. REAL VOICES.
Help us tell more of the stories that matter from voices that too often remain unheard.