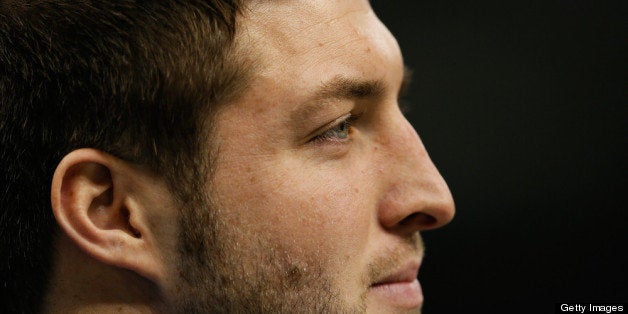 The New York Jets releasing of Tim Tebow on Monday ended what can only be summed up as the worst treatment of a player by an NFL team.
It's hard to recall another situation where a team was so afraid to win with a player, and so comfortable losing with another. But it's over now.
The only question that remains is what NFL team, or any, will sign him.
The most common reason heard for a team not signing Tebow is the circus that he would bring with him.
Wait, Tebow would bring it?
Did Tebow call ESPN producers and beg them to cover him 24/7? Did he harass ESPN's show First Take (a show I really like) and demand the whole hour be dedicated to him? Did he plea with the Jets to hold a press conference when they signed him? Did he ask football experts to use him as a proxy to argue over their own football expertise?
Tim Tebow didn't create this circus, and his livelihood and professional career shouldn't be punished for it.
I don't blame the media one bit for covering Tebow. People want to talk about him and that's great. My point isn't to blame the media for covering him, it's that he shouldn't be kicked out of the league for it.
So instead of admitting this possibility, his critics throw out red herring excuses.
One of my favorites is that an NFL team would have to change their offense for Tebow. You mean like every single team develops its offense around the talents of its quarterback? You mean like every single team does?
Another classic is the notion that his throwing motion and style of quarterback play can't succeed in the league. This is the basis for the proxy war from football experts. It has never been about Tebow, but instead, about arguing who is a better football pundit. They use him.
So let's examine the only evidence we do have here. He's only played close to a full season once. And from the only evidence we have, his critics are wrong. He did succeed. He led a 1-4 team that was horrible on offense, and yes, defense, when he first started. We have zero evidence of Tebow starting for a team and failing. Zero. He might fail, but we haven't seen it.
But the proxy war that started with football pundits spilled into NFL team front offices. Tebow has become a name that no team wants to associate themselves with. But no one has the answer to why.
Look no further than the Jets and Broncos. The Jets refused to play Tebow no matter how bad Sanchez played last year. A year before that, after Tebow led a bad Broncos team to the playoffs, they signed Peyton Manning in the offseason to a five-year deal worth $96 million dollars, and got no further in the playoffs that year than they had with Tebow.
Yes, I would rather have Peyton Manning than pretty much any quarterback, including Tebow, but that shouldn't stop us from being very honest with the fact that the Broncos advanced no further in the playoffs.
The Chicago Bears seem like a perfect fit. They don't have a backup quarterback with Jason Campbell signing with the Cleveland Browns. The Bears also don't have a quarterback on their roster that can make his team better. Add to this the fact that new Bears coach Marc Trestman mentored Tebow before the 2010 draft and had glowing things to say about him.
"If you're a coach and you love coaching quarterbacks, you'd love the opportunity to develop Tim Tebow," Trestman said at that time.
But as usual, a potential Tebow signing will be laughed off in Chicago, as elsewhere, and the Bears will spend another woeful season with Jay Cutler as their quarterback.
I've heard a few times that it will take "courage" for a team to sign Tebow because of all of the distractions "he brings."
Courage is signing up for the military and fighting for your country.
It doesn't take courage to sign a quarterback who can lead a bad or average team into the playoffs.
REAL LIFE. REAL NEWS. REAL VOICES.
Help us tell more of the stories that matter from voices that too often remain unheard.