The researchers found that NFL players' overall arrest rate was significantly lower than those of men age 20-39 in the general population, and media outlets including CNN, CBS, Sporting News and The Guardian have run with the study's top-level finding.
Overall, it appears to be true that NFL players aren't arrested as much as their male peers. The researchers obtained the general population figures from the FBI Uniform Crime Reports and the NFL arrest numbers predominantly from The San Diego Union-Tribune Database and The USA Today Database, which both track arrests among players in the NFL. Twenty- and 30-something men were almost twice as likely as NFL players to be arrested between 2000 and 2013.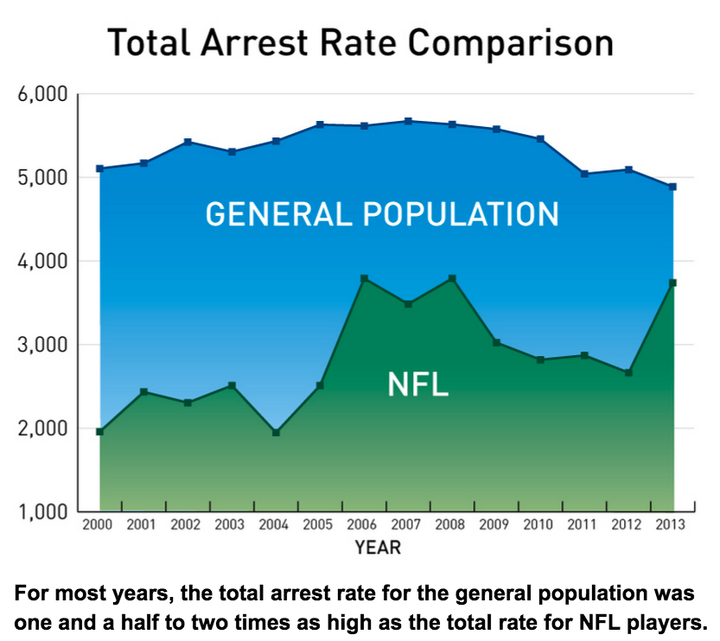 "There's a perception that the NFL has this huge crime problem and that it's longstanding. That's what everybody believes," Alex Piquero, Ashbel Smith professor of criminology at University of Texas at Dallas and one of the study's authors, said in a release. "The data show that it's not true."
But the study also broke down the arrests into three groups -- violent crime, property crime and public order crime -- and something pops out once you look at those groupings separately: While NFL players are arrested for property crimes and public order crimes at rates far below the national average, they are often arrested for violent crimes at rates above them.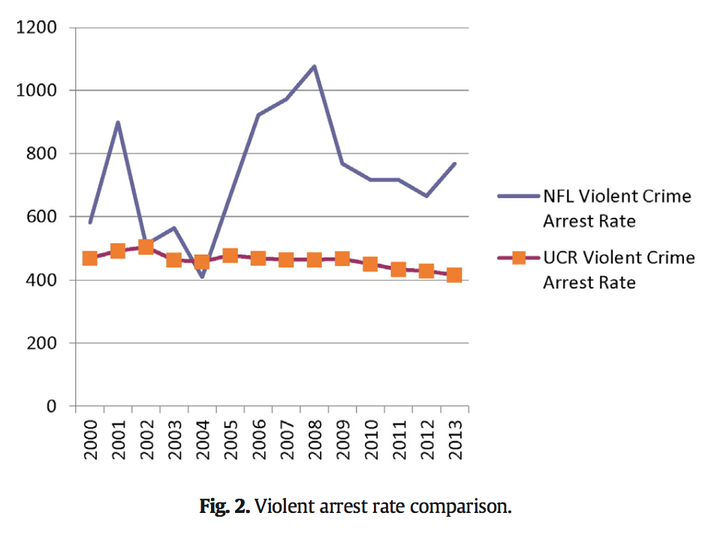 The researchers identified six years in which the rate of NFL players' rates of violent crime was above the national average at a "statistically significant" level. In a number of other years, the rate was above the general male population as well, albeit less so. The combined measure of 2000 to 2013 found that NFL players have been arrested for violent crimes at a rate above 20- and 30-something men as a whole in the 21st century overall.
Violent crime, as categorized by the researchers, included things like murder, manslaughter, DUI manslaughter, robbery, aggravated assault, sexual assault, rape, battery, domestic violence, child abuse and kidnapping.
Property crimes included burglary, theft and failure to pay child support. Public order crimes included things like DUIs, prostitution, public intoxication, animal abuse and disorderly.
Deadspin published a story back in 2013 that found NFL players committed assault and battery at rates below those of men overall in 2010. But Piquero argued that his team's study is more comprehensive, as it looks at a longer time period on both sides, and many more crimes. "In one sense, this [study] may provide some support to those who are concerned about violence among NFL players," the authors wrote in their report.
An NFL spokesman did not specifically respond to a request for comment about the NFL's violent arrest rate. But Charles Way, the NFL's Vice President of Player Engagement, did release this statement on the study:
We have long recognized that arrest rates of NFL players are far below the general population. NFL players are highly visible members of their community who are all expected to conduct themselves properly. Everyone in the league -- coaches, players and executives -- is held to higher standards of responsible conduct because of what it means to be associated with the NFL. We have longstanding policies and programs designed to encourage responsible behavior, and have evolved them to ensure that everyone meets that standard and embodies our values.
Piquero said in a conversation with The Huffington Post that it was "certainly" possible that the players' high incomes provide intangible benefits that lead to lower arrest rates for property and public order crimes. But like the NFL's Way, he hoped the main takeaway is that the most NFL players aren't criminals. "In the majority of the cases, the players are really good people and they don't commit crimes," he said.
Geert Dhondt, an assistant economics professor at John Jay College of Criminal Justice, questioned the usefulness of comparing NFL arrest rates to such a broad swath of the male population, rather than, say, men of a certain income.
Dhondt also noted over the phone that it's possible the study underplays the overall criminality of NFL players. The researchers only consider the crimes NFL players commit during their careers -- which are on average only around six years, according to the league -- while the statistics for crimes committed by 20- and 30-something men in the general male population aren't limited to such parameters. Could the overall male arrest rate compare more favorably to NFL players' if the researchers looked at a different or more specific time period?
Piquero willingly admitted it was possible when asked, but said it was "equally plausible" that it could make NFL players look even better or roughly the same.
Our rationale in using the 20-39 age span is because there are players who are between those ages. So, yes, we could do the analyses using a different age band (but those age bands could vary in many ways, right, one could do 20-23, 26-29, 30-33, etc., so which one is the *more* correct one, and there is no perfect or agreed-upon answer to that of course; as well, if the average age is, say 27-30, and it covers 75% of the players, what about the other 25% -- how would one handle that in any comparison?).

In the end, we wanted to be more complete in a comparison sense and not pose any undue restriction or assumptions on the comparisons across the two samples. So, that was our rationale.
Comparing NFL players' arrest rates to men in general is difficult work, especially considering it requires working with differing databases that often employ varying methodologies. But Piquero still hopes that "when you look at the forest and not the trees," you'll see the typical NFL player isn't much worse than the typical man.
When it comes to the NFL as a whole, however, the forest still looks rather violent.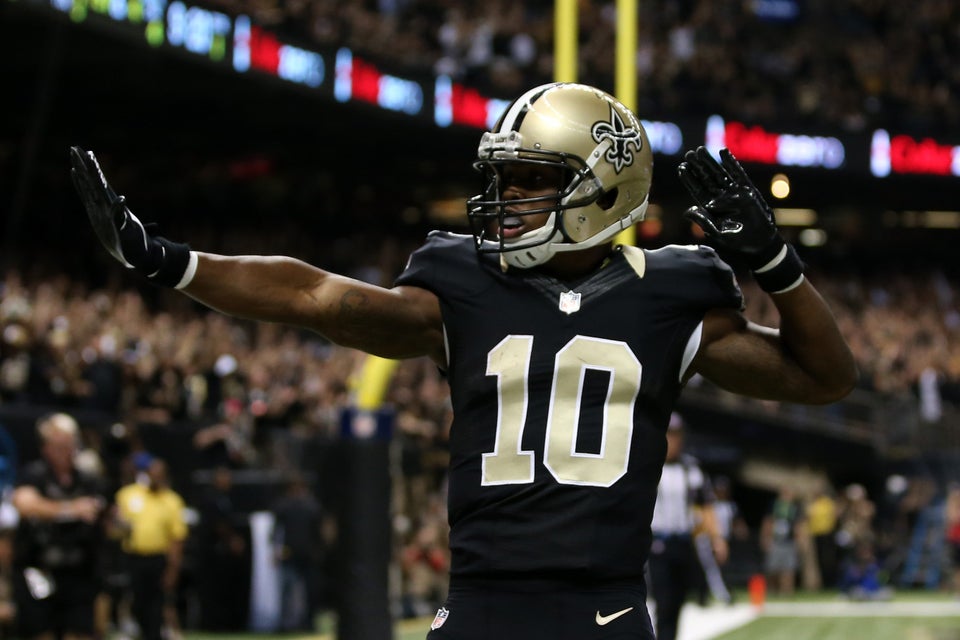 2015 NFL Breakout Stars
Related
Popular in the Community