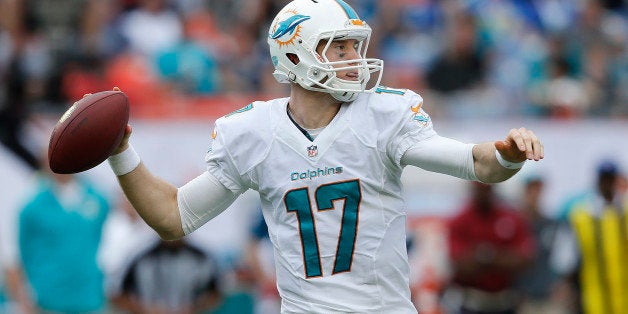 Now that the NFL has deliberately started scheduling divisionally significant games over the last few weeks of the season, December football is even better! The NFC North, the NFC East, the NFC South and the AFC North divisional titles are all still up in the air and the American Conference features a fierce competition for the lone remaining Wild Card slot. Can the resurgent Miami Dolphins edge out the reigning Super Bowl Champion Baltimore Ravens? Can the Cincinnati Bengals hang on to a season that should have seen them as undisputed divisional champions?
Miami Dolphins at Buffalo Bills. Before jumping to conclusions about the warm weather 'Fins, remember that they shellacked the Steelers two weeks ago in a snowstorm. There is a strong chance of rain, but it should be in the 40s.
The stat here is that the Dolphins defense has given up only 17 points per game on average this month. Good luck to backup Bills QB Thaddeus Lewis. He'll be without WR Stevie Johnson, who is dealing with a family death. Bills RBs Fred Jackson and C.J. Spiller will need to run up and down the gridiron: Buffalo's rushers have contributed 153.3 yards each of the last three Sundays, while Miami's D has allowed only 93 rushing yards. Miami's rushers Lamar Miller and Daniel Thomas (who is questionable) have run for 131.3 per contest themselves this month; Buffalo is surrendering 158.3 rushing yards over the same period.
If you haven't been watching Miami football recently, tune in to check out the meteoric rise of QB Ryan Tannehil. He is now one of those few QBs who can complete passes into one-foot windows. Against the Patriots in Week 15, Tannehill completed more than 67% of his passes for three scores and zero interceptions. In that Pittsburgh blizzard he also threw three scores. He's less than 400 yards shy of being the first Dolphins QB since Dan you-know-who to have a 4,000-yard season. High-priced WR Mike Wallace appears to have decided to start earning his money in the last few weeks and could be a significant factor in this playoff race.
Straight Up: Dolphins
Against the Spread: Dolphins +3
Tennessee Titans at Jacksonville Jaguars. Jags star RB Maurice Jones-Drew is questionable, hampering an offense that has become almost respectable in recent weeks with an over-300 yard average and 26.3 points per game. Without Jones-Drew, Jordan Thomas contributed almost 150 total yards and Denard Robinson is a Brad Smith-esque threat (if he doesn't fumble). Jacksonville's defensive heart, LB Paul Posluszny, is hampered by a groin injury. Posluszny has labored in obscurity while turning in a rather amazing season in Florida: he is second in the NFL with 139 tackles.
Tennessee QB Ryan Fitzpatrick's weapons include dependable Nate Washington, promising sophomore Kendall Wright, former Niner TE Delanie Walker and perennial bad boy Kenny Britt. "The Amish Rifle" should be able to make something out of that group if RB Chris Johnson has a decent day. However, the enigmatic rusher has had less than 20 carries in each of the last three games. Neither QB will be heading to Hawaii, but Fitzpatrick is averaging seven yards per pass and is completing almost 62% of his throws. Both QBs can be had in the interception department.
Jacksonville has shown steady improvement under new coach Gus Bradley and both locker room and fan base are feeling a pulse. The Titans are on a skid started by the first-round pick of QB Jake Locker, who simply cannot remain injury-free, and shaky O-line play on a team coached by a Hall of Fame offensive lineman.
Statistically, this one breaks in the Jaguars' favor. Their passing game hovers at a mere 175 yards, but the rushing attack is strong and their defense is surrendering 11 fewer points per game than their opponents. It could also be very warm on the Florida field on Sunday.
Straight Up: Jaguars
Against the Spread: Jaguars +5.5
Minnesota Vikings at Cincinnati Bengals. Cincy is undefeated at home and this would be an excellent week to continue that trend as they fight to hold onto the AFC North title. However, this team needs a revival-tent style awakening after the appalling lack of heart, focus and execution displayed last week in Pittsburgh. If there are undisputed leaders on offense and defense, they certainly haven't announced their presence loudly enough for fans to be able to identify them.
The Bengals strong defense should be able to stomp on the Vikings--even with the return of reigning MVP Adrian Peterson at RB. However, in the past three weeks (one of which featured only a third-string RB) the Vikings have averaged: 148.3 rushing yards, 295 passing yards, 443.3 total yards and 32.3 points. In the same time period a Bengals offense featuring one of the league's best receivers in A.J. Green has only put up 229 passing yards and 26.3 points per week.
On the other side of the ball, if the Bengals D can't shut down Vikes QB Matt Cassel, they haven't got a prayer against other AFC passers like Joe Flacco, Tom Brady and Peyton Manning. Come on, Cincy--prove you belong at the table. The Bengals also lost their punter to injury last week and acquired Shawn Powell, who last played for Buffalo in October. The 25-year-old averaged 46.1 yards per punt with a long of 66 and 10 punts nailed inside the 20-yard line.
Straight Up: Bengals
Against the Spread: Bengals -6.5
Tampa Bay Buccaneers at St. Louis Rams. Although neither young team will be in the playoffs, both are up and comers. St. Louis has a ferocious defense, but their franchise QB can't stay healthy. Let's see how well backup QB Kellen Clemens does versus a Bucs secondary giving up fewer than 200 passing yards in the last three games. Keep your eye on rookie Rams rusher Zac Stacy and rookie WR Tavon Austin--the fastest man in the 2013 draft. Like many dome teams, the Rams are hard to beat on their home field.
The Bucs defense is also coming along and the team has possibly found its franchise QB in Mike Glennon. Coach Greg Schiano needs to buy Glennon an exceptional Christmas present, because he was on his way out of town on a rail before the calm and lanky rookie took the reins.
Straight Up: Rams
Against the Spread: Rams -4
Dallas Cowboys at Washington. Stupendous Washington LB London Fletcher has announced his retirement--doubtless in an attempt to get his teammates to play with pride at home against the rival Cowboys. If Dallas loses this game and Philly wins Sunday night, the Eagles will win the division, Dallas will not make the playoffs and heads will roll in Big D.
Washington QB Kirk Cousins knows that he is playing for a job next year. A job somewhere else, so that Washington can recover some of the cash they spent on Robert Griffin III. Their "backup" quarterback RGIII is exhibiting Herculean control on the sidelines while Coach Shanahan (and offensive coordinator Shanahan-the-Younger) are trying to prove that with a QB who "fits their system," they can be superstar coaches: read as "it was all Griffin's fault."
Dallas QB Tony Romo needs to join a recovery group for QBs who think they have to win the game single-handedly. Philip Rivers was the president of this group the past few years. Romo has no defense and can't set his feet to throw a pass without getting buried by 300-lb defenders. Yes, of course they need to run the ball more. But you'd better be running quickly, because when your D gives up 35 points per game, the offense has to score 40.
Whichever team is less neurotic at this junction will win--whoever that is. The one thing certain in this game is that neither defense can stop anyone.
Straight Up: Washington
Against the Spread: Washington +3.5
New Orleans Saints at Carolina Panthers. Both teams are almost guaranteed a place in the post-season, but the Panthers can perhaps steal the division if they win over New Orleans here. If the Saints win, they lock up the NFC South title.
Assumed facts: Carolina is a defensive powerhouse and the Saints are the most explosive offense in the NFC. Well, Carolina is indeed impressive defensively with only 19 points allowed per game over the past three weekends, but New Orleans has scored only 18 points during that time. In fact, the most points that the Saints have managed on the road all season were 27 against New England--and they still lost. New Orleans must run the ball to win on the road and the Panthers only allowed 97.3 yards per game over the last month. Well that's okay, because the Saints can barely manage 58 rushing yards per contest of late. Conversely, the Panthers DeAngelo Williams/Mike Tolbert rushing duo is rumbling for 140.7 yards against a Saints D allowing 133 rushing yards on game days. It will be warm with a 60% chance of rain late. There is a chance of rain, which would help Carolina.
The Saints need to prove they can win on the road against a good D and the Panthers need to prove that they can pass the ball with the big playoff teams. You're on, guys.
Straight Up: Panthers
Against the Spread: Panthers -3
Denver Broncos at Houston Texans. Denver must win to keep their one-game lead over the Patriots in the AFC. Once again, Peyton Manning is left to score more than 35 points per game in order to secure a victory. The Chargers made the Denver defense look like a bottom-third unit last week. At an overall ranking of 24th, that's exactly what they are. Their pass rush is inconsistent on a line that has lost two starters in three weeks, the linebackers vacillate from being playmakers to looking like they missed "Run D 101" in training camp and the secondary is susceptible to the big play. CB Champ Bailey swears he'll be back Sunday, but after his seen-better-days play of last January, who knows if that is even a good thing?
Then there's the return game. Return specialist Trindon Holliday seems to be paralyzed with fear that he'll drop the ball yet again. Now starting WRs are returning balls--never an ideal situation. The kick coverage makes one's knuckles whiten in anticipatory dread. Denver will not win a Super Bowl if these two-thirds of the team do not take gigantic steps forward immediately. Time for someone to start doing a credible Bob Sanders impression.

The Texans interviewed former Bears coach Lovie Smith this week. That's the best thing this team has done in two months. Injured rookie QB Case Keenum proved to no one that he is an NFL QB and now Matt Schaub will be back under center. Both starting running backs are on I-R and the defense can't seem to find its mojo. The team has 15 more turnovers given up than grabbed. Fifteen. That just about sums up this season.

Straight Up: Denver
Against the Spread: Denver -10
Cleveland Browns at New York Jets. There are 22 players on the Browns injury report. Starting rusher Willis McGahee may be back from concussion, but Edwin Baker made an impact in his first chance on the gridiron after two well-traveled years in the League. If you've missed the Josh Gordon explosion, you might want to check out the second-year WR (though the Jets D is reasonably good and has been limiting passers to less than 300 yards). It may be difficult for the Browns to generate offense without TE Jordan Cameron.
Jets' rookie signal-caller Geno Smith has not had an easy time of it, averaging less than 150 passing yards this month. Fortunately, the running back team of Bilal Powell and Chris Ivory has been grinding out 133 rushing yards on average. Rex Ryan finally got a "ground and pound" running game and it may be too late to save his job. The 60% chance of rain will favor the Jets rushing attack. However, the Jets are only scoring about 20 points while allowing almost 27. Hence their 6-8 record.
Straight Up: Jets at home
Against the Spread: Jets -2.5
Indianapolis Colts at Kansas City Chiefs. Chiefs RB Jamaal Charles is the new LeSean McCoy/Brian Westbrook in Andy Reid's offense. Until Reid wears him down through overuse, No. 25 will continue to wreak havoc. Backed by this rushing weapon, Alex Smith continues his winning ways with 23 touchdowns to six interceptions this year--with essentially one A-level WR. As a unit, this offense has slammed opponents with an average of 43 points per game on the last three Sundays. Without dominant D-lineman Justin Houston, KC's D isn't as fierce and has allowed 25.3 points over the last three games. He is questionable.
Indy QB Andrew Luck knows what it's like not to have WRs. His aerial game has crashed since Reggie Wayne's injury. The promising offense has dropped to a pedestrian 25 points per contest this month. Defensively, the Colts just lost anchor LB Pat Angerer to I-R. That may impact a decent Indy D that's been giving up less than 20 points recently. It's hard to imagine the Colts being able to prevail at Arrowhead, where the wind chill will feel like -11 degrees and there is a significant chance of snow.
Straight Up: Chiefs
Against the Spread: Chiefs -6.5
New York Giants at Detroit Lions. This is the matchup of under-performing squads. The Giants offensive line all went over-the-hill at once, the star WR decided not to perform his job, the running backs were a revolving door of injuries and the defense forgot how to rush the passer and tackle. See above on QBs who think they have to win it all alone and end up throwing a record number of interceptions. It's hard to believe that the Giants would fire the coach/general manager tandem of Tom Coughlin and Jerry Reese after two Super Bowls in five years, but some big changes are coming certainly.
Change will be arriving in the Motor City as well if this talent-laden Lions squad misses the playoffs when injuries should have handed them the NFC North title on a tray. Matthew Stafford has a rocket-launcher of a throwing arm, but his mechanics have disintegrated and his discipline is suspect. The offense forces the ball to future Hall of Fame WR Calvin Johnson to the detriment of good sense in play-calling and Reggie Bush's frequent injuries have prevented his expected impact on the rushing attack. The defense should be the second coming of the Steel Curtain and yet they couldn't beat a Ravens team that has no running game!
Straight Up: Lions
Against the Spread: Giants +9.5
Oakland Raiders at San Diego Chargers. The Chargers are hanging onto playoff hopes by the tips of their electrified toenails. In their own laid back SoCal way, Chargers fans should be rocking against the Silver and Black this week.
New coach Mike McCoy and QB Philip Rivers were made for each other. Rivers is having an MVP season (were it not for the stratospheric performance of Sports Illustrated's Athlete of the Year, Peyton Manning). Rivers is fifth in total passing yards, possesses an almost 70% completion rate with 8.4 yards per pass. Throw in the fact that Danny Woodhead and featured back Ryan Mathews are combing for almost 140 rushing yards each game of the past three weeks. Add in my choice for Offensive Rookie of the Year, WR Keenan Allen (seven touchdowns and 14.8 yards per catch), and Rivers has more to work with than in recent memory. The Chargers defense has certainly come a long way since early disarray and are now giving up only 17 points per game.
The Raiders, behind unlikely starting QB Matt McGloin, have scored more than 27 points over the last three Sundays, but have given up 41.3 and are -9 in turnovers! Hard to win with that ratio. They don't have a franchise QB, their expensive first-round RB can't stay on the field and once again their best offensive weapon is PK Sebastian Janikowski (and he's having a down year). It's really not pretty in Raider Nation. Of course, pretty isn't exactly a benchmark.
Straight Up: Chargers
Against the Spread: Chargers -9.5
Pittsburgh Steelers at Green Bay Packers. The NFL was probably envisioning a Super Bowl re-match on the frozen tundra. However, the Steelers are essentially playing for pride after an abysmal first two-thirds of the season and the Packers are hanging around in the NFC North without their starting quarterback only courtesy of Detroit's and Chicago's inability to close out the division. Aaron Rodgers is still trying to recover from a broken collarbone and both teams have 11 players on I-R.
Pittsburgh's offense has come to life in recent weeks as the mix-and-match offensive line is protecting Ben Roethlisberger a bit better, Big Ben is getting the passes off more quickly and rookie rusher Le'veon Bell has proven to be a star in the making. He has contributed over 1,000 combined yards after missing the first four games of the year. The defense is improving, which is a minor miracle considering that the linebacking corps is composed entirely of men who were not starters in September.
Lambeau Field will have its frozen tundra, there will be snow in the morning and it will feel like 9 degrees Fahrenheit--all of which shouldn't affect a thing.
Straight Up: Steelers
Against the Spread: Steelers +2.5
New England Patriots at Baltimore Ravens. These two perennially strong teams have struggled this season, but through grit and sheer winning tradition are on the cusp of post-season qualification.
The Ravens cannot run the ball to save their souls, forcing QB Joe Flacco to dazzle football fans everywhere with one of the strongest arms in the NFL. Speedy WRs Torrey Smith and Jacoby Jones are more than happy to run under those passes and rookie wideout Marlon Brown is turning out to be the Raven's best gift this season--along with the return of Flacco's favorite clutch outlet, TE Dennis Pitta. Meanwhile, the Ravens D is rallying and has surrendered 20.7 points on average over the last three weeks.
Pats QB Tom Brady gets his taller red zone targets back this week in WRs Kenbrell Thompkins and Aaron Dobson (probably). That's good news since backup TE Michael Hoomanawanui is now questionable, leaving two guys no one has ever heard of at the position. Versatile WR Julian Edelman, having a banner year, could be the wild card in this game. Bill Belichick's D is actually giving up 27 points per game recently.
The Ravens have to outscore the Patriots. It's possible as long as Joe Flacco's knee truly is sound and they can mount something approaching a believable run threat.
Straight Up: Ravens
Against the Spread: Raven -1.5
Arizona Cardinals at Seattle Seahawks. If the Cardinals don't win against Seattle in Seattle, their playoff hopes are done. QB Carson Palmer has an injured elbow that may be a problem and star wideout Larry Fitzgerald is coming off a concussion.
They have the daunting task of taking on a Seahawks defense that over the past three weeks has given up 77.3 rushing yards, 151.7 passing yards, 229 total yards and 8.7 points. Two starting CBs are suspended and Safety Kam Chancellor is questionable. However, Coach Pete Carroll apparently has an inexhaustible supply of well-trained DBs, since whoever he plugs in there seems to play quite well, led by top CB Richard Sherman.
It's a bit difficult to imagine a football world in which a banged-up Cardinals offense can prevail in noisy Seattle. There is an eighty percent chance of rain. What a surprise. Arizona's only hope is a thoroughly respectable defense--best in the NFL against the rush. That's fortunate, since they lost stellar rookie safety Tyrann Mathieu for the season. They will face a second-year Seattle QB in Russell Wilson who has 3077 aerial yards, 24 TDs and only 8 INTs. And that doesn't include his 489 rushing yards. And the Seahawks special teams have given up 19 punt return yards all year.
Straight Up: Seahawks
Against the Spread: Cardinals +10.5
Chicago Bears at Philadelphia Eagles. Both teams must win to stay in contention for their divisional titles. Both teams have abysmal records ATS--so it's a toss up. Coach Chip Kelly will know at kickoff whether Dallas won over Washington. If the Cowboys lost, the Eagles can sew up the division title with a win here. If Dallas wins, the Eagles can't clinch Sunday night and the Philly coach may pull some starters.
Then there's the Jay Cutler factor. After personifying the epitome of a rusty passer in the first half last weekend, Cutler rallied after half-time for an electrifying fourth quarter in which he racked up 71 yards and two touchdowns, with no INTs and a 143.5 rating. Of course the ability to throw passes to WRs Alshon Jeffery and Brandon Marshall and TE Martellus Bennett would make any QB smile. These new "Monsters of the Midway" are beating up opposing secondaries almost as badly as their defensive predecessors beat up 1985 opponents. Cutler and backup Luke McCown have led their offense to an average of 34.3 points in the last three weeks. The return of LB Lance Briggs should help a reeling D that has allowed almost 27 points per contest in the past month. We'll see what kind of shape Briggs is in as he tries to keep up with the lightening fast Eagles offense.
Kelly's system may only be averaging 29.3 points recently, but they seem able to adapt to weather conditions and professional defenses with equal alacrity. QB Nick Foles is having a frankly spectacular sophomore season (23 TDs to 2 INTs), but the 'Iggles defense is extremely uneven.
The strangest "fun fact" in this matchup is that both teams have lost to the out-of-contention Minnesota Vikings, which leads one to examine the respective running defenses. With 77 total touches thus far in December, Bears RB Matt Forte has added 457 yards and a score to his team's offense. On the other side, LeSean McCoy is one of the most dangerous backs in the NFL: "Shady" is averaging five yards per carry and 11.3 yards per reception. Chicago has given up a whopping 179 yards per game to opposing rushers over the last three games. It may be raining Sunday night, which could tip the scales towards Philly's rushers. Gentlemen, start your running backs.
Straight Up: Chicago (unless Dallas loses earlier in which case you should switch to the Eagles)
Against the Spread: Chicago +4
Atlanta Falcons at San Francisco 49ers. As if they hadn't experienced enough bad fortune, the Falcons get to travel across country to play the formidable 49ers--in the last regular season game to ever be played at Candlestick. That's just not fair.
The Falcons have averaged less than 23 points per week. Roddy White, Julio Jones and Steven Jackson haven't been healthy and the team could only muster 262 passing yards and fewer than 80 rushing yards over the year. The defense has given up 27 points per game.
Atlanta is matched up against a San Francisco D allowing only a touch over 14 points recently and a NIners offense featurig unstoppable force RB Frank Gore: 144.3 rushing yards for the team over the past three games, although versatile FB Bruce Miller broke his arm and will miss the rest of the season. QB Colin Kaepernick will be happy if a concussion keeps Atlanta Safety Thomas DeCoud sidelined.
Straight Up: 49ers
Against the Spread: 49ers -12.5 (Atlanta is 5-12 ATS in last 17 games)
Statistics from: Pro-Football-Refernce.com, NFL.com, and Three-Week Stats from USAToday.com, CBSSports.com
Calling all HuffPost superfans!
Sign up for membership to become a founding member and help shape HuffPost's next chapter