The plight of the Manning brothers is quite interesting isn't it? Peyton Manning is 37 years old, and yet he looks as fresh and as dominant as he ever has. Meanwhile, Eli Manning -- five years younger and fresh off a home defeat to Peyton's Broncos in Week 2 -- has never looked worse.
With NFL Week 3 now in the books, let's take a look at five key takeaways.
1). It's Denver And Seattle -- Then Everybody Else
Peyton Manning just became the first quarterback in NFL history to toss 12 touchdowns in the first three games of the season. The 37-year-old, who hasn't thrown an interception in 122 attempts by the way, has a wondrous carousel of talented receivers while Denver has scored 127 points already. Meanwhile, the Seahawks -- after dispatching San Francisco 29-3 last week -- moved to 3-0 with a dominant performance over lowly Jacksonville. The defense is sensational while quarterback Russell Wilson continues to impress in year two. As I've been saying since August, it appears these two teams are on a Super Bowl collision course.
When the New York Giants lose 38-0 to Carolina, it's a big deal. It's a big deal because Eli Manning has never been 0-3 and Tom Coughlin has never suffered a worse defeat. It's a big deal because the team has now lost 8 of 11 if you go back to 2012. And it's a big deal because the offensive line is heinous, running back David Wilson stinks and Manning has never been on his back more.
3). Are The 'Fins For Real?
Miami was a trendy sleeper pick for 2013 and for good reason. Second-year quarterback Ryan Tannehill exhibited excellent poise as a rookie and perhaps even more this season. In Sunday's victory over Atlanta, he completed 15 of 18 passes for 155 yards against the blitz, per ESPN Stats & Info. A win over quarterback Matt Ryan and Atlanta cannot be ignored, nor can the team's first 3-0 start in over a decade. Hey, I'm not saying Mercury Morris and the gang should get worried, but this year's Dolphins -- with a strong defense and improving young offense -- deserve our respect.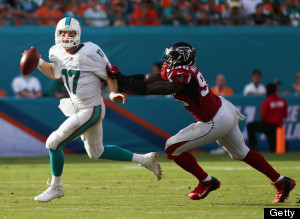 Thanks in large part to the strong play of Ryan Tannehill, the Dolphins are 3-0. (Getty Images)
4). Trouble in San Francisco
A road defeat at raucous CenturyLink in Seattle is one thing, but a home loss to a struggling Indianapolis team is something entirely different. The 49ers, at 1-2, now have a losing record for the first time ever under head coach Jim Harbaugh. Equally disconcerting is the fact that quarterback Colin Kaepernick looks ordinary and actually confused in the pocket. Make no mistake: San Francisco, with it's gaudy defense, is built for the long haul. But with star defensive end Aldon Smith forced to take an indefinite leave of absence following his DUI, things couldn't be much worse for the 49ers.
5). Speaking of the Colts ...
It was a massive week in Indy, first with the Trent Richardson trade, and then with the 27-7 road win over the 49ers. Richardson, while he hasn't been the game-breaking runner throughout the early stages of his career (3.7 YPC average), should excel as a pass-catcher with Indy. He has natural hands and, for the first time in his career, a true passing threat so that defenses cannot consistently load the box with seven and eight guys. Andrew Luck, who chatted with HuffPost last week before the acquisition, is off to a fine start as well and the 2-1 Colts are dangerous in the AFC.
Email me at jordan.schultz@huffingtonpost.com or ask me questions about anything sports-related at @Schultz_Report. Also, be sure and catch my NBC Sports Radio show, Kup and Schultz, which airs Sunday mornings from 9-12 ET, right here.
REAL LIFE. REAL NEWS. REAL VOICES.
Help us tell more of the stories that matter from voices that too often remain unheard.