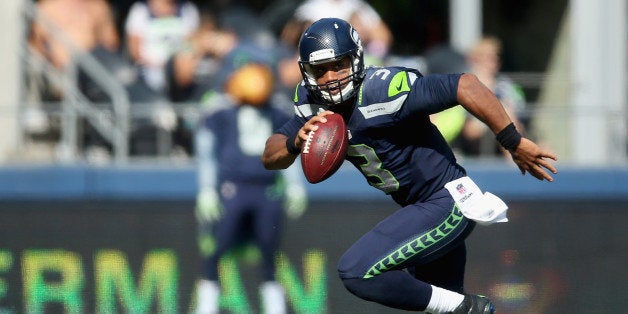 We're now in week 3 of the NFL season, and who would have thought that Arizona -- with Drew Stanton making two starts -- would be undefeated, or that New Orleans and Green Bay would both be 1-2?
Denver and Seattle (both now 2-1) provided the type of theater that many anticipated during the Super Bowl, giving the NFL precisely what it needed after a catastrophic couple of weeks. But there was plenty more to like during week 3 -- namely, the possible emergence of a new star at quarterback and the continual decline of an old one. Let's take a look at what we learned.
No surprises here: Every time Cousins has been thrown into action, good things happen. As I advised during my NBC Sports Radio show Sunday morning, he is a fantasy must-start, throws an excellent deep ball (see: DeSean Jackson) and has real command of what he wants to do with the football. The Philly defense isn't elite by any means, but it shut down Andrew Luck for a half. Cousins threw for 427 yards to go along with three scores and one interception, and was efficient and confident in the pocket. With RG3 out for an extended period of time, Cousins will have a real opportunity for the first time in his career.
New England fans (and Tom Brady fantasy owners) were hoping that Brady's early struggles this season were a mirage. But after tossing for 234 yards for one touchdown against Oakland at home, it is officially panic mode. "It's not going to be easy for us," Brady said following the Patriots' 16-9 win. "I don't think any team plays us and we get -- you know, we get their best." The truth is that the Pats have neither a deep threat nor their top-tier offensive line of old. Logan Mankins' trade is evident, particularly during plays that take longer to develop, when Brady is not afforded the time he needs. In three games, Brady is completing just 58.8 percent of his passes while averaging 5.54 yards per attempt -- both of which would be career lows.
The Seahawks don't lose at home, and yet, with a 4 percent chance to win the game heading into his team's game-tying drive, Peyton Manning almost pulled off the impossible. Manning, who was pressured for much of the game, was magnificent when it mattered most, as was Russell Wilson. The 25-year-old Wilson, despite throwing fewer than any other quarterback in the league this year, continues to be one of the most efficient passers in football, and leads the NFL in comeback/game-winning drives since he was drafted. There was a lot to absorb from this game -- a 26-20 Seattle win in overtime, a revamped Broncos defense with nine new starters, the ongoing struggles of feature running back Montee Ball and the dominance of Seahawks running back Marshawn Lynch, who thrashed a quality front for 138 total yards, including the game-winning score.
Cincinnati should not be flying under anybody's radar. At 3-0, the Bengals boast a plus-47 point differential -- the best in the league -- despite featuring two new coordinators. (Remember that Mike Zimmer and Jay Gruden are both gone.) Of course it is very early, but we should also praise quarterback Andy Dalton, who recently signed his mega-deal under stark criticism and has completed 65.5 percent of his passes. While he has just the two touchdown passes and the one pick, he's finally throwing the ball down the field. Incredibly, the Bengals have trailed for a mere 51 seconds the entire season.
It took a 0-2 start and a 30-0 halftime deficit for Jacksonville head coach Gus Bradley to finally give the keys to Blake Bortles. Bortles made his fair share of mistakes, but he also tossed a couple touchdown passes and kept a slew of plays alive that he had no business doing. It is that athleticism and escape ability that made Bortles the first quarterback to come off the board.
Sunday also marked the debut of Teddy Bridgewater, who entered the game for Matt Cassel after Cassel fractured his foot. Bridgewater is nowhere near the physical presence of Bortles, but he had a tremendous amount of success running a pro-style offense under Charlie Strong at Louisville. During a close game and in a tough environment against New Orleans, Bridgewater made a couple nice throws and scrambled a bit, but also showed the same deer-in-the-headlights look from his dreadful pro day before the draft.
Email me at jordan.schultz@huffingtonpost.com or ask me questions about anything sports-related at @Schultz_Report and follow me on Instagram @Schultz_Report. Also, be sure and catch my NBC Sports Radio show, Kup and Schultz, which airs Sunday mornings from 9-12 ET, right here.