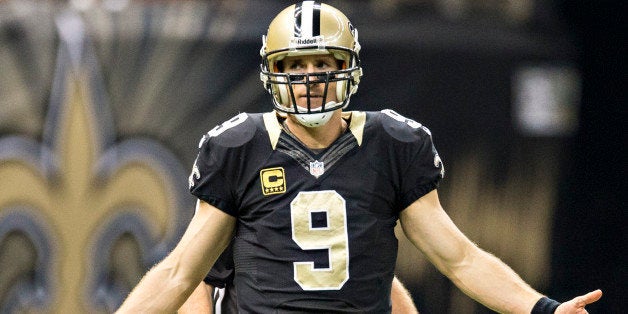 The NFL Week 9 Picks will put us over the hump on the 2013 football season. So, we have eight more regular season Sundays to win our office pool. One thing I have learned is that the Seattle Seahawks have an alarmingly bad habit of winning, but not covering the spread. I want to be a Russell Wilson fan; I really do. The Seattle QB is a fellow Virginian and short person, not to mention amazingly talented and generally cool. But he's killing me!
Week 8 chart-topper: Calvin Johnson's 329-yard receiving game was nothing short of historically great TV. That it was short of Willie Lee "Flipper" Anderson's 1989 336-yard record makes one wonder how incredibly good Anderson must have been to amass that many yards when DB's were actually allowed to defend a pass. Not to mention the fact that it was Jim Everett and not Matthew Stafford under center for the 1989 Rams. No offense meant to Mr. Everett but, you know...
Week 8 trivia: Quick, what's the name of the Packers' punter? It's Tim Masthay. You'll be forgiven for not knowing, since he didn't see the field in Week 8. Mr. Masthay has punted 24 times this season. That's about three punts per game. Not bad work if you can get it.
Week 8 quote: During Monday night's painfully offense-challenged football game, as Mike Tirico and former referee Gerry Austin elaborated at length on a point of officiating, Jon Gruden screwed up his Chucky face and said: "I'll bet you like sitting at red lights."
Cincinnati Bengals at Miami Dolphins. The Dolphins' defense is starting to get healthy and performed well early against the Patriots last weekend. In fact, the unit has an interception in each of the last three games and at least two sacks in each of their last four games. Unfortunately, they've also allowed opponents to score 25 points or more in three of the last four. This may not bode well when facing the newly awakened Cincy offense led by third-year quarterback Andy Dalton, who is playing as if the proverbial light bulb just fired up over his head. Dalton tossed five TD's against what many consider to be a very strong New York Jets' defense. Huh? I guess that's what happens when you put three DB's on ace WR A.J. Green and, like, none on young ball catcher Marvin Jones--who finished the day with four scores. SI.com nabbed the definitive quote from offensive coordinator Jay Gruden:
Not many people put a performance like this against a Rex Ryan defense. Not many people will.
The Dolphins' D may be showing some grit, but sophomore QB Ryan Tannehill has had some rough sledding recently with 10 turnovers in his team's four-game losing streak. Ouch. Tannehill and the Dolphins' coaches now face the reality that opponents know they can force mistakes by blitzing the young signal-caller. Hopefully, they can stop the trend before it becomes a vicious self-fulfilling prophecy of pigskin doom. And you thought Matt Schaub was having a bad month.
Straight Up: Cincinnati
Against the Spread: Cincinnati -2.5
Atlanta Falcons at Carolina Panthers. This is an important divisional contest. Well, it would be--if the Falcons hadn't totally imploded this year. As it is, this game will simply show fans whether the Panthers have truly turned the corner. They should win this game by virtue of their incredible defense, Atlanta's injury-depleted offense, the Falcons' weak-kneed D and Cam Newton's newly emerging offensive weapons (read WR Brandon LaFell). And just for good measure--the Panthers are averaging four yards per rush against a Falcons' D giving up 4.6 yards per carry.
Over the past three games, Carolina has scored an average of 32 points. Atlanta: 24 points. The Carolina D has given up less than 13 points per game over this span. Not good for the folks in Georgia. Be kind, fans--nobody could control these injuries.
Straight Up: Carolina
Against the Spread: Carolina -7.5 (Atlanta is 2-8 ATS over the last ten games, but don't go any higher on the spread since Panthers' RB DeAngelo Williams and LB Thomas Davis and DE Charles Johnson are questionable)
Minnesota Vikings at Dallas Cowboys. Even if you're not a Dallas fan, take a moment to check out rookie WR Terrance Williams, who has scored in the last three games. As for that other WR on your team--how about we give Dez Bryant a bit of a break? Considering what he has had to overcome, the fact that the young man can stay on the field and out of trouble is a triumph. He didn't handle his passion well on the sidelines last Sunday, but perhaps we can hope he'll learn from the criticism and continue to grow up. I don't usually support athletes throwing tantrums, but in context this was no big deal.
Bryant and Williams and TE Jason Witten will give the Vikings' D all they can handle, particularly on third down where they have allowed a conversion by the opponent on 51 percent of attempts. This won't be helped by even more injuries in the secondary. In the last three weeks, Minnesota has allowed 34 points per game while scoring, um, 16. We don't know whether Josh Freeman or Christian Ponder will play at QB, but unless it's Freeman and he rewinds his clock two year to his sophomore season--it won't matter.
Straight Up: Dallas
Against the Spread: Minnesota +10.5
New Orleans Saints at New York Jets. One of the league's best offenses against one of the league's best defenses. The Buffalo Bills held the Saints to less than 100 yards well into the second quarter last week. And then Brees hit Kenny Stills for a long touchdown. Of course he did. And the he scored again to get his team to 21 points at the half. Of course he did. And then he led his team to a 35-17 win. Of course--you get the idea. This QB is obligatory viewing for any fan of beautiful passes and classy guys.
The Saints' D could not stop Buffalo WR Stevie Johnson in the red zone early last week. This may be of interest to up-and-down rookie passer Geno Smith. Smith will be without his TE security blanket since Jeff Cumberland left the game last week with a head injury.
You must tune in for a chance to watch Buddy Ryan's twin sons duke it out. Rex is clawing for a job and Rob is trying to keep his Saints' D headed in the right direction. Both missions are in grave jeopardy but, in true Buddy Ryan fashion, both men will fight on. They'll be fighting each other on Sunday.
Straight Up: New Orleans
Against the Spread: New Orleans -5.5 (unless it's pouring rain)
Tennessee Titans at St. Louis Rams. The Rams may be a young team, but they are a well-coached group that played with admirable heart on Monday night against the Seahawks. Unfortunately, the passing game was a train wreck. Deanna Favre hopes that Brett wasn't watching, or he might suit up for St. Louis purely out of pity. Surely Brady Quinn couldn't be worse? And nobody knows whether Austen Davis could play for real or not. Worse, promising RB Zac Stacy sprained his ankle. It's a low sprain, so he'll probably be day-to-day. However, the offensive line was positively staggering--and it was the 'Hawks' defensive line doing the staggering. If they can open holes again for Stacy and Daryl Richardson, the Rams might succeed against a Titans' D that has given up almost 142 rushing yards per game in the last three weeks.
Tennessee QB Jake Locker should fare better in his second game returning from injury, but he'll have to lead his team to at least 26 points to compensate for the 25.7 points the defense is gifting to opponents. With Locker, the Titans have a better chance at completing some passes, but the Rams' D will keep it close.
Straight Up: Tennessee
Against the Spread: St. Louis Rams +4.0
Kansas City Chiefs at Buffalo Bills. If the Bills' offensive line doesn't start playing better, the team will need to sign a few more quarterbacks. Interim starter Thaddeus Lewis was absolutely hammered last Sunday and newly acquired Matt Flynn may be under center Sunday. Running back C.J. Spiller's absence had a surprisingly large negative impact on the Bills' offensive production in Week 8. The defense shut down the Saints in the first half in Week 8 before succumbing before the Brees points juggernaut.
No one would say that the Chiefs have had a points juggernaut--n fact, these teams are very evenly matched on offense. However, the Chiefs are the ones with the perfect record.
The deciding factor has been--and will be--the first place Chiefs' defense. This unit has given up less than 14 points in the last three weeks and only 83.7 yards rushing. So Bills rushers Fred Jackson (sprained MCL) and Spiller (ankle) will have their feet full this week. If Buffalo can control the ball against the Chiefs' front seven, they can win. It would be just like this year's NFL for the Bills to be the ones to snap the KC winning streak.
Straight Up: Buffalo
Against the Spread: Buffalo +3.5
San Diego Chargers at Washington. Jim Haslett's Washington defense finally started playing professional-level football last weekend in Denver. And then the game went to halftime. After that, the Peyton Manning victory tour continued unabated. Haslett's job will be just as difficult this week. No one is giving him credit, but San Diego QB Philip Rivers is completing 73.9 percent of his passes with 8.6 yards per attempt. Pro Bowl anyone? The Bolts' only problem comes in turning those yards into points; they've scored only 20 per game in recent weeks.
Offensively, Washington RB Alfred Morris had a banner game against the initially weak Broncos' D and Robert Griffin III was able to have some success in the passing game. The Chargers' secondary is allowing 7.8 yards per pass, so the DC receivers should theoretically be able to get open. San Diego has a strong run D, so Washington's Morris and Roy Helu need to have success and offensive coordinator Kyle Shanahan needs to keep calling runs to allow them an opportunity for that success.
Straight Up: Washington
Against the Spread: Washington +1.0
Philadelphia Eagles at Oakland Raiders. Michael Vick was benched late in the first half last Sunday. The official team line was that it was his hamstring. Enter third-string rookie QB Matt Barkley. To that point, the Eagles had managed a total of two first downs.
Barkley didn't exactly improve the situation. Thankfully, Nick Foles should start this week. Both extraordinary rusher LeSean McCoy and extraordinary pass catcher DeSean Jackson have sore ankles, but are expected to play. Philly fans hope that a defense accustomed to chasing Michael Vick around can manage to keep up with surprisingly effective Oakland QB Terrelle Pryor.
Neither team has been lighting up the scoreboard, but someone has to win. The matchups will be the Raiders' secondary against Foles and the Eagles' linebackers against Pryor and RB Darren McFadden. But the points of potential sparks are Pryor and McCoy with the ball on the ground.
Straight Up: Oakland
Against the Spread: Oakland -.5
Tampa Bay Buccaneers at Seattle Seahawks. Some games just don't seem fair. Long shot rookie QB Mike Glennon against the Seahawks' defense. Oh dear. It would help if the Bucs' D were to give up less than the 31 points they have been allowing recently.
This week would be an excellent occasion for the Seattle offense to get on track--something they have yet to do this year and something that will be more difficult now that WR Sydney Rice is on I-R. Now, instead of having a one-two punch when Percy Harvin is finally well enough to play, the Seahawks will have sort of a three-quarter punch with a rusty guy and Golden Tate.
Tate has benefited astronomically from the presence of Russell Wilson, but he's no Calvin Johnson. Heck, he's not even Mario Manningham. It would also be a good choice for offensive coordinator Darrell Bevell to remember that he has one of the best running backs of the decade on his team.
Straight Up: Seattle
Against the Spread: Tampa Bay +17.5
Baltimore Ravens at Cleveland Browns. Jason Campbell started and played well in the second half after getting his legs under him during the first two quarters. He completed a third-quarter TD pass to former undrafted RB Fozzy Whittaker. Who? Claimed off of waivers after being cut by the Chargers, Whittaker is 5'10" and 200 pounds. His rather bizarre first name is short for Foswhitt--which really isn't any better.
Campbell's recent arrival makes offensive stats useless, but the Browns' defense has fallen off in recent weeks and given up almost 29 points. That has to change or Joe Flacco and his guys will have their much-needed resurgence this Sunday. Sadly, electric Cleveland speedster Travis Benjamin is out for the year after an ACL injury last week.
How does a Super Bowl-winning offense subside into a group struggling to break 20 points? RB Ray Rice is having a terrible time this season and has averaged only 2.8 yards per carry. With Jacoby Jones and Torrey Smith on the field, Flacco should be able to move his team and score. The vaunted defense and pass rush have been effective at times and porous at others. None of these aspects of the Ravens' game have been dreadful, but none of them have been excellent either.
The Ravens are rudderless. The Browns are trying to gain some traction.
Straight Up: Baltimore
Against the Spread: Cleveland +2.5
Pittsburgh Steelers at New England Patriots. Offensive line kingpin, Sebastian Vollmer, broke his leg last weekend. Tom Brady was held to 25 passing yards in the first half by a resurgent Miami defensive line. Then he rallied the troops and New England stole a victory. Again. As an aside, why don't quarterbacks who carry a mediocre team get voted MVP? Philip Rivers has been vilified for years for failing to take a systematically looted team to the big game and now a similarly handicapped Tom Brady is "in a slump." Really? You try making this offense look like the '99 Rams. And now one of his key protectors is gone. Any opposing head coach that doesn't bring the pressure for every subsequent game should have his coaching card revoked for sheer stupidity.
The Steelers should be listed in the NFL dictionary as "example of a team needing a complete rebuild." Sometimes free agents and draft picks don't work out, but this team has needed a new offensive line, linebackers and safeties (I'm sorry Troy) for three years. And no young stars have surfaced. In fact no young decent replacements have surfaced. Rookie running back LeVeon Bell is a bright spot, but he did not arrive soon enough to stop the disastrous start to the 2013 season. He's only averaging 3.3 yards per carry but he has managed three scores and ten first downs in four games. The Patriots' decimated D has been allowing almost 135 ground yards in each of the last three games. If the Steelers have a chance--this is it.

Straight Up: New England
Against the Spread: New England -6.5
Indianapolis Colts at Houston Texans. Matt who? Gary Kubiak, in a desperate attempt to save his job, has named rookie Case Keenum the starting QB. Case, meet Indy pass rusher Robert Mathis. Meanwhile, both of the Texans' amazing running backs are injured. Wow.
Emerging superstar QB Andrew Luck will have to adjust now that Reggie Wayne is injured, but I'd say adaptability is one of his strongest suits. He'll need to play well on the road against a strong Texans' D giving up only 151.7 passing yards over the last three games.
If Houston can steal multiple footballs on defense and if Keenum is one of those unheralded guys who can take the reins and never look back--the Texans have a shot.
Straight Up: Indianapolis
Against the Spread: Indianapolis -2.5 (Don't get carried away here since Colts' WR Reggie Wayne is out)
Chicago Bears at Green Bay Packers. This would be a cool matchup if Bears' QB Jay Cutler could play. As it is, Josh McCown will probably have a fair day against a Packers' secondary allowing 7.1 yards per pass (though they have been better in recent weeks).
The most surprising numbers for this week's matchup concern the running game: Green Bay is averaging 4.8 yards per run. Aaron Rodgers probably doesn't know how to act when he's not the leading rusher as well as the generator of the aerial game. The last time that Green Bay had a clicking ground attack they won the Super Bowl. Now they have pounding rookie Eddie Lacy to rotate with James Starks in the backfield.
The Chicago defense is struggling and has allowed almost 31 points and 132 rushing yards per game this past month. Lance Briggs' ongoing injury will not help here.
Of course, Bears fans can hope that Devin Hester will score on multiple kickoffs. You can probably count on one. Otherwise, Josh McCown will have to play up to Aaron Rodgers' level to keep up in the scoring department. Probably not.
Straight Up: Green Bay
Against the Spread: Green Bay -10.5 (The Pack are 26-9 ATS in their last 35 games against divisional foes.)
Bye week: Cardinals, Broncos, Lions, Jaguars, Giants, 49ers

Fans be warned: I've discovered a strong contrarian streak in recent weeks and several of these picks go against the common grain.

REAL LIFE. REAL NEWS. REAL VOICES.
Help us tell more of the stories that matter from voices that too often remain unheard.