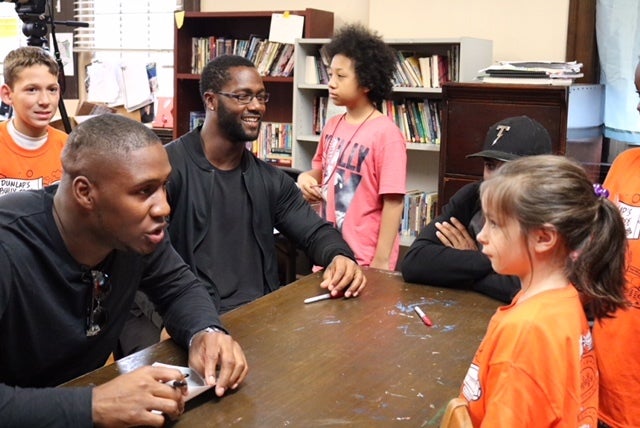 About a year ago, Bengal's defensive end Carlos Dunlap decided that he needed to do something about bullying. Hearing about a child in Cincinnati who took his life after being bullied by his peers at school, Dunlap wanted to raise awareness and promote kindness on a national scale.
When Dunlap first started playing in the NFL, he created a foundation to focus on literacy. In his first years of high school, Dunlap didn't prioritize education but in order reach his aspirations in higher education, and as an elite athlete, he had to prioritize learning and catch up. It became his mission to work with kids to promote literacy and to encourage them to make academic performance as important a priority as athletics or other interests.
It was seven years into his work with children that he decided to bring an anti-bullying message into his platform, realizing that kids can't excel if they feel isolated and are not safe. "Bullying has gotten worse," said Dunlap. "To hear that [a child] felt that alone or that impacted by bullying the he needed to take his own life was something that really baffled me because for me, as a kid, all I thought about was being a kid."
Dunlap wants kids to realize how deeply their words and actions can affect others and to do something to help a peer if they see bullying happening in school or online. "Don't turn a blind eye to it. Help that person or quietly go to a teacher, parent, guidance counsel, or someone you trust," he said, "open someone else's eye to it."
While Dunlap travels with the Cincinnati Bengals for away games, he'll often visit with kids in the host city to help spread the word. He uses a book called "Malik the Difference Maker" that uses a restorative justice approach to addressing bullying by starting the conversation with kids. The book's author, LaMarque Ward Sr., talked about the NFL star's work with kids – "His passion for this has shined through. He's authentic, caring, and a great listener." These attributes are what kids connect with when Dunlap meets with them, and why many take a pledge for respect, kindness, compassion, courage, and responsibility – and to take a stand against bullying.
Dunlap's work continues to make a difference in the lives of kids and raise awareness of bullying as an important issue and risk factor for suicide.
Carlos Dunlap's full interview with Helga Luest can be viewed here: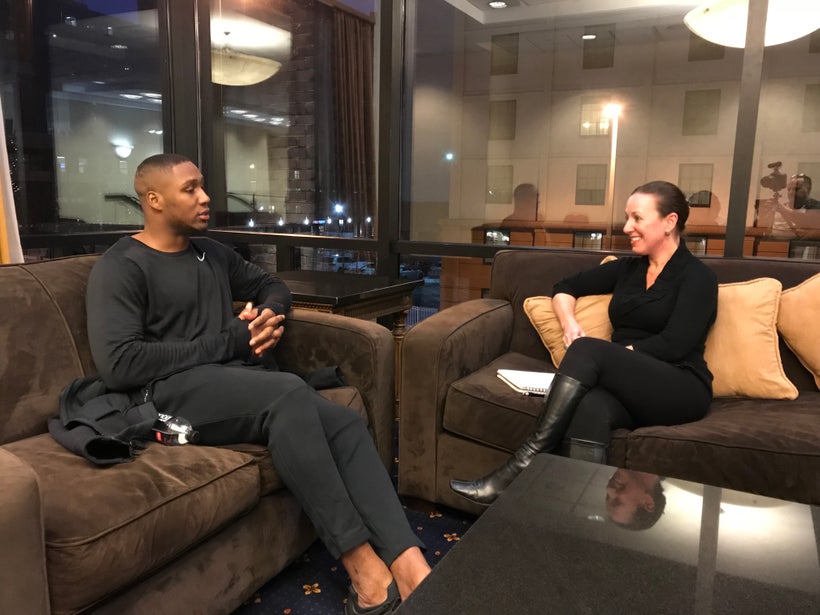 -----------------------------
Helga Luest currently works for a government contractor and manages a number of federal projects related to health, trauma, violence prevention, and the environment. She is currently running for Maryland State Delegate in District 18. In 2016 she was appointed to the Maryland Governor's Family Violence Council and she serves on the U.S. Congressional Victims' Rights Caucus Advisory Group. Helga also serves on the board of the Campaign for Trauma-Informed Policy and Practice, a national nonprofit advancing the transformation of trauma informed practices throughout the United States. In 2010 she was awarded the Congressional Unsung Hero Award for her effective advocacy work on violence prevention and response. In her free time, Helga facilitates two social media groups on Facebook & LinkedIn called "Trauma Informed," where advocates, survivors, researchers, and other contribute content and commentary on issues related to trauma, prevention, and resilience.
Calling all HuffPost superfans!
Sign up for membership to become a founding member and help shape HuffPost's next chapter
This post was published on the now-closed HuffPost Contributor platform. Contributors control their own work and posted freely to our site. If you need to flag this entry as abusive,
send us an email
.