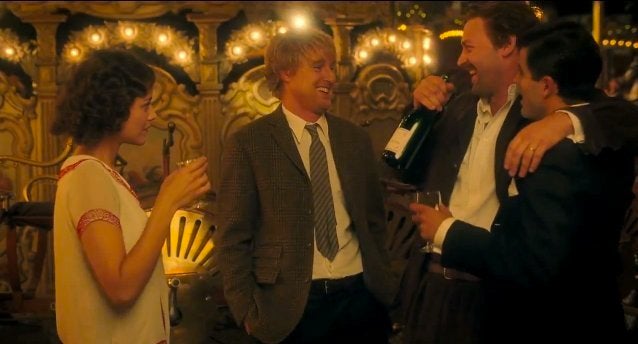 Woody Allen has joined The Throne, sort of.
Kanye West and Jay-Z's anthemic "N*ggas In Paris," a track off their Grammy nominated Watch The Throne album, gets the quirky comedy treatment, courtesy of a new mashup that combines their audio with visuals from the film "Midnight In Paris."
In the movie, Owen Wilson, Rachel McAdams, Marion Cotillard and the rest of the class trip along through a few centuries and dip in and out of France's most prolific artistic circles, meeting the likes of Ernest Hemingway, Salvador Dali and F. Scott Fitzgerald. In a sense, this mashup is actually quite logical -- they've just fast-forwarded a bit this time.
The rap duo only stop rapping long enough for the Hemingway character to ask Owen Wilson, "Have you ever made love to a truly great woman?" The video works much better than you'd expect, as crosstown rides in old coaches are transformed into banquettes at exclusive nightclubs and Marion Cotillard grows eager to be married at the mall (if only).
Plus, who knew Zelda Fitzgerald would take a turn as a hip hop video model?
The video is credited as being created by Twitter users adamsaewitz, maxwellgray and dondamidwest.
Watch: Jay-Z And Kanye West v. Woody Allen - N****s In Paris At Midnight (CAUTION: GRAPHIC LANGUAGE):
CORRECTION: In an earlier version of this article, Ernest Hemingway's name was misspelled. We regret the error.
Calling all HuffPost superfans!
Sign up for membership to become a founding member and help shape HuffPost's next chapter
BEFORE YOU GO