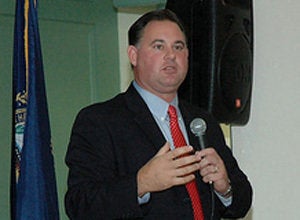 A congressional candidate who has called the president's stimulus package a "trillion dollar disaster" once complained so loudly about the lack of information and slow place of distribution of funds to his city that a fellow Republican called him a "grandstander."
Manchester, New Hampshire mayor Frank Guinta has made opposition to the stimulus a central plank in his run to unseat endangered incumbent Democratic Rep. Carol Shea-Porter. On his own website, Guinta has insisted that the package has "yet to bring us jobs". In attacking Shea-Porter, he's called it a "disaster" that was rushed through Congress "without planning or proper forethought."
But now, new evidence has emerged showing Guinta occupying a slightly different political role than that of an anti-stimulus crusader. Emails released last week by the New Hampshire Attorney General's office show that the sitting AG (and current Republican Senate candidate) Kelly Ayotte, mocked Guinta for his complaints that the state wasn't getting its stimulus funds fast enough.
Her reference, it seems, was a front-page article (available via Nexis) in the Manchester Union Leader from March 1, 2009, in which Guinta insisted that state officials were not getting stimulus money -- or information about where that money was going -- to municipalities. Guinta, at the time, was worried that stimulus funds were being used to simply taper over budget cuts that the governor's office was making elsewhere. But he also wanted the funds to help with Manchester's $100 million in lingering construction costs, school district needs, and other city functions.
Mike Biundo, a spokesman for Guinta, provided contemporaneous articles showing that the mayor was then, as now, deeply skeptical of the stimulus program. In particular, Guinta was upset with the governor's office was not making budget cuts but, instead, re-figuring tax policy and plugging in stimulus money to make up for fiscal shortfalls.
His early complaints on the stimulus, in short, may not rise to the level of hypocrisy that accompanied other Republican lawmakers (who railed against the program only to attend ribbon-cutting stimulus ceremonies at home). But Ayotte's snide email reveals, at the very least, the complexity of the GOP position on the stimulus package -- in which local officials have been far warmer to the idea than their national counterparts -- and how difficult the issue can potentially be for Republican candidates.

Popular in the Community