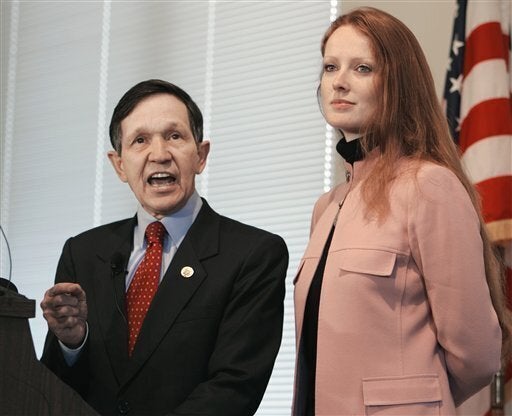 Clayton Holton was scheduled to receive a visit from Ohio Congressman Dennis Kucinich Tuesday morning at his residence, the Riverside Rest Home in Dover, NH. At 22, Clayton is the youngest person ever admitted into a retirement home in New Hampshire, and Kucinich wanted to hear his story.
Unfortunately, Kucinich had to race back to Washington to vote against continued funding for the war in Iraq, so his wife Elizabeth came instead. Did Clayton, who suffers from a rare form of muscular dystrophy, mind the substitution?
"She's beautiful," he told me on the way back to his room following a lengthy, intimate conversation with Mrs. Kucinich in the cafeteria.
Clayton got his first big taste of the limelight Oct. 6, when he encountered Mitt Romney following an "Ask Mitt Anything" event in Dover. The video was broadcast on CNN and all over the internet.
After explaining his condition and the relief he receives from marijuana, Clayton asked Romney a pointed question: "Will you arrest me and my doctors if I get medical marijuana prescribed to me?"
"I'm not in favor of medical marijuana being legal," Romney replied, and quickly escaped to shake hands with less instructive voters.
The encounter generated considerable discussion about medical marijuana policy nationwide. And that, of course, was Clayton's aim all along. He says he got involved with a campaign called Granite Staters for Medical Marijuana to change public opinion so that people like him all over the country could be helped by legal access to medical marijuana. Clayton's MySpace page, which showcases video from his encounters with Hillary Clinton, John Edwards, Ron Paul, John McCain, Fred Thompson, Mitt Romney, and Rudy Giuliani, is topped with a simple quote: "Making the world a better place."
Elizabeth Kucinich sat and listened for what seemed like an hour as Clayton told her his story. He said that although he only weighs 79 pounds, he is actually six feet, two inches tall. His genetic disorder, Duchenne Muscular Dystrophy, manifested itself in early childhood and robbed him of his ability to walk at age 10.
Losing the ability to walk had one positive consequence for Clayton: his stepfather stopped beating him and started ignoring him. As if his medical problems weren't enough, he describes his home life as "screwed up" and says he never had a real friend until he was 14 or 15.
Clayton first experienced serious painkillers at age 16 when his wheelchair was struck by a car. The doctors gave him Vicodin. "I blacked out for a day and a half, and I don't remember any of it," he explained.
Since then, Clayton says he has been prescribed every type of painkiller in existence. "They change who you are," he said. Since he is unable to use marijuana at the retirement home (he'd be exposing his caretakers to possible arrest), he has to use Oxycontin, but went without it Tuesday in order to be lucid for his expected meeting with the Congressman. "It makes me feel angry for no reason at all... I don't like being around people when I'm on it," he told the congressman's wife, echoing concerns voiced by chronic pain patients all over the country.
Soon after the wheelchair accident, Clayton tried marijuana as a substitute for Vicodin. The effects were entirely positive. Clayton was able to dramatically reduce his intake of painkillers, and as an added bonus, he found that marijuana took the edge off his anxiety and depression, stimulated his appetite, and helped him maintain a healthier weight.
That is, until recently. Clayton checked into Riverside Rest Home a few months ago when his mother chose to stop taking care of him. There was nowhere else for him to go. Without access to marijuana, his weight is down along with his spirits. Now he is a young man with an 89-year-old roommate, an expressionless gentleman who sat immobile listening to a very old set of headphones as I visited their room following the interview. But Clayton is a man with a cause, and Elizabeth Kucinich, for her part, is quite convinced.
"You are a real lesson to everyone out there who has no illness, who has no disease," she told Clayton.
As the conversation came to a close, the congressman's wife signed Clayton's copy of her husband's book and assured him she would make arrangements for him to attend their New Year's Eve Party in Manchester.
After the chat, I spoke briefly with Mrs. Kucinich. "He's such a courageous man," she told me. She also praised Clayton for understanding that although politics can be ugly, "engaging in the process is the only way to change the policies."
Clayton is happy with the attention he has been able to draw on the internet, but he told Mrs. Kucinich the real attention should be on the fact that the DEA is still conducting raids on medical marijuana patients: "There's more information about me than the raids that are going on... that's not right."
But still, his biggest fear isn't that he'll wind up in a jail cell.
"I'm just worried we're gonna end up with Romney," Clayton confessed to Mrs. Kucinich. "The man's on a power trip."
(As we chatted back in his room, Clayton asked me to publish his email address: clayton.holton@yahoo.com. He also asked me to communicate the fact, obvious to visitors, that a retirement home is no place for a young man who needs to keep his spirits up. "I really need a family," he told me.)
Popular in the Community