Jeff Odgers played every NHL game as if it were his final. He never took a game for granted -- scared that his career could fade away at any moment. Odgers scrapped and gritted his way onto the roster and he made sure he never provided his coaches with a sufficient reason to demote him. Indeed, Odgers may have discarded more blood than any other tough guy in recent history. In his face, you always saw a warrior, bruised and bloodied and majestic, in triumph and defeat.
Said Odgers, who played 12 seasons with the San Jose Sharks, Boston Bruins, Colorado Avalanche, and Atlanta Thrashers:
I knew that if I played a tough game -- and not too many guys did -- that it would only help in their decision of whether or not to keep me. So I erred on the side of scrapping more.
The six-foot, two-hundred pounder broke into the league in 1991-92, with the San Jose Sharks. In his first National Hockey League fight, he instigated an altercation with New York Islanders enforcer Mick Vukota.
I knew that I was in the lineup to play a certain way. I wanted to play and produce and be productive, but I also understood that I had to bring another element to my game. I fought Vukota to get the first one out of the way.
Odgers' third career fight pitted him against Quebec Nordiques legendary enforcer John Kordic.
I loved and appreciated every second of my career, and encountered a lot of players who I was well aware of when growing up. I fought Kordic again later in the season and broke my hand. I remember one of the trainers telling me after the fight, 'Welcome to the world of NHL heavyweights.'
As far as the occupational drawbacks, the angst and apprehension of battling night after night wore Jeff Odgers down mentally and physically. "That anxiety and that nervousness never went away," says Odgers, who left his mark with 2,437 career penalty minutes.
Over the course of the 1993-94 campaign, Odgers battled with iconic heavyweight Bob Probert three times. The duo went toe-to-toe at the Joe Louis Arena, December 11, 1993, with Odgers asserting himself well enough to earn a draw against the larger, taller Detroit Red Wing.
A few weeks later, they tangled 14 seconds into a contest in San Jose, Probert catching Odgers with a pair of short rights. Later, Odgers instigated a return battle with Probert. He landed a pair of punches on Probert's cheek, while being outmuscled and tugged around. Odgers covered as his adversary -- jersey flung loose, hair flying wild -- attempted to tee off.
I learned then just how good of a fighter Probert was. If you made a single mistake against him, you would be in trouble. Everyone wanted to prove themselves against Probert for his entire career. I did more ducking than swinging against Probert. I respect all the times he showed up in his career -- all the sore hands and shoulders he endured -- all of the courage and respect he played with.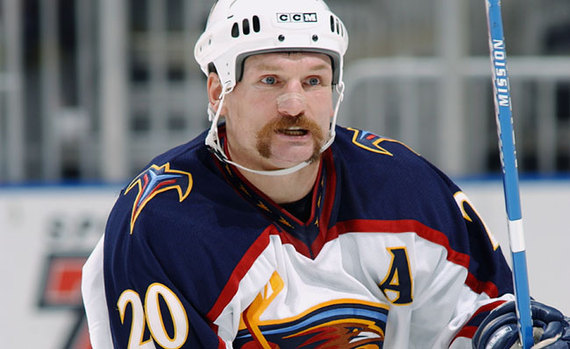 Some of Odgers' fonder memories include being named as captain of the San Jose Sharks in 1994-95, once tallying seven combined points in back-to-back games as a Shark; as well as being a part of one of the biggest upsets in Stanley Cup playoff history in 1993-94 -- the year the underdog Sharks eliminated the top-ranked Red Wings in seven games.
Another fond memory for Odgers: early in his career, he glanced across at the superstars on the ice for the Los Angeles Kings -- the line of Jari Kurri-Dave Taylor-Wayne Gretzky.
Said Odgers, who skated in 821 career NHL games:
All of the guys I idolized as a kid were on the ice. All of the guys I watched on Hockey Night in Canada. You know what's terrific? As an adult, I met all of the guys I idolized and realized that they were better people than they were hockey players. For example, Ray Bourque and I played together on the Avalanche, and Doug Wilson, too. They are quality people.
As far as the occupational drawbacks, the angst and apprehension of battling guys such as Probert, Marty McSorley and Stu Grimson night after night wore him down mentally and physically. He had a propensity to bleed and got his eyes and nose hacked in rocky scraps against bigger opponents such as Glen Featherstone and Scott Thornton. "That anxiety and that nervousness never went away," says Odgers.
Since I made a choice to play and be as willing and able as I was, I knew that if I made a mistake out there, I could get hurt. There were nights when I didn't sleep or I was really irritable, because I knew it was coming the next game. Even on those afternoons when you are trying to rest or nap before a game, you'd think about it.
Nonetheless, his dignity as a hockey player remained inextricably tied to the details of being a self-sacrificing teammate -- blocking shots, taking hits, and, if necessary, absorbing punches -- someone who exited the locker room each and every night without regret.
From the start of his career to his very final shift, the sweat and venom and blood flew.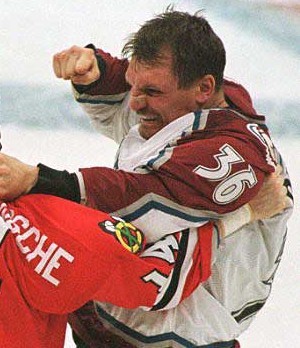 These days, Odgers is the head coach of the Yorkton Harvest of the South Saskatchewan Midget AAA Hockey League. A Spy Hill, Saskatchewan native, Odgers has turned his love of farming into a fledgling certified organic beef and grain operation, called All About Me Organics.
As a youngster, he worked side-by-side on the family farm with his father and grandfather, and he enjoys a similar bond with his own two sons, fifth-generation farmers. He concedes that farm and ranch living is a bit more grueling than the routine of being a professional hockey player.
Like anything else, you get as much out of it as you are willing to put into it,. I take pride in the work, and I think it's something really special. It's a big part of who and what we are as a family.
Related
Popular in the Community