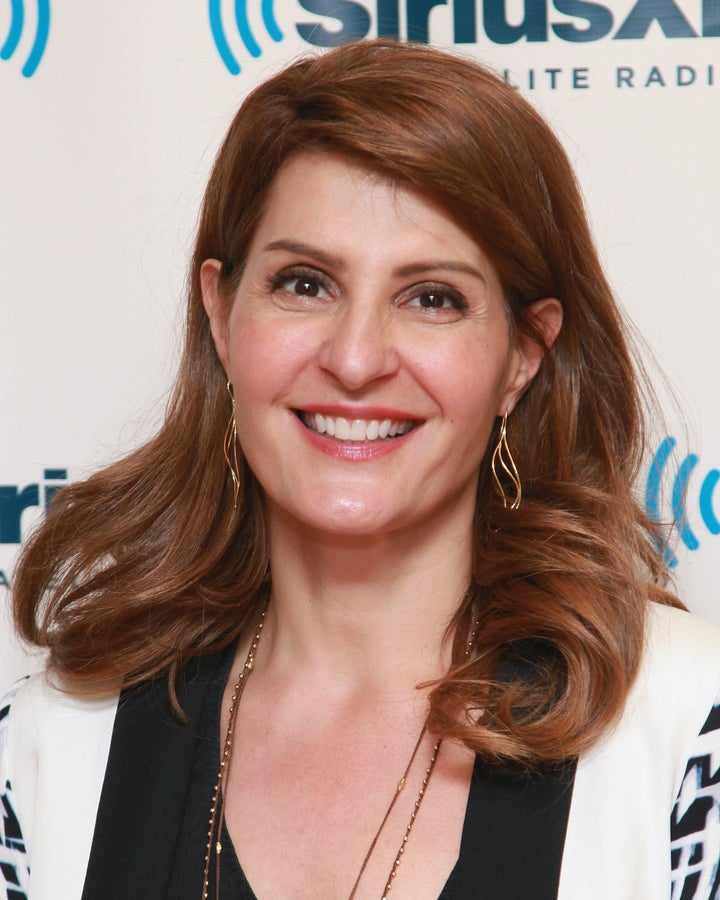 Yesterday I went to an event organized by the Hudson Union Society and met Nia Vardalos, who presented her new book, Instant Mom. Nia Vardalos is an Academy Award- and Golden Globe-nominated actress and author of My Big Fat Greek Wedding, writer of Connie and Carla and I Hate Valentine's Day, and a co-writer with Tom Hanks of Larry Crowne. At the event, though, I saw a different kind of Nia; I had the privilege to meet the fearless leader and mom -- Nia. With the sincere humor and gregarious smile, she shared her personal story on her quest to find her daughter and prepare herself for this big transition in her life. She also explained how tough this decision was for her: to open up about her chronicle of becoming a mother, the ten-year struggle with infertility, the long waiting to adopt and the heartbreaking disappointment one time that it was so close yet it didn't happen. "Soon," it would happen "soon," that's what she kept telling to herself, until soon translated into "now" and in less than 24 hours she became a mom! An instant mom!
Nia's life looks perfect right now. Career? Check! Family? Check! Leader? Yeah -- check! Reading her book, I discovered a leadership pattern in her life; the one that she refers to herself as a "fearless idiot" and "the person to whom the word no is a shortened version of try a different way." Life was generous to her as she was raised in a big family full of love, with the traditional Greek family values where "privacy" does not exist (and privacy is a word that does not exist in the Greek vocabulary, but I am sure that if you ask her dad he will find a way to connect it to the Greek roots) and she was married to the love of her life. However, as she said yesterday, it was so hard to find a job as an actress because she was not too Latina or not too fat or not too pretty or not too whatever. That didn't stop her from creating her own job by writing a script and playing the leading role! And when you work hard (they call it luck, but trust me I know, it's hard work) good things happen; Tom Hanks came to see her play and became her movie producer! As if that wasn't enough My Big Fat Greek Wedding became a success (with only $5 million on production and marketing costs, generated more than $300 million revenues) and she got nominated for an Academy Award! Life is wise and prepared Nia for a bigger challenge: she always wanted to become a mom and have children in her family, but it took her ten years and 13 IVF treatments before she found her daughter and adopted her. Life's wisdom didn't stop there, as that challenge only served on making her even stronger and courageous to become an advocate on adoption, write a book and share her personal story. Nia tried a different way on every big aspect of her life and just refused to give up; she was trained to become an amazing leader and inspiration to so many people.
Even though I am not a mother yet, Nia's story resonated with me. It's the journey that Nia went through, and still is going, that inspires me. Her book is not about encouraging everybody to become a parent. Parenthood demands responsibility and compromises, and she acknowledges that it is not for everybody. She wrote the book to provide with emotional support and education on the adoption process to anyone who wants to become a parent. Through the adoption journey Nia found the strength to become an advocate on the subject matter using her personal story. True to the bone and an amazing storyteller with the talent to make all incidents sound hilarious, she makes you realize that life's unexpected events cannot be dealt with excessive planning but with a problem solving attitude and a gratitude for what you already have.
I started reading her book yesterday and I have been laughing and crying with the stories, but most important, I feel love and gratitude towards my parents and life and Nia too. Nia's advocacy on adoption is not just a celebrity endorsement. She is doing her part on shaping a better world for us and the future generations. It is challenging and tiring, but as long as we can have a positive impact in this world, we can sleep safe and sound that we did our part.
And yes, Nia just like you said, if a three-year-old can walk your doorstep fearlessly to stay with two strangers, then you can definitely open up about the experience on becoming an instant mom. The world is listening.