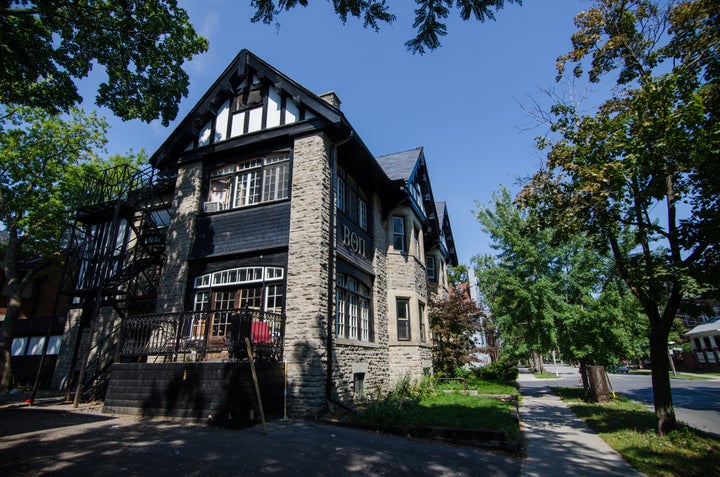 The North American Inter-fraternity Conference will continue to make lobbying Congress "an important aspect" of the organization, and is plotting how to launch "sophisticated public relations efforts" on behalf of fraternities in the coming years, according to documents obtained by The Huffington Post.
The NIC, an umbrella group for 73 men's fraternities, is scheduled to meet this week in Texas to discuss the NIC 2.0 Commission, an ongoing reform effort launched this fall. The commission was made up of fraternity executives from 30 organizations, and is set to recommend changes to the bylaws and standards of the conference, and to establish its key priorities this week.
NIC's House of Delegates meeting, which starts Wednesday, plans to provide members with a full briefing on its current governmental relations strategy. Following deliberations at the meeting, NIC officials will set the "conference's future governmental and legal affairs positions, policies, and resource allocations," according to the documents.
A top NIC executive said Tuesday night that it would be premature to comment, because revisions have been made since paperwork was sent to members in early November. Further revisions are likely during the meeting in Texas, the executive said.
The NIC prepared a white paper laying out challenges fraternities face and what they should do to overcome them.
At the top, the white paper blames current fraternity woes on "lack of human and financial resources," "popularized social media platforms that damage the industry by glorifying 'frat' culture," "intense and constant media scrutiny" and increased regulation from both colleges and the government. These are "drowning out the NIC's message and diminishing the NIC's ability to speak with a unified, powerful voice," the paper states.
"We recognize that the problems fraternities face today cannot be blamed on the performance of the NIC," the NIC white paper adds. "We acknowledge that these problems are often caused by some of our members' inability to self-govern and adhere to basic membership expectations."
The paper says the NIC will advocate for "fraternity and student rights at the local, state and federal level." The NIC also plans to consider a proposed "Legal Advocacy Fund" to recommend financial support of "either pending or recommended litigation" that supports the interests of fraternities.
One of the big things the NIC says it needs to fix is a "lack of a campus ground game," according to the documents.
It has plans to create "focus campuses" where staff would be assigned from NIC to help coordinate efforts to "build healthier fraternity communities." Fraternities with chapters on focus campuses would have surcharges for this, starting at around $7,538 per member fraternity in 2016-17, and rising considerably in the coming years. According to the documents, the NIC plans to establish a staff for carrying out focus campus efforts.
Focus campuses have not yet been determined, but could start with around five in 2016, and double in number each year after that.
Increased educational programming, "sophisticated public relations efforts to advance the 'Fraternity' brand" and "effective advocacy programs" are needed to strengthen relationships with colleges and lawmakers, the NIC materials say.
The documents note that fraternities' standards will change, though not dramatically from current NIC rules. One proposal stipulates members must carry commercial general liability insurance, and includes yet-to-be-determined changes to GPA standards.
The NIC will also move toward a "proportional voting model," essentially letting larger fraternities have more say, but additional details about the plan were not included in documents distributed to member organizations.
Read a portion of the materials sent to NIC members on Nov. 1:
Support HuffPost
The Stakes Have Never Been Higher
Related
Popular in the Community