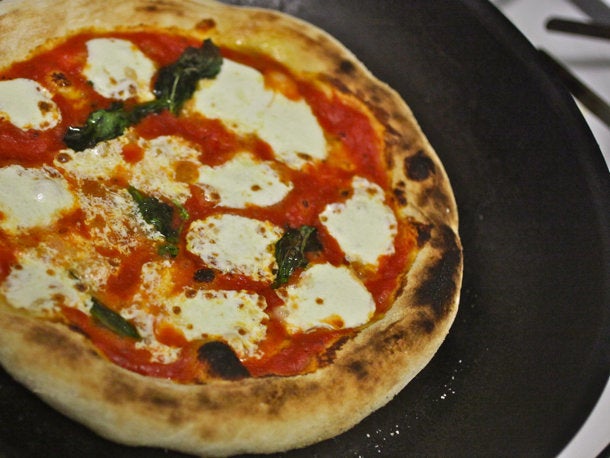 I am usually the "go to" person whenever one of my friends or family members needs a restaurant recommendation somewhere in the world. I am happy to report that the charming little Italian restaurants I am about to share with you were not my discovery but that of some good friends of mine, which is quite refreshing for a change. Nica Trattoria on the Upper East Side and Il Posto Accanto on the Lower East Side are warm and happy places with good homemade Italian food and whose chef-owners add to the atmosphere with personalities that are larger than life.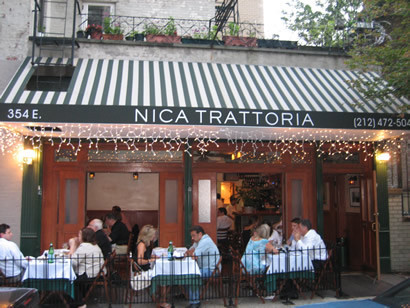 Nica Trattoria
Nica Trattoria is a neighborhood spot that is open seven days a week but only for dinner. They don't take credit cards so come prepared, though depending on your choice of wine, you won't need a lot of money, which is always refreshing on the Upper East Side. Il Posto Accanto started out as a neighborhood spot, which was cash only in the beginning but now takes credit cards, and after 15 years at their location on 2nd Street between Avenues A and B attracts a clientele from near and far. I have one Italian friend, who takes over the communal table inside the restaurant almost every Sunday for lunch, bringing a group from the north of Manhattan and beyond. After Ian Schrager's creation, Asia de Cuba, Il Posto Accanto was one of the first restaurants to have a communal table. You can presently find this style of dining in just about every restaurant in New York.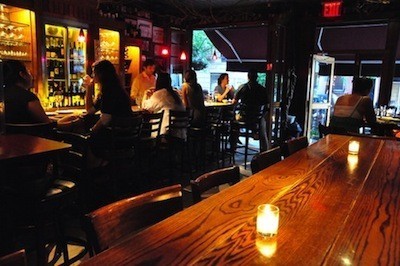 The communal table at Il Posto Accanto.
Now that spring is upon us and summer nears, both of these restaurants offer outdoor seating. On Sundays, a wonderful jazz quartet performs outside Il Posto Accanto from 5 to 8 pm. You will see a lot of people lingering all afternoon sipping wine and listening to the music as we did on my first visit. We arrived at 3:30 for a very late lunch and left at 8 pm!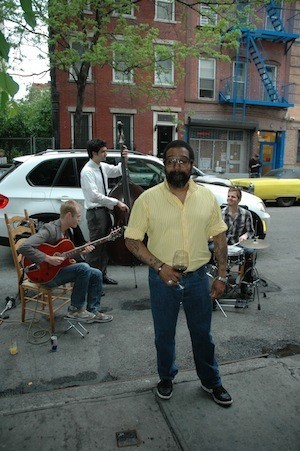 Co-owner Julio Pena of Il Posto Accanto in front of the Sunday jazz quartet. Photo by Ann Lawlor.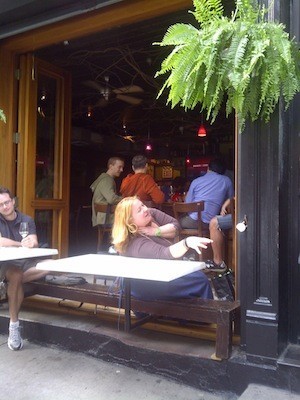 Beatrice Tosti Di Valminuta, chef-owner of Il Posto Accanto.
Beatrice Tosti Di Balminuta graces us with her presence only on the weekends at Il Posto Accanto and their neighboring Il Bagatto. When I asked how she wound up in the restaurant business, she said that she was constantly cooking and entertaining at home but clean-up was a bitch, so she said, "Why not open a restaurant where I can hire others to clean up and get paid for cooking?" Have no fear, she daily preps all the pastas and bakes the wonderful foccaccias. Her husband Julio Pena mans the front of the house, entertaining as he is mutually entertained. You will often see him carrying a bottle of wine that he generously pours for customers gratis. Giuseppe Nicolosi doubles as both host and chef at Nica Trattoria and can be found in his tiny but immaculate kitchen every evening after reciting the evenings' specials and poking fun and chatting with some of his regulars. He also bakes the delicious focaccia and bread served in his restaurant.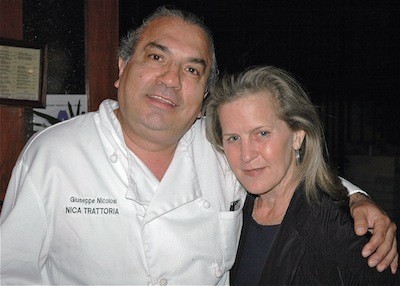 Giuseppe Nicolosi, the chef-owner of Nica Trattoria with me, Mara Gibbs. Photo by Ann Lawlor.
The whole artichoke baked in the traditional Sicilian manner with a combination of herb- and garlic-seasoned bread crumbs coating the leaves, the eggplant rolatini and the grilled asparagus with shaved parmigiana are the appetizer favorites at Nica. The gnocchi are famous and referred to as puffy little clouds that you can enjoy with one of four sauces, the tomato sauce which is the most popular and often referred to as "red sauce," pesto, truffle and cream sauce, or my preference, butter and sage, which allows the flavor of these delightful gnocchi to shine through. When I asked why some of the pastas were swimming in red sauce, Giuseppe explained that his American customers always ask for extra sauce on their pasta which is something that Italians have always frowned upon, yet he bends for their tastes. He told me he is thinking of changing the rules. I don't know how well that will go over with his very loyal clientele, some of who eat there two and three times a week.
Giuseppe buys his fish daily from Agata and Valentina who are known for their high quality. Being that he offers 30 specials a day (yes 30!) you may find that one of your choices is no longer available as there are only a couple of orders per special. On a recent visit I had the swordfish which was grilled and served in a light butter, lemon and caper sauce. It was terrific. The lamb chops are spectacular, large and juicy. They happen to be one of the most popular dishes coming out of the kitchen.
There is one special which can only be asked for in advance by showing a prescription from your physician, the veal parmigiana. Why I asked? He told me that it is incredibly rich, full of butter, and cheese, and does not want to be responsible for the demise of those that choose to indulge. He then proceeded to show me some of the very amusing prescriptions sent to him at the restaurant giving the respective patient/client permission to chow down.
From the rustic bruschetta, a grilled country bread covered with ripe juicy chopped tomatoes that have been marinating in olive oil, garlic and basil, to the bomboloni, small round doughnuts rolled in cinnamon and sugar and served with melted chocolate sauce, everything at Il Posto Accanto is bursting with flavor. Popular items are the grilled vegetables marinated in fresh herbs, garlic sea salt and extra virgin olive oil, at brunch the uova in trippa, a plain egg omelette cut in ribbons and sauteed with tomato and basil, and spaghetti carbonara done the Roman way with eggs and bacon sauce. When they are on the menu, you have to try the panzerotti, a ricotta and spinach half moon shaped ravioli with butter and sage or with the tomato sauce. The filling is delicately flavored with a hint of lemon. It makes this dish float on air. A lot of plates of grilled calamari exit the kitchen as well as the Pollo al Mattone, a half free-range chicken on the bone marinated in lemon, garlic and herbs, then grilled under a brick, or the saltimbocca alla Romana, veal scaloppine topped with prosciutto and sage, sauteed with a white wine and butter sauce.
The wine lists in both Nica Trattoria and Il Posto Accanto include some very nice Italian wines at reasonable prices. Beatrice's brother owns a wine store on Clinton Street, so many of the store's wines are on the list at Il Posto Accanto.
Both of these places offer catering services and their intimate settings make them ideal for parties. So, whether you live uptown, downtown or come from distant lands, you won't be disappointed by either Nica Trattoria or Il Posto Accanto.
Nica Trattoria
354 East 84th Street
NYC
Tel: 212 472-5040
Il Posto Accanto
190 East 2nd Street
NYC
Tel: 212 288-3562
Calling all HuffPost superfans!
Sign up for membership to become a founding member and help shape HuffPost's next chapter