By Ron Combs and Cade Pia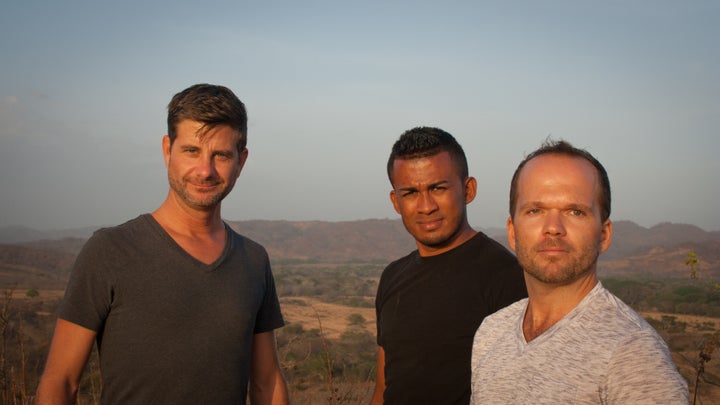 Since moving to Nicaragua, a day doesn't go by when we bite into produce grown here and taste the bitter flavor of chemicals. The use of agricultural chemicals goes back generations. This, along with a changing climate and five years of drought has had a devastating impact on the environment, depleted soil quality, and caused malnutrition.
MESA Sostenible aims to promote economic, community, and environmental sustainability within a rural community, through an evidence-based permaculture farm model and nutrition education program. To bring the MESA Sostenible vision to life for El Tambo, an IndieGoGo campaign was launched on 3rd July. This aims to awareness to social and environmental issues using world wide platform for support.
The majority of Nicaragua's poor and extremely poor live in rural areas. However, much can be done to improve the productivity of small-scale agriculture both at a broader policy level, but more significantly through developments in, and access to sustainable agricultural education aimed at subsistence farmers and transitional family farms.
El Tambo is a rural community of 82 families located within the Pacific lowlands of Nicaragua, an area of tropical savanna climate, where four main crops are grown: rice, beans, corn and plantains, the majority of which are exported out of the country. Many rural communities, including El Tambo, have experienced the impacts of a prolonged period of drought combined with the long-term impacts of agricultural practices that have been focused more on maximizing annual crop yields, than practices that maintain and enhance viable productive land to produce quality, nutritional harvests. The result has seen a reduction in the overall quality of crops produced, a reduced yield, leading to a reduced source of income.
MESA Sostenible's vision and passion is reciprocated within the community of El Tambo who see the importance of increasing small-scale agriculture's resilience to climate risks through climate smart sustainable agriculture. El Tambo is led by a proponent of sustainable agriculture, Guadalupe Palma Ruiz who, as the community leader and liaison with the local alcadia (council) has seen first-hand the impacts facing her community. Doña Lupe states 'my biggest challenge within the community is educating on the knowledge of sustainability as we do not have the understanding in producing organic food, only how to work with chemicals and unsustainable practices'. The community is committed to a sustainable vision of growing healthy food, promoting economic growth and sustainability, and supporting healthy, resilient communities.
The project to date has involved extensive consultation with the community of El Tambo, in addition to fostering a partnership with the regional UNIAV Agricultural College in nearby Rivas, to establish a cohesive vision and delivery strategy for MESA Sostenible. The result is a strategic framework aimed primarily at hands-on education. This includes two main areas: an evidence-based permaculture program centered on the design and maintenance of agriculturally productive ecosystems tailored for the Tola region of Nicaragua; and, a hands-on nutrition kitchen utilizing organically grown produce from site, that promotes the importance of food diversity and nutritional food consumption.
The delivery process of MESA Sostenible, in a way, has adhered to the hands-on approach that the operational framework of the constructed project will employee. Working with local farmers and producers in testing species suitable for the project, such as the versatile Moringa Olivera, prior to the commencement of construction works onsite, has been an effective feedback process to inform and test the site design. Furthermore, consulting with local businesses within the burgeoning tourism trade, including hotels, restaurants and markets, has identified the shortfall of genuine organic produce within a country that has extremely limited access to organic produce and organic seed product. This has informed the economic model of MESA Sostenible, this being a community co-operative distribution channel to supply the increasing number of local hotels, restaurants and markets with locally grown organic produce, that not only supports community health but is a reliable source of income for rural families.
Although the practices and concepts employed within MESA Sostenible are well established, their application within a rural Nicaraguan community, such as El Tambo, are not. The success of the MESA Sostenible is evident through the working partnerships and support it has received within the community at these early strategic stages of the project. Grassroots projects, such as MESA Sostenible, are doing their part by addressing real world issues, such as those outlined within the UN Sustainable Development Goals, at a local scale with the resources and means they have at hand. The long-term success of a project such as this, lies in the its ability to effectively blend into community life, contributing to its vibrancy, health and resiliency.
El Tambo needs support to overcome the challenges of a changing climate, drought and malnutrition, and MESA Sostenible is ensuring a healthy future for rural Nicaraguan communities.
Pioneers for Change is a seed-bed for innovative thought. An activator of personal potential. A catalyst for collective energy. A community to drive social change. Pioneers for Change is an initiative of Adessy Associates.
Adessy Associates believes social and business objectives are mutually reinforcing. We equip organisations with sustainability / social responsibility strategy, management and communications to enable a sustainable future. We focus on benefit for people, planet and profit with bespoke services that harness sustainability, innovation, consciousness and purpose. We are proudly B Corp certified.
Do you have a story of positive change or social impact to share? Contact us to discuss being featured on the blog.
Bio Ron Combs and Cade Pia
For the past several years, our work in food and hospitality found us in different parts of the world working on private yachts. Ron Combs, a profession private yacht Chef, and Cade Pia a yacht First Office and who has a Degree in Ecotourism. Over time, we began to feel ourselves being pulled away from life onboard and towards one rooted in land and community.
We left our comfort zone, sold everything we owned and moved to Nicaragua, an area we fell in love with during our travels. With backgrounds in cooking, nutrition and permaculture design, we found ourselves wanting to impart our skills onto others who could use them to build healthy communities.