Following months of deadly protests in Nicaragua in which thousands have taken to the streets calling for President Daniel Ortega to step down, the head of state is making clear he will not leave his post.
In a rare appearance on U.S. television that aired Monday, Ortega told Fox News' Brett Baier that he would not abandon his position or schedule early elections, despite protesters' calls for him to do so.
"We were elected by the voters. Our electoral period ends with the elections of 2021 when we will have our next elections," the one-time leader of the Sandinista revolutionary group said in a pre-recorded interview. "To move up the elections would create instability, insecurity and make things worse."
In the Fox News interview, Ortega refused to take blame for the unrest and violence resulting from his government's crackdown on demonstrators.
An estimated 300 people have died since protests began in Nicaragua in mid-April, most of whom were civilians killed by police or pro-government paramilitary groups, human rights groups say.
"Not a single one of the peaceful protests was attacked," Ortega claimed in the interview, despite reports by human rights groups to the contrary.
Ortega insisted violent clashes had only occurred at night, and that paramilitary groups backed by his political opponents were harming police and families loyal to the government.
Last week, the office of the United Nations high commissioner for human rights said the "horrific" violence in Nicaragua that has left nearly 2,000 people injured "has been overwhelmingly perpetrated by the State and by pro-government armed elements." It said the armed groups were "operating with the active or tacit support of and in coordination with the police and other state authorities."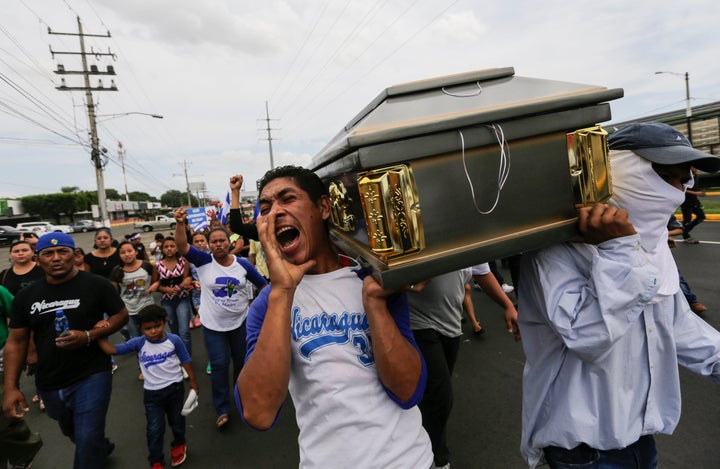 The protests began as thousands of students and others took to the streets of the capital of Managua to call out the government's proposed cuts to social security. As the police cracked down on protesters, over two dozen people were killed in the first week.
The protests quickly grew broader amid calls for Ortega to step down from the presidency and to schedule early elections.
Ortega, 72, previously served as president from 1985-1990 and began his current tenure in 2007. He has been criticized for what opponents say his government's increasing shifts toward authoritarianism.
Ortega rose to national prominence as a leader of the Sandinista leftist guerrilla uprising that led to the ouster of decades-long dictator Anastasio Somoza in 1979.
Some critics have compared Ortega's recent power grabs to the Somoza family dynasty he helped to topple.
"We're not talking about any dynasty," he said in the Fox News interview. "It wouldn't even occur to me. My wife ― this is the first time she's been vice president."