As Nicaraguans flee their country by the thousands amid a violent crackdown on protesters, the United Nations is calling on other nations to support Costa Rica, which is receiving many of the refugees.
The number of asylum applications by Nicaraguans to neighboring Costa Rica and other countries has "increased exponentially," U.N. Refugee Agency spokesman William Spindler said Tuesday. Costa Rica is currently receiving an average of 200 asylum applications from Nicaraguans per day.
Since April, when anti-government protests began in Nicaragua, Costa Rica has registered nearly 8,000 asylum claims by Nicaraguans and has scheduled about 15,000 for later registration.
The U.N. agency expressed appreciation for Costa Rica's decision to keep its borders open to those fleeing Nicaragua and asked other nations to provide support to the host country, as well as to Panama and Mexico, which have also recorded a growing number of asylum claims from Nicaragua, albeit in the "low hundreds" rather than the thousands.
Nicaraguan President Daniel Ortega has repeatedly refused to step down or schedule early elections, despite demonstrators' calls for him to do so.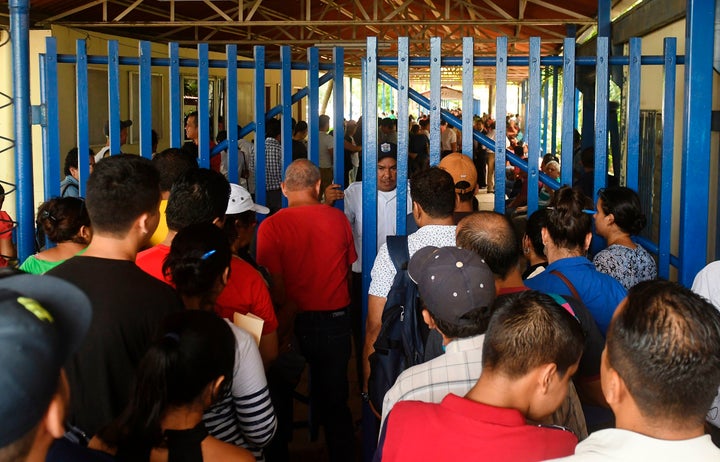 The student-led protests began in April to denounce the government's proposed cuts to social security. But as police violently cracked down on demonstrators, killing over two dozen people in the first week, the rallies quickly grew into broader calls for Ortega to step down.
Earlier this week, President Donald Trump's White House moved to revoke the visas of Nicaraguan officials over what it called the "state-sanctioned" violence against protesters in recent months. In a strongly worded statement, the Trump administration condemned the deadly violence against demonstrators and said that Ortega was "ultimately responsible for the pro-government parapolice that have brutalized their own people."
Ortega, who began his current presidential tenure in 2007, has been criticized for his increasing shifts toward authoritarianism. In 2014, he ended constitutional term limits, allowing him to seek re-election. He is now serving his third consecutive presidential term, with his wife, Rosario Murillo, as vice president.
Ortega, 72, first rose to prominence as a leader of the Sandinista leftist guerrilla uprising, which led to the ouster of decades-long dictator Anastasio Somoza in 1979. He then served as president from 1985 to 1990.
Some critics have compared Ortega's recent power grabs to the Somoza family dynasty he helped to overthrow.
Popular in the Community