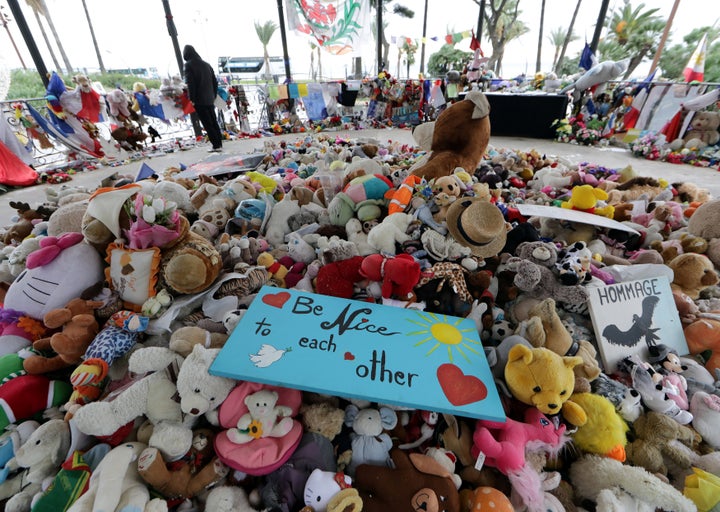 The estranged wife of Nice attacker Mohamed Lahouaiej Bouhlel was forced to flee her apartment because of physical threats against her, her lawyer Jean-Yves Garino told the French paper Libération. 
Hajer Khalfallah is now in a "state of perpetual fear given that she already had been a victim of violence on the part of her husband," he said. 
Multiple neighbors reported that he used to beat Khalfallah and his mother-in-law. The violence was so severe that Khalfallah was seen by a doctor on at least one occasion. Her lawyer said Lahouaiej Bouhlel was also violent toward his children. He was accused of defecating on his daughter's bed and ripping apart a child's stuffed animal with a knife. 
The day after the massacre, Khalfallah was taken into police custody for questioning. She was released two days later without being charged. When she got home, Garino said, she found the place swarming with angry people. 
"People were under her windows and standing at the bottom of her building — they were trying to publicly condemn her," he said. "Because of physical threats, the police needed to be called to intervene."
The threats had "nothing to do with the wife's neighbors," Garino emphasized in an interview with AFP.
Garino told Libération that he helped her escape the scene, taking her and her three children to a safe location.
Khalfallah did not learn about the extent of the massacre until she was released from custody, he said, describing her as "devastated."  
A divorce was underway, and Khalfallah had filed multiple complaints about Lahouaiej Bouhlel's violent behavior in the past, Garino said. 
Khalfallah had not noticed any signs of radicalization, he said, but she did not see him frequently. Lahouaiej Bouhlel moved out of the family home about a year ago, he said. 
"Due to his violence, he could only see the kids in public places or when other people were around. Visits were spaced out. They would meet in public places like the green Coulée [park], in the center of Nice," he said. 
Khalfallah had planned to watch Bastille Day fireworks on Thursday, he said, but in the end she decided against it and instead stayed home with her children.
Willa Frej contributed reporting. 
REAL LIFE. REAL NEWS. REAL VOICES.
Help us tell more of the stories that matter from voices that too often remain unheard.