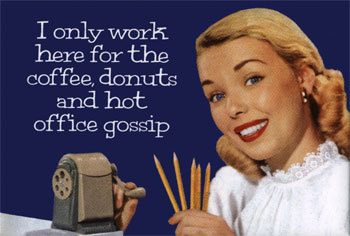 In my research for my book Practical Tools to Manage Costly Employee Turnover, I found "new" trends that impact turnover and productivity. Increased competition for employee talent and greater investment in employee development have made turnover more costly, making the retention of employees a critical business concern. Many human resource experts maintain that the adoption of "work/life policies" will result in a more loyal, committed workforce.
"Employee loyalty has long been a concern of employers because of its link to behaviors such as attendance, turnover, and organizational citizenship (Schalk & Freese, 1997)"
In a recent study, nearly half (47.3%) of poll respondents chose "work-life balance/flexibility programs" as the most important factor their companies should support -- across Millennials, Generation X, and Baby Boomers, it was the highest ranking response.
Some employee-friendly workplace policies:
Flextime -- shorter work week. For employees with families, control of their time may be the most valuable benefit an employer can give. A four-day work week, for instance, or days off mid-week instead of on the weekend, or starting and ending the workday several hours earlier or later than normal.
Allowing work away from the worksite. An employee may work from home or some other remote site some or all of the time. He may communicate and discuss work issues with colleagues and supervisors by spending particular days or a set amount of time at the worksite every week, or he may "telecommute" by using telephone and e-mail. Telecommuting allows people to work at locations anywhere in the world, regardless of the location of the actual workplace. The employee granted this work schedule must be trusted to work independently and productively.
Temporary or permanent switch to part-time. A full-time employee might be allowed to change to a part-time position -- either as part of a job share, or simply as a reduction in working hours in the same job. A new mother, for instance, may want to work part-time in order to bond with the child, and adjust to the demands of parenthood.
Job sharing

. Generally two employees may share a single position--each working a fraction of the necessary time. In that way, people can hold the position they want, and still have time to spend with children or aging parents, or take care of other family responsibilities.
Maternity/paternity leave

. Part of an employee benefit package may be paid or unpaid leave for the birth, adoption, or acceptance of the foster placement of a child. The U.S. federal Family and Medical Leave Act (FMLA) guarantees 12 weeks of unpaid leave in this situation, as well as for personal or family medical reasons, but only for employees in companies with a payroll of 50 or more. Some states, like California, have similar leave policies.
Parental leave

. An option that allows a parent to take an afternoon or a day off to pick up a sick child at school or tend to one at home, attend a school performance or athletic event, or otherwise take care of a child's needs.
Family-oriented events

. Arrange company picnics, Holiday parties, and other events to include employees' families.
Tuition for employee education

. Encourage and support the improvement or addition of employee skills.
Employees who feel that their family responsibilities are valued by their employers are:
more successful in balancing work and family life
more loyal and committed to their employers
more satisfied with their jobs, and
more likely to want to remain with their employers
Even more important than the presence of employee-friendly policies is the implementation of those policies -- providing an atmosphere in which employees feel they will not be penalized for work-family conflicts, and they will receive reasonable, affirmative support in their attempts to address work/non-work life issues. Training of supervisors and managers is critical to the success of policy implementation.
With "nice" policies, businesses can:
Maximize employee productivity
Increase loyalty and morale
Increase employee retention
Increase the effectiveness of recruitment efforts
For more information on ways to address employee turnover and retention, see other blog posts here www.mjms.net/blog and check out our book: Practical Tools to Manage Costly Employee Turnover currently available for the Kindle at Amazon and downloadable eBook here.
Margaret Jacoby, SPHR, is the founder and president of MJ Management Solutions, a human resources consulting firm that provides small businesses with a wide range of virtual and onsite HR solutions to meet their immediate and long-term needs. From ensuring legal compliance to writing customized employee handbooks to conducting sexual harassment training, businesses depend on our expertise and cost-effective human resources services to help them thrive. This article first appeared on the MJ Management Solutions blog.
Related
Popular in the Community