First Lady of Outer Space (and much more) Nichelle Nichols has beamed down to San Diego Comic Con this week, surprising us all with her smashing new single, "Fly Me to the Moon." The grand dame of sci-fi, who originated the role of Lieutenant Uhura on the original series of Star Trek 50 years ago, arrived Wednesday night to grace the world première extravaganza of Star Trek Beyond. Ms. Nichols, a long-term, progressive recruiter for NASA, also tidily timed the release of her single to coincide with the 47th anniversary of the Apollo 11 moon landing, and she plans to stay the weekend at Comic Con, to meet her generations of lovely fans.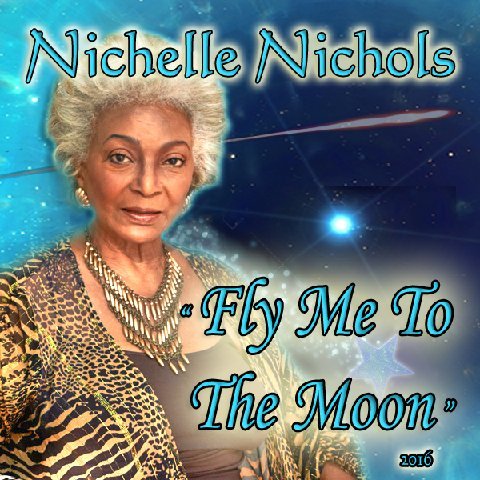 In a rollicking conversation earlier this year (of which this is just a taste), Nichelle told me about setting her standards early:
"I've been fortunate enough that -- since I was just a kid - the first thing I ever did was with Duke Ellington."
"It was!" she concurred, laughing.
Jazzy, playful, and charming, lifelong singer Nichelle's version of "Fly Me to the Moon" is an instant classic - a brilliant rendition of Bart Howard's immortal standard (perching comfortably alongside Ella, Frank, and Tony). Her single is produced by David Salas, whose credits range from Grammy winners La Sinfonia and Taboo of The Black Eyed Peas, to the late, great Jenni Rivera, to a rather talented fellow you may have heard of, called Smokey Robinson. Mr. Salas knows his stuff, also producing music for television, including four Real Housewives shows (of Atlanta, Beverly Hills, Miami, and New Jersey), the Teen Choice Awards, and more.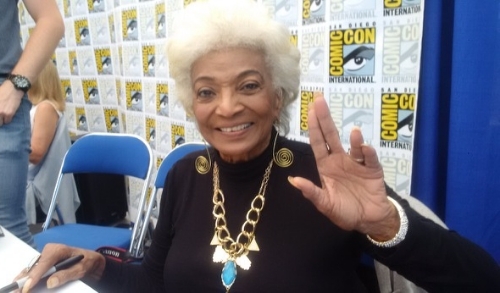 Direct from the press release: Ms. Nichols was thrilled to record "Fly Me to the Moon" at the famous Salas Studios, to further accentuate her belief in diversity in music and culture, in the performing and recording arts.
Plus, trust me, her "Fly Me to the Moon" is just hella fun. I keep playing it! Whether you first heard Nichelle singing "Beyond Antares" in the classic Star Trek episode, "The Conscience of the King," or you thrive on classics, or you're moved by gorgeous delivery - or (admit it) you just want to hear Ms. Nichols' voice in your ear - you'll love this.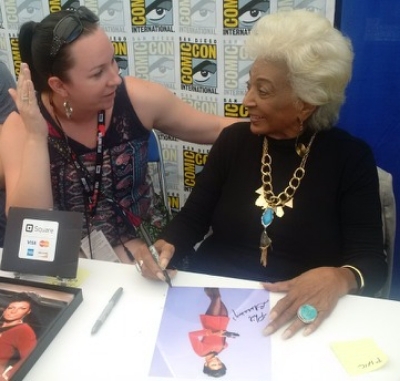 The beautiful and iconic Nichelle Nichols, a singer before her acting career took off at warp speed, smiles from ear to ear, summing up:
"All of my Star Trek fans have truly become like my family. When I decided to record 'Fly Me to the Moon,' it was my way to give back to every one of them. The song is a special one for me, and recording it was one of the best ways I knew to share my love for singing, and give them a special love song from me that will last forever."
Popular in the Community