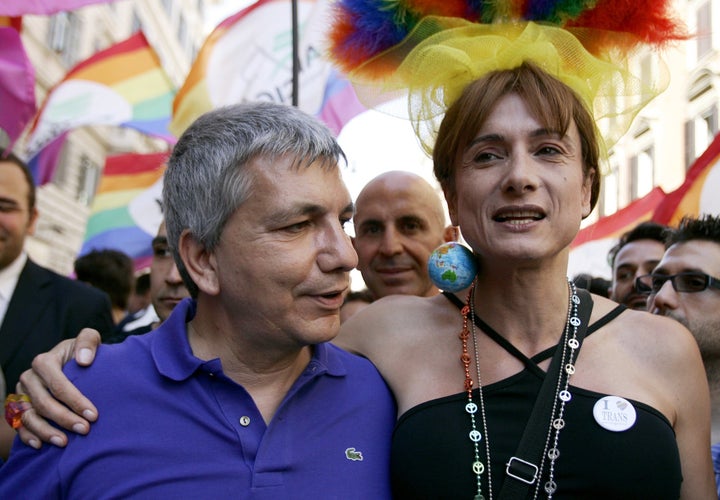 NEW YORK -- He has been called the Italian Barack Obama -- an improbably elected official who has mobilized his country's youth in an Internet-driven movement of hope and change.
Others liken him to another governor of a poor, conservative state, Bill Clinton, who rode his charisma and rhetorical skills on to a national stage.
No matter who you compare him to, though, Nichi Vendola is hardly typical of either Washington or Rome.
Openly gay, a former communist whose father deserted fascism after reading John Steinbeck, and a poet with his own YouTube channel, the popular governor of the boot heel region of Apulia has vowed to end the era of "Berlusconismo" and become the next prime minister of Italy.
That term refers, of course, to Italian Prime Minister Silvio Berlusconi. The billionaire media mogul-turned-politician is best known these days for his "bunga bunga" sex parties and efforts to rewrite Italian law to help himself. He has been labeled "radioactive," called "the man who screwed an entire country" and snubbed by Barack Obama, the African-American president he once described as "tanned."
"There is a battle in defense of Italian culture," Vendola told The Huffington Post during a visit here to promote the foods native to his region. "Berlusconismo is the death of the Republic."
Vendola's harsh opinion of the man who has led Italy longer than anyone except Benito Mussolini is hardly unique.
The "populist without a people," as Vendola called him, has suffered a series of recent setbacks. Last week, Italian voters defeated several initiatives supported by his government, including one that would have immunized him from prosecution for corruption and paying a minor for sex.
In May, leftist candidates supported by Vendola and his Left Ecology Freedom party won mayoral races in Naples and Berlusconi's hometown of Milan that the prime minster said would be a referendum on him. And in December, he barely survived a no-confidence vote.
Berlusconi rebounded a bit Tuesday when his center-right government survived a key parliamentary test, but he is hardly out of the woods.
In such a cynical environment, Vendola "comes across as someone who cares for the common good and the interests of the disadvantaged," said Paolo Mastrolilli, deputy editor of La Stampa newspaper, in an email. "Maybe it is not enough to become prime minister in Italy, but sure enough these qualities have carried him a long way, especially amid recent signs that Italian voters have moved to the left."
Even if the current government survives until the scheduled 2013 election, Vendola has changed Italian politics forever. Using social media to circumvent Berlusconi's stranglehold on the country's airwaves, he has appealed to disaffected youth suffering from 30 percent unemployment.
Vendola, who favors sharkskin suits and wears a gold thumb ring on his right hand and a diamond hoop earring in his left ear, has built a massive youth movement. He has more than 500,000 fans on Facebook and tens of thousands followers on Twitter. He's on Flickr. He blogs. And he sells himself in a slick brochure unblushingly titled, "Nichi Vendola: Italy's Next Generation."
"I work like a ping pong ball, going from the real square, the real piazza, to the virtual piazza. I use both of these instruments to surpass Berlusconi," Vendola said through a translator. "The web is the greatest revolution one can imagine because it changes the idea of democracy."
At 52, Vendola is practically a kid in the context of a sclerotic political establishment headed by an 85-year-old president, Giorgio Napolitano, and Berlusconi, who is 74.
"He's the only Italian politician who has one new vision that's not connected to the past," said Enzo Cursio, a former government official and Vendola friend.
Named for the patron saint of Bari and in honor of Soviet leader Nikita Khrushchev, Vendola joined a communist youth group at 14 and later helped found Italy's first gay rights organization. He was elected to parliament nearly 20 years ago and gained a reputation for honesty when he took on organized crime. In 2005, he became governor of rural Apulia after campaigning as both a proud gay man and a Catholic. He was easily re-elected in 2010 after beating a candidate from the dominant center-left Democratic Party.
Vendola helped create a renewable energy industry in Apulia and the region today supplies a quarter of Italy's wind power and 12 percent of its solar power. He has encouraged entrepreneurship, created a local film industry and fostered hundreds of grassroots social action clubs known as "Nichi's Factories."
Informing all he does is an emphasis on civil rights for women, ethnic minorities and gays that he learned as a child watching TV boxing matches featuring Cassius Clay, who later became Muhammad Ali. "For this reason we were communists," Vendola said, adding in English, "black revolution." His family cried for joy when Obama was elected president.
Vendola said "communism is no longer a valid answer" for his country's problems, though he despairs that under Berlusconi, "everything is privatized and there is considered no public good." His larger concern is to change a "macho" culture coarsened in part by the reality TV shows that Berlusconi introduced to Italy.
The prime minister and his patriarchal allies routinely attack the left for not bathing or for being ugly. "It sounds like a soap opera," said Vendola, who has gained street cred by fighting back.
When Berlusconi laughed off reports of his relationship with an underage girl by saying, "It is better to be passionate about beautiful women than to be gay," Vendola shot down what many viewed as a veiled attack on him. "Your jokes can't amuse a country that is exhausted, impoverished, scared, precarious and abandoned," he said.
The governor, who speaks with a lisp that opponents have gleefully mocked, rejects what he sees as the ideological cynicism of Berlusconi and Italy's ruling class. "A lot of politicians present themselves like sons of bitches" to polarize the people, he said. "I've always presented myself as a mama's boy" more interested in bringing all sides together.
It is that desire that separates him from other gay rights activists. "I don't want to battle with the church," he said in a mixture of Italian and English, "I just want to ask the church, 'Why my love, why my sex, why the way that I live, I cannot live in the light of the sun?'"
Vendola "has been respectful in the way he's been critical" of the Catholic Church, said Robert Mickens, a Rome-based American journalist who covers the Vatican. "He has not denigrated the Pope."
Yet whether Vendola can parlay such civility into enough votes to defeat potential rivals on the left for the chance to challenge Berlusconi -- or another right-leaning candidate -- in a general election remains to be seen.
Mastrolilli is skeptical, saying "probably the majority of Italians doesn't agree" with his positions.
But Mickens said stranger things have happened in a country that "compartmentalizes personal life and politics" so much that Berlusconi can survive and Vendola can thrive.
"Much of Italian politics is based on personalities," he said. "Vendola is one of the more colorful, credible, charismatic personalities on the scene."
Calling all HuffPost superfans!
Sign up for membership to become a founding member and help shape HuffPost's next chapter