WASHINGTON — The warning signs were there, flaring up from Nicholas Giampa's pseudonymous Twitter feed for over a year. The alt-right lingo and the swastikas. The advertisements of violence.
Giampa's girlfriend's parents, Buckley Kuhn-Fricker, 43, and Scott Fricker, 48, were aware of the teenager's burgeoning extremism. Kuhn-Fricker had found frightening tweets from Giampa on her daughter's phone. Twitter was where Giampa, a Papa John's employee and an anime enthusiast, let his malevolence run amok.
Kuhn-Fricker and Fricker had seen enough to say something. Days later, Giampa fatally shot them in their Virginia home, police say.
HuffPost has found his tweets, written by "Kevin Gallo" under the handle @doctorpepper35. They suggest a 17-year-old who'd drifted beyond the trolling of his teenage peers on the internet far-right and was fully in thrall to the racist, apocalyptic fantasia of white nationalism.
As @doctorpepper35, Giampa tweeted about his hatred of transgender people and his admiration for Adolf Hitler. He tweeted about using Jews as target practice.
Almost three months before the murders, the teenager from Lorton, Virginia, praised a book called Siege, an obscure, ominous work written by James Mason, a neo-Nazi devotee of Charles Manson. The 1992 book, republished last year by hyperviolent white nationalist sect Atomwaffen Division, is essentially a call to "Helter Skelter" racist insurrection. Giampa also retweeted an endorsement of The Turner Diaries, William Luther Pierce's infamous white nationalist novel about race war, often found on the bookshelf of American domestic terrorists.
Kuhn-Fricker had tried to keep her 16-year-old daughter away from Giampa. The teenagers met at the same private high school for students with special needs. One of Giampa's family members described the boy as struggling with mental illness for years and being "on the spectrum" for autism.
At one point last year, it seemed like Giampa's life was improving. He was proud of his job. He had a girlfriend. "They dated for six months and it was a very happy dating period ― brunches and beaches and lots of good times," said a family member.
But a darker side of the teenager was emerging on social media. By November, Giampa, under his Twitter pseudonym, was referring to himself as a Nazi.
Days before Kuhn-Fricker was murdered, she alerted the high school principal to neo-Nazi content on a Twitter account she believed was operated by Giampa, The Washington Post reported. Kuhn-Fricker urged her daughter to break up with Giampa and, after some initial resistance, the girl seemed to agree.
On Dec. 22, police say Giampa sneaked into his girlfriend's house in Reston, Virginia, and shot Kuhn-Fricker and Fricker dead, then turned the gun on himself. Four other family members were in the house during the shooting, including the couple's 10-year-old son, who was out on the lawn when police arrived, according to dispatch audio obtained by ABC7. Giampa is currently at the Reston Hospital Center, where he is being treated, under police guard, for life-threatening wounds, including what a family member described as a brain injury. Fairfax County Police Department has charged him as a minor for the murders of Fricker and Kuhn-Fricker, but they are waiting for his medical condition to improve before serving him, Reem Awad, a spokeswoman for the police department, said.
Police have withheld Giampa's name because he is a minor. HuffPost identified him through his Facebook profile, where he goes by Nick Breedlove, using his mother's maiden name. Until recently, he listed the daughter of the slain couple as his girlfriend. (The teen girl's Facebook page has since been removed.) A hospital operator at Reston Hospital Center confirmed on Wednesday that Giampa was a patient there. Friends of the victims' family spoke to HuffPost on the condition of anonymity about the teen girl's relationship with Giampa.
While his Twitter account is under a pseudonym, Huffpost found that the email address associated with @doctorpepper35 is also linked to Giampa's Facebook profile. In July, @doctorpepper35 wrote to a Twitter user with a name that matched the one Giampa's girlfriend used on Instagram. The user @doctorpepper35 also referred to Virginia as "my state" in a tweet.
The avatar for the Twitter account is currently a skeleton wearing a Nazi SS military hat. The bio reads, "Read Siege," a reference to Mason's book.
The Twitter account Kuhn-Fricker found and alerted the school principal to "retweeted missives praising Hitler, supporting Nazi book burnings, calling for 'white revolution,' making derogatory comments about Jews and featuring an illustration of a man hanging from a noose beneath a slur for gay people," The Washington Post reported, without identifying the account. That description matches @doctorpepper35's tweets.
It's unclear how Giampa arrived at such extreme views. Little has been made public about him. His parents, Marilyn Breedlove-Giampa and Michael Troy Giampa, took down their Facebook pages after the shooting. HuffPost has obtained screenshots of Breedlove-Giampa's Facebook account, where she posted tributes to Confederate generals and argued in favor of keeping Confederate statues in various cities. She also posted a photo of her son at a shooting range, holding what the caption says is a Thompson submachine gun. The target is a "Nazi Hans" zombie cartoon.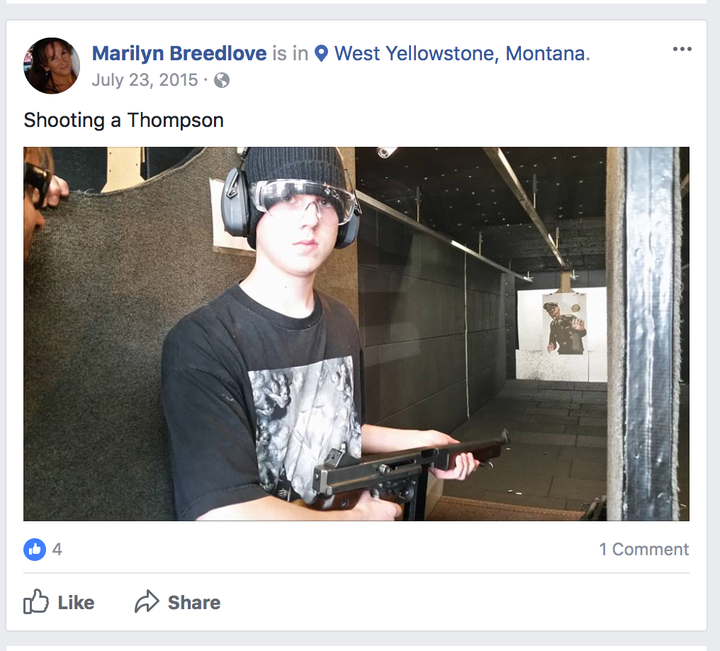 When Giampa first started tweeting from the @doctorpepper35 account in May 2016, he already espoused far-right views. An enthusiastic supporter of then-candidate Donald Trump, he often used racist slurs to attack Trump's critics. In the summer of 2016, Giampa told one Twitter user to "go back to the gas chamber," called another a "kike" and labeled several users whom he disagreed with as "cucks." He talked about "globalist scum" and, a few weeks later, referred to a right-wing conspiracy theory about "how hillary has literally murdered people."
Most of Giampa's Twitter activity consists of retweets and replies to other Twitter users. He retweeted Trump in July when the president called for a ban on transgender people serving in the military.
During the first several months Giampa tweeted under @doctorpepper35, he was closely focused on the ongoing civil war in Syria, frequently tweeting in support of President Bashar Assad, a strongman who has slaughtered his own people throughout the conflict. Although Giampa did not yet openly associate with white nationalist groups on Twitter at the time, his defense of Assad gave him a common cause with the far-right community. White nationalists have lionized the brutal leader as a hero who stands up to Zionists in Israel and purges Islamic terrorists from his country. (In reality, Assad has targeted anyone who opposes his rule — including peaceful protesters.)
For unknown reasons, Giampa's Twitter activity all but stopped from November 2016 to June 2017. He didn't tweet about Trump's electoral victory or when the president ordered airstrikes targeting the Assad regime in April, a move that was heavily criticized by his alt-right fans. During the first six months of 2017, the teenager tweeted only one time.
Kuhn-Fricker seemed to have become concerned about Giampa's ideology soon after he started dating her daughter, The Washington Post reported. Over the summer, her daughter told her that Giampa was good at history and had asked her, "Did you know that Jews are partly to blame for WWII?"
When Giampa returned to Twitter this past summer, around the time he started dating the daughter of Kuhn-Fricker and Kuhn, his tweets were vicious. On July 26, the same day Trump announced the transgender military ban, Giampa fired off a series of threatening tweets targeting gay and transgender people.
"I've already talked 1 tranny into suicide and I'm working on another 2 😳," he bragged. Then he posted a rainbow lynching image, encouraging gay and transgender people to commit suicide. "#transrightsarehumanrights is an oxymoron because trannies aren't 'people,'" Giampa tweeted that day.
Giampa retweeted Trump's announcement of the transgender military ban, but he appeared to have been wavering in his overall support for the president. "I don't even support trump lol I just think it's funny how easy it is for him to piss people off," he tweeted on July 26, months after Trump's airstrikes against the Assad regime.
In addition to tweeting his own racist views, Giampa, as @doctorpepper35, began to embrace well-known neo-Nazis and their ideology. He retweeted prominent figures in the alt-right white supremacist movement such as Mike Peinovich (aka "Mike Enoch") and tried to engage with the official accounts of white supremacist organizations such as the Traditionalist Worker Party, Identity Evropa and VDARE. He also tried to interact with Twitter users who identified as being affiliated with neo-Nazi groups such as Vanguard America, which showed up for the August white supremacist rally in Charlottesville. James A. Fields marched with Vanguard America in Charlottesville, dressed in the group's ad hoc uniform and carried a shield with the group's logo during the violent gathering before he drove his car into a crowd and killed Heather Heyer.
On Sept. 14, Giampa retweeted a quote attributed to Oswald Mosley, the 20th-century leader of the British Union of Fascists, defending the Nazi salute.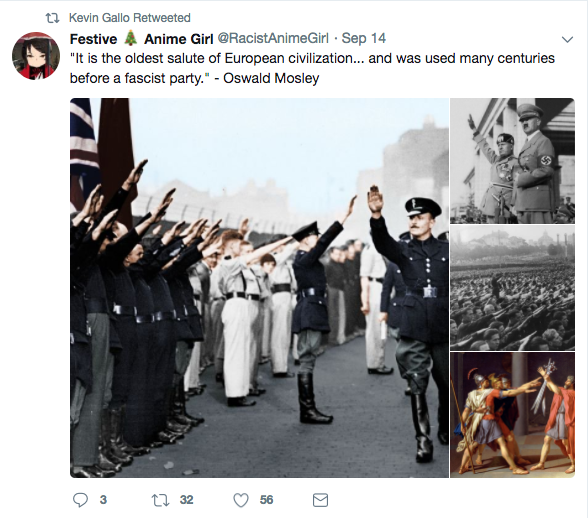 But it was with Atomwaffen Division that Giampa seemed most taken. The violent anti-American group's name translates to "Atomic Weapons Division," and its members like to post photos of themselves wearing skull masks and camouflage outfits while sieg heiling or posing with assault rifles and the organization's yellow-and-black nuclear-themed flags. Some of Atomwaffen's YouTube videos look like propaganda in the style of the so-called Islamic State, with heavily armed young men conducting training exercises. In May, an Atomwaffen member murdered two of his neo-Nazi roommates in Tampa.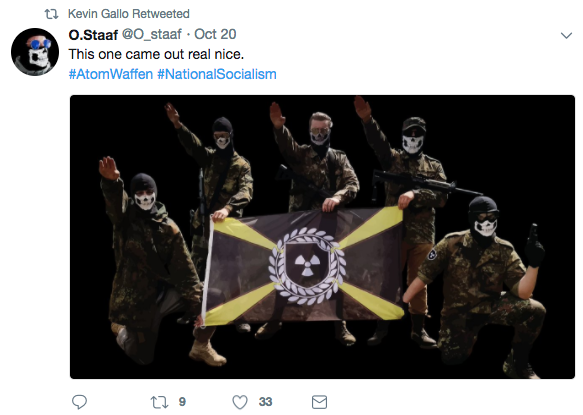 Atomwaffen has moved to revive the racist career of Siege author and Charles Manson devotee Mason, a onetime member of George Lincoln Rockwell's American Nazi Party. Mason had formed a splinter group devoted to promoting the views of the murderous cult leader, whom Mason saw as a continuation of Hitler's legacy. Although Mason had faded into obscurity, Atomwaffen tracked him down and earlier last year began republishing Siege.
A few months before Giampa allegedly murdered his girlfriend's parents, the teenager began tweeting about Siege and Mason, a man who once described Anders Breivik, the far-right Norwegian terrorist convicted of killing 77 people in a 2011 bombing and mass shooting, as "dead-on." Giampa retweeted a photo of Mason reading a new copy of Siege. He later praised @RyanAtomwaffen for his book collection, which included Siege and Mein Kampf. He encouraged another user to buy a copy of Siege for his mother, and tweeted about his own effort to get a copy of the book.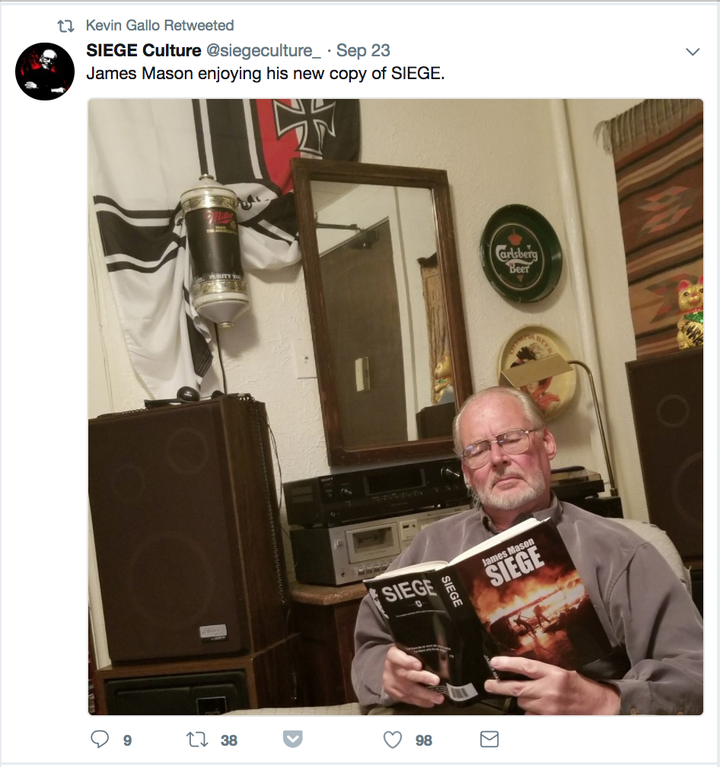 The Washington Post reported that neighbors considered calling the police, but ultimately decided to talk to Giampa's parents instead. When the neighbors confronted the teen boy's parents, they said they were aware of their son's behavioral issues and would take care of it.
Days later, Giampa retweeted a meme praising Hitler as a hero.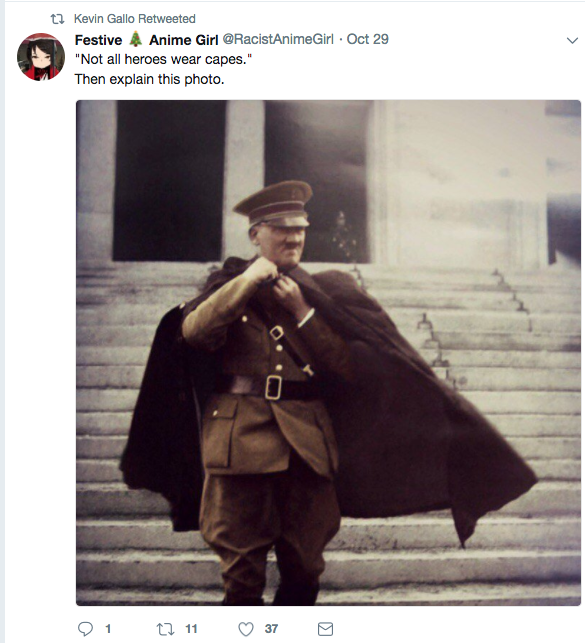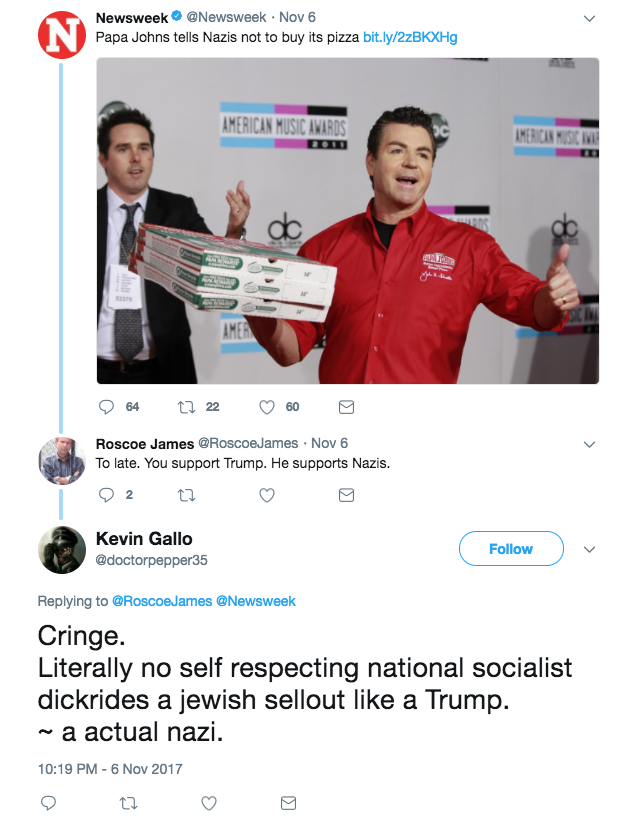 In the lead-up to the Nov. 7 gubernatorial race in Virginia, Giampa described Democratic candidate Ralph Northam as a "jew puppet" and told a pro-Northam Twitter user to "Get the fuck out of my state you white guilt slut."
A white Europe without Jewish or Muslim individuals "sounds like heaven," Giampa tweeted on Nov. 11. The next day, he tweeted "The jews are everyone's enemy."
He tweeted in support of nationalist marchers in Poland seeking to rid the country of Muslims and Jews. "Muslims and jews are incapable of assimilating and a threat to their culture," he wrote.
Throughout his Twitter feed, Giampa expressed concern that white men were at risk of losing their access to guns. By late November, he was actively advocating violence. He tweeted on Nov. 20 that Charles Manson, who had died a day earlier, "did the right thing." On Thanksgiving Day, he advocated shooting transgender and Jewish people.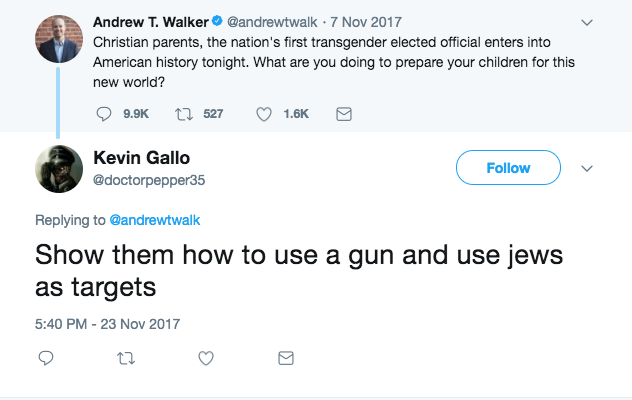 That same day, Giampa retweeted a pro-Hitler meme.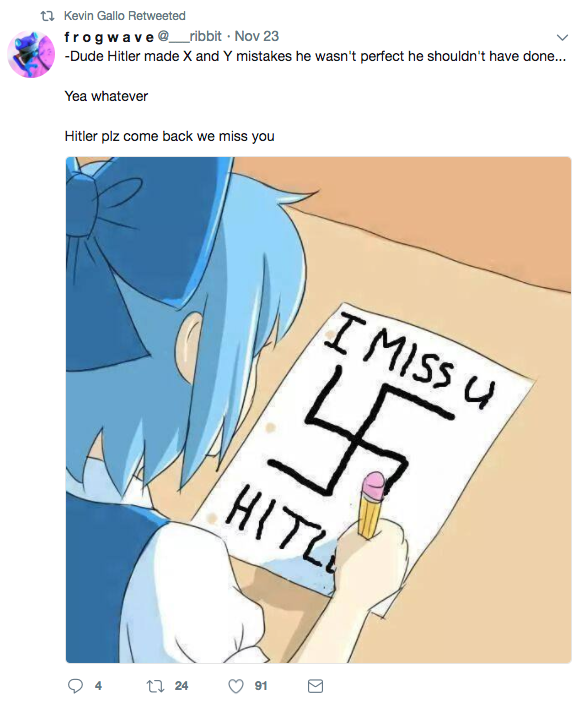 Giampa retweeted a Nov. 25 tweet blaming Jews for communism and World War II. On Nov. 26, Giampa tweeted a denial of the Holocaust. Days later, he retweeted a call for Vanguard America, the Atomwaffen Division, and other neo-Nazi movements to come together as part of a "white revolution."
On Dec. 5, Giampa tweeted several times at Paul Nehlen, a Wisconsin candidate for Congress who has appeared on an anti-Semitic white power podcast, called for an indefinite Muslim ban, promoted white contributions to western civilization and complained about Jewish billionaires and CEOs.
Giampa last tweeted on Dec. 21. By 5 a.m. the next morning, Fricker and Kuhn-Fricker were dead and Giampa was critically injured.
"I apologize for all the unhappiness for everyone. I am sincerely sorry," said one of Giampa's family members, who broke into tears on the phone. "In the end, we need one more gun law. Any address, anywhere, that has mental illness, there cannot be guns."
On Saturday morning, a little more than a week after the double homicide, hundreds of mourners gathered at Trinity Presbyterian Church in Herndon, Virginia. The overflow crowd spread into the aisles, listening to friends and family share stories about Fricker and Kuhn-Fricker's kindness, warmth and devotion to their children.
But amid the heartwarming anecdotes, there were reminders that this was not an ordinary funeral and that the dead did not go in an ordinary way. When Fricker's father made reference to the actions of a "deranged adolescent," the room stiffened. The pastor talked about overcoming hate. A friend of the family said he'd spent the past few days trying to figure out what lesson he could learn from how Fricker and Kuhn-Fricker were killed.
He didn't have a good answer.
Support HuffPost
The Stakes Have Never Been Higher
Popular in the Community