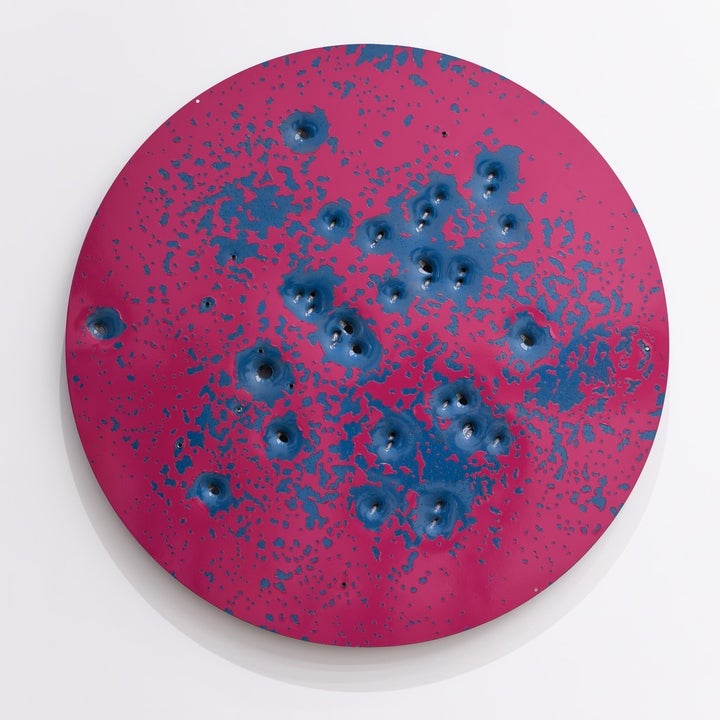 I see painting as an evocative magic, and there must always be a random factor in magic. --William S. Burroughs
Nicholas Hunt's Caliber Abstractions inaugurates Mugello Gallery's new space in DTLA with a series of vibrant, vivacious, optically seductive and undeniably physical abstract paintings on steel. Well, but are they paintings? Perhaps it's best to think of them as paintings by other means. Their hefty metal mass and the low-relief quality of their distresses are nearly sculptural. And are they really abstract? The saturated, luminous colors are poured and anodized by conventional, if non-traditional, means. The elements of the compositions are the holes, chips, dents, and chromatic striations created by the unpredictable impact of live gunfire, not by the precise operations of a brush or pencil. In that sense the mark-making, the imagery, the gestural emotional expression, becomes a quite literal, even narrative matter -- and not abstract at all. The smattering of the projectiles creates fractal, organic patterns at various scales, clustered, isolated, large-bore and delicate, of a kind familiar from idioms of abstract painting. It is for several reasons of the utmost importance that the artist shoots the guns himself.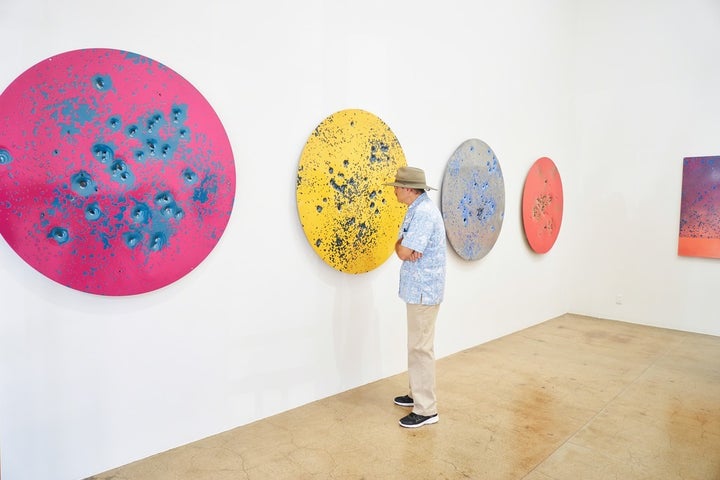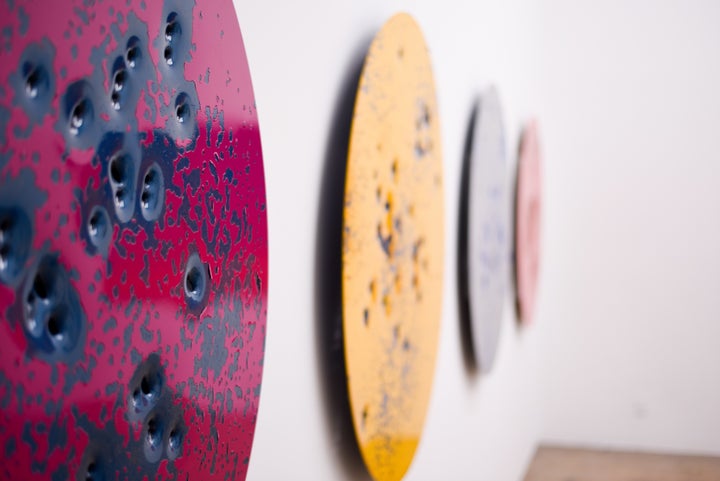 Soulfully animated by the juxtaposition of pure color and impure acts, Hunt's works are violent palimpsests, created by erasure and removal, and designed to leave the scars of that process not only visible but privileged. Each piece is laser cut, polished, anodized, and painted with a dozen layers of oil-based enamel before being shot. The way the bullets' spray echoes natural patterns, such as one can't depict but only recreate, leaves plenty of room for chance, in fact it's inherent. With material echoes of Judy Chicago, John Chamberlain, and William Burroughs, in fact Hunt speaks eloquently on his conceptual evocation of Robert Rauschenberg's Erased de Kooning -- in that, much like his own reductive technical process, the shocked object becomes more valuable by being eroded. But Hunt's is also an actionist, performative, process with sociological narratives at work, as well as an art historically pedigreed formal exercise addressing perennial concerns of color and surface. Mentors like Billy Al Bengston and Andy Moses have further helped ensure that beauty, craft, and technique hold sway in Hunt's eye, mind, and studio practice.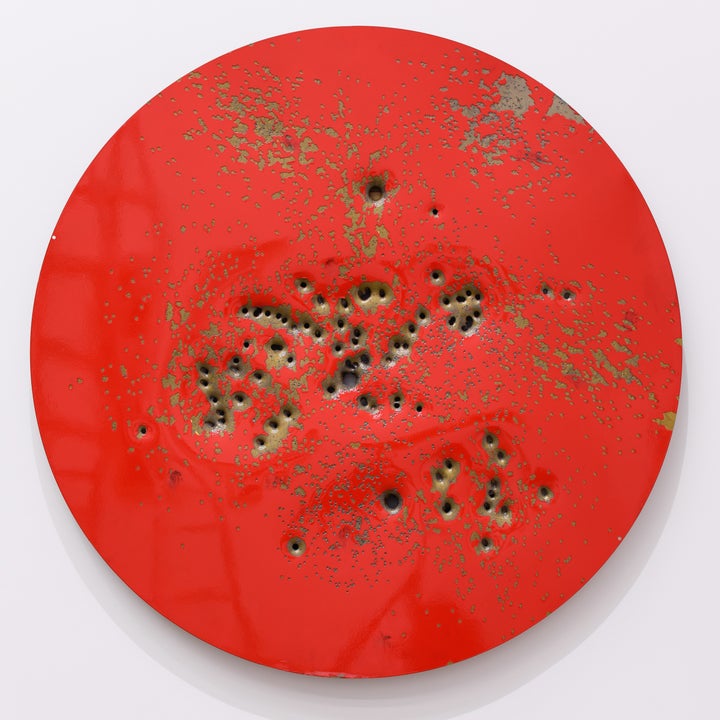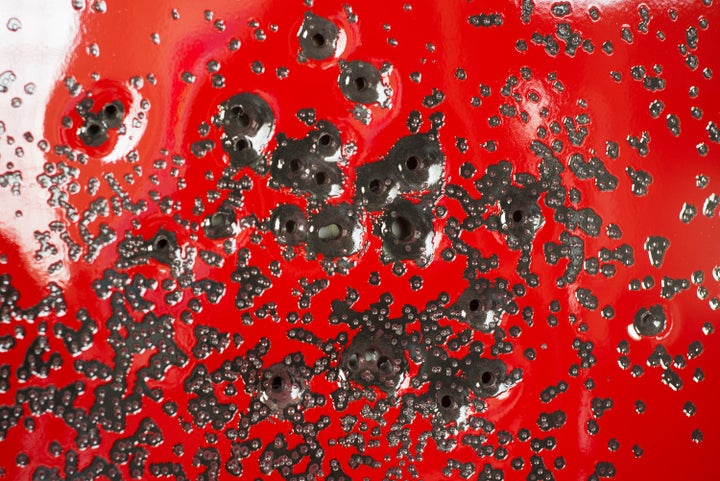 The large-scale round paintings look like distant planets, perfect meteors, or like the schematics of geodesic domes, the flora of lichen on moon rocks, with the cheeky rural pockmarks of driven-by roadside signs, the bright allure of Pop Art and the fervent energy explosions of AbEx. The small scale works are compelling in their ability to encapsulate the ambitions of the overall enterprise with a sense of intimacy, especially the trio/triptychs contrasting progressive caliber sizes in a way that reinforces and expands that aspect of the material process and absolutely begging for the viewer's touch. A rare rectangle-format "landscape" painting references both the visual cues of that most ubiquitous of LA sights -- the billboard -- with an almost realistic pictorial space, generating the magic-hour alchemy of a sunset's luminous, gradient ombre and grounded with a pure color bar to electrify the palette and tether the view to its conceptual and abstract foundations.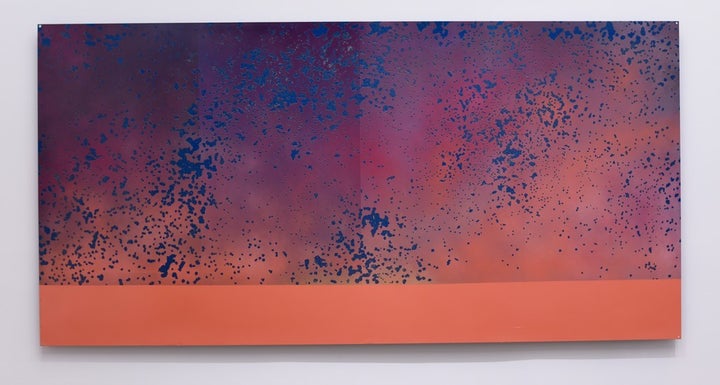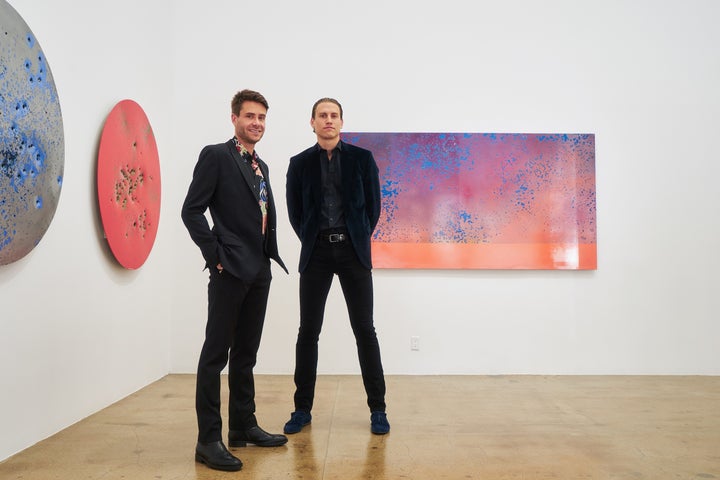 Related
Popular in the Community