Let me explain. I am a serious shoe-lover (my closet overfloweth with what most would consider unbearably tall heels... just take a look) and the German-born, London-based Kirkwood is one of my favorites of all time. After graduating from Central Saint Martins in 2001, he spent several years working for avant-garde milliner Philip Treacy before launching his own line in 2006. He has since collaborated with Peter Pilotto, Rodarte, Erdem and more on inventive, inspired footwear. "I just didn't like sewing," Kirkwood said of his pursuit of accessories when we spoke in his West Village boutique on Thursday, "and there were others who did."
That's right. We talked. And for most of our conversation, I was able to control myself. We spoke about his highly anticipated upcoming collection of men's shoes (which will be more simple than his women's collection, perhaps two or three designs that will be available in multiple colors and textures, and will in no way resemble Britain's most famous shoes -- Church's), future expansion into women's accessories (handbags, coming soon!) and what shoes he was wearing for the occasion (although he loves Lanvin, Kirkwood was wearing unidentifiably branded, yet luxurious black lace-up shoes purchased at Atelier). As I was leaving, I just had to blurt out: "I love you. I love your shoes." I explained how, as a broke college student, I attended one of his sample sales in London and bought too many pairs of heels that I couldn't afford.
But that's what happens when you meet your footwear-designing icon. (What would you do if you met your favorite athlete? Or actor? In the fashion world Kirkwood is a rockstar.) All in all, it could have been worse. I could have asked for his phone number, or cried. Instead, I just ruined chances of us ever being friends.
Before I embarrassed myself, I snapped a few photos of the chic pastel-colored kitten heels, eccentric sky-high stilettos and brightly hued watersnake platforms that are part of the pre-Spring and Spring 2013 collections. Take a look in the gallery below to see some of our favorite designs. Then you'll understand why I love him.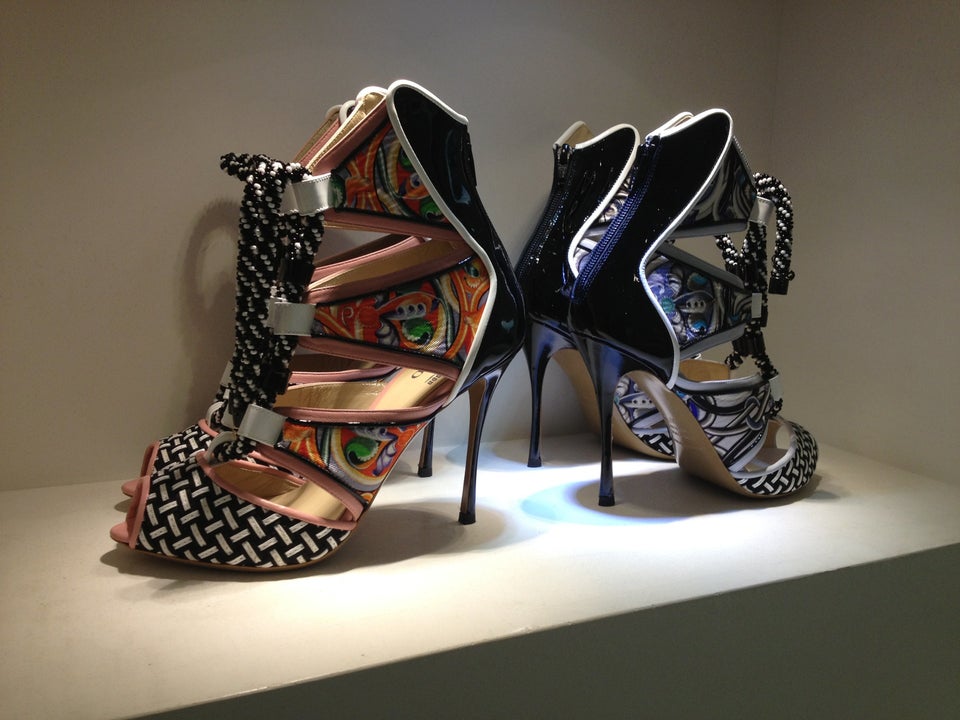 Nicholas Kirkwood Spring 2013 Shoes