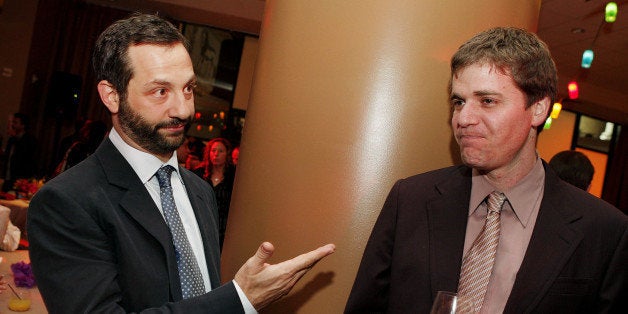 Monday marked the 10th anniversary of the "Lost" premiere, the 15th anniversary of "The West Wing" pilot and the 20th anniversary of the "Friends" premiere, which basically transformed the Internet into a treasure trove of television nostalgia. Your faithful nostalgia disciples at HuffPost Entertainment are okay with that, which is why we used an interview opportunity with director Nicholas Stoller to feed more of your wistful pop-culture memories.
Stoller, 38, is the director of "Neighbors," "Forgetting Sarah Marshall" and "Get Him to the Greek." But before that he was a writer and story editor on "Undeclared," Judd Apatow's criminally short-lived Fox sitcom that ran in 2001 and 2002. The college-set comedy premiered 13 years ago this week, so when we hopped on the phone with Stoller last week to talk about the DVD/Blu-ray release of "Neighbors" (out Tuesday), the conversation drifted, naturally, to talk of "Undeclared" and what led to its unfortunate demise.
"It kind of slowly died. What happened was we were going to premiere on Sept. 11, so that was awesome," Stoller recalled. "So there was obviously a delay as the world completely changed, and then we kept being supplanted by baseball." The first season's 17 episodes were sprinkled across the rest of the year and into 2002, with many airing out of order and one (Episode 8, "God Visits") never actually airing at all.
Ten million viewers tuned in when "Undeclared" premiered on Sept. 25, 2001. By the season's end, it averaged 7.3 -- a mediocre number when compared to some of the top sitcoms of the year ("Friends," 24.5 million; "Will & Grace," 17.3 million; "Scrubs," 11.2 million; "Drew Carey Show," 9.1 million). It was met with critical acclaim (Entertainment Weekly critic Ken Tucker called it "ambitious" and "original"), but even its lead-in, "That '70s Show," couldn't help to generate the numbers needed to keep Apatow's show alive.
"My guess is that [Fox] didn't love the show at the time," Stoller said. "What's funny is that TV has changed so much that if we had the ratings now that we had then, we would probably be the biggest TV show on the air. Because we were kind of on the cusp, like we could have gone either way. 'Freaks and Geeks,' which I think is an incredible show, always did pretty bad. I don't think they were in the gray area, but we were in the gray zone where we really could have been picked up."
Stoller was "23 or 24" when he worked on "Undeclared," right out of college and apt for a portrait of university life. He shared an office with Seth Rogen, who'd gone straight from "Freaks and Geeks" to "Undeclared." And all of a sudden he was surrounded by a group that today comrpises some of comedy's best writers and directors: Greg Mottola ("Superbad," "Adventureland"), Paul Feig ("The Office," "Bridesmaids"), Jake Kasdan ("Walk Hard: The Dewey Cox Story," "Bad Teacher"), Jenni Konner ("Girls") and Rodney Rothman ("Late Show with David Letterman," "22 Jump Street").
Stoller cites an episode he wrote called "Eric Visits Again" -- in which Eric (Jason Segel) comes to beat up Steven (Jay Baruchel) after the older man finds out Steven is sleeping with Lizzie (Carla Gallo) -- as both a personal favorite and a learning experience. "Judd had this idea of a 'Three O'Clock High' kind of episode, where the whole thing is Jason coming to beat up Jay. I learned a lot of minor things, like when you shoot a fight in a comedy it should be kind of weird instead of actually serious. But even in a crazy episode, there should be an emotional center to it. At the end of that episode, it's kind of sad. When Eric and Lizzie say goodbye to each other, it's kind of a sad scene. I also think, especially in a half hour, just having an A plot is ideal because you don't have to service a lot of other things going on."
The "Undeclared" roster has gone on to much success, and the show has found a second life thanks to syndication on IFC and TeenNick as well as Netflix streaming. There is at least one silver lining to its cancellation, though, according to Stoller: "If we had been picked up, we wouldn't get to make movies now."